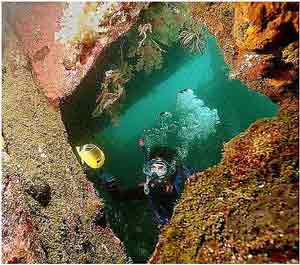 The island of Bali in Indonesia is often referred to as a paradise on Earth, but we found it to be also a paradise underwater.
We decided to go to Tulamben for the first dive. Located two hours east from Candidasa Beach, in the less tourist part of the island, our drive took us through gorgeous green rice paddy fields to the desolated area of Mount Gunung Agung where the eruption of the volcano wiped out rice fields and villages, leaving lava beds covered with scarce vegetation. We arrived to the small village of Tulamben, famous among the local diving community for the wreck of the S/S Liberty. We parked at the usual divers restaurant, on the beach. Balinese women insisted on carrying our tanks and weight belts, on their heads, to the dive location, about 500 feet away. This was already quite a sight in itself !
The wreck is easily accessible from the dark pebbled beach (300-feet swim, no current). The S/S Liberty sits on a sandy bottom, its bow at 90 feet and stern at 40 feet. The water is warm : no wetsuit is necessary. The visibility is around 70 feet, but we were told that it can drop to 35 feet during the monsoon season. The wreck has become, as is usually the case, an artificial reef with a lot of marine life. No large animals, but sergeant majors, parrotfish and butterfly fish are plentiful.
The ship was a 120-feet cargo boat carrying rice flour and was sunken by a torpedo during World War II. Surprisingly, some bags are still lying at the bottom. We poked one open with our dive knives and hundreds of fish immediately rushed to eat the entire contents, creating a large white cloud.
We swam in and out of the wreck. The metal frames are covered with small but healthy and colorful soft corals. A 15-feet steel mast is still standing straight, enwrapped in coral. We decided to use it as a photographic background for our fish feeding session. As soon as we took the bread out of the sealed bag, hundreds of reef fish besieged us so compactly that photography was impossible. In order to put some distance between the fish and the photographer, the diver holding the bread swam away at very fast pace around the mast. So we had an hilarious chase, diver and cloud of small fish, round and round.
With nice deep blue water, lots of openings in the hull of the ship and abundance of fish, Tulamben is an underwater photography paradise. Add to this the warmth of the water, the lack of current, the easy access from the beach and the unspoiled location : Tulamben is indeed a scuba diving heaven.