Page 27: I go horse riding all over, wonderful, through hills, meadows, streams, deserted beaches, but but never in enclosed arenas, oh no!
Many thanks to all the friendly and fearless horses.
Jamie Harrisson, me, Andrew Bruce. The horse is moving, but the snake in my hand is dead. Photo by Alana. Thank you Alana.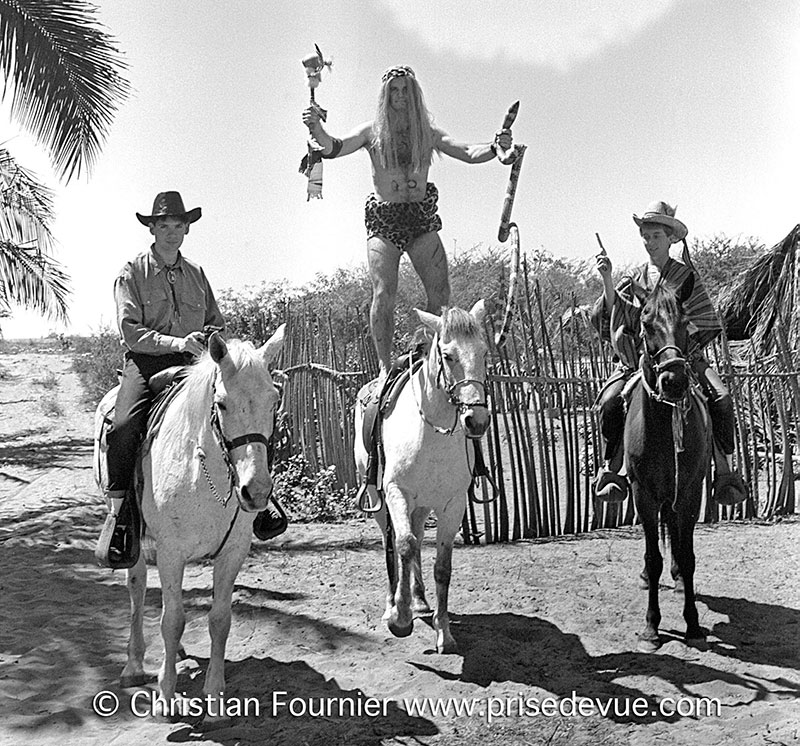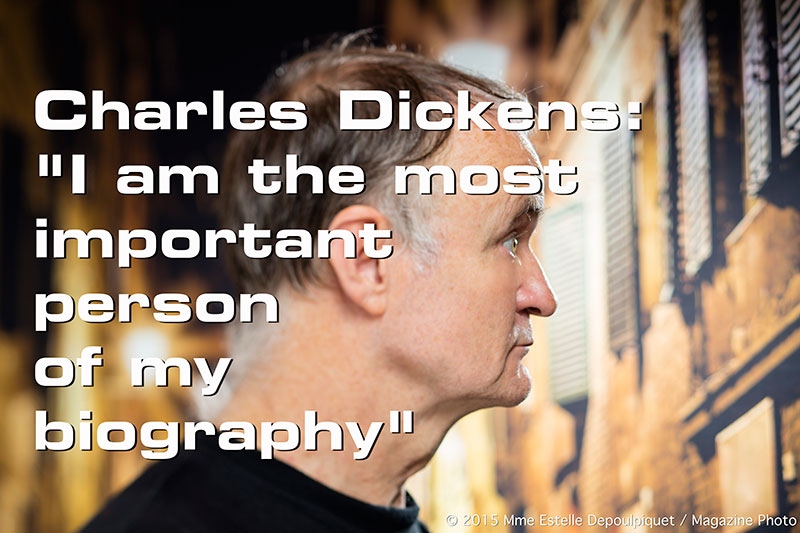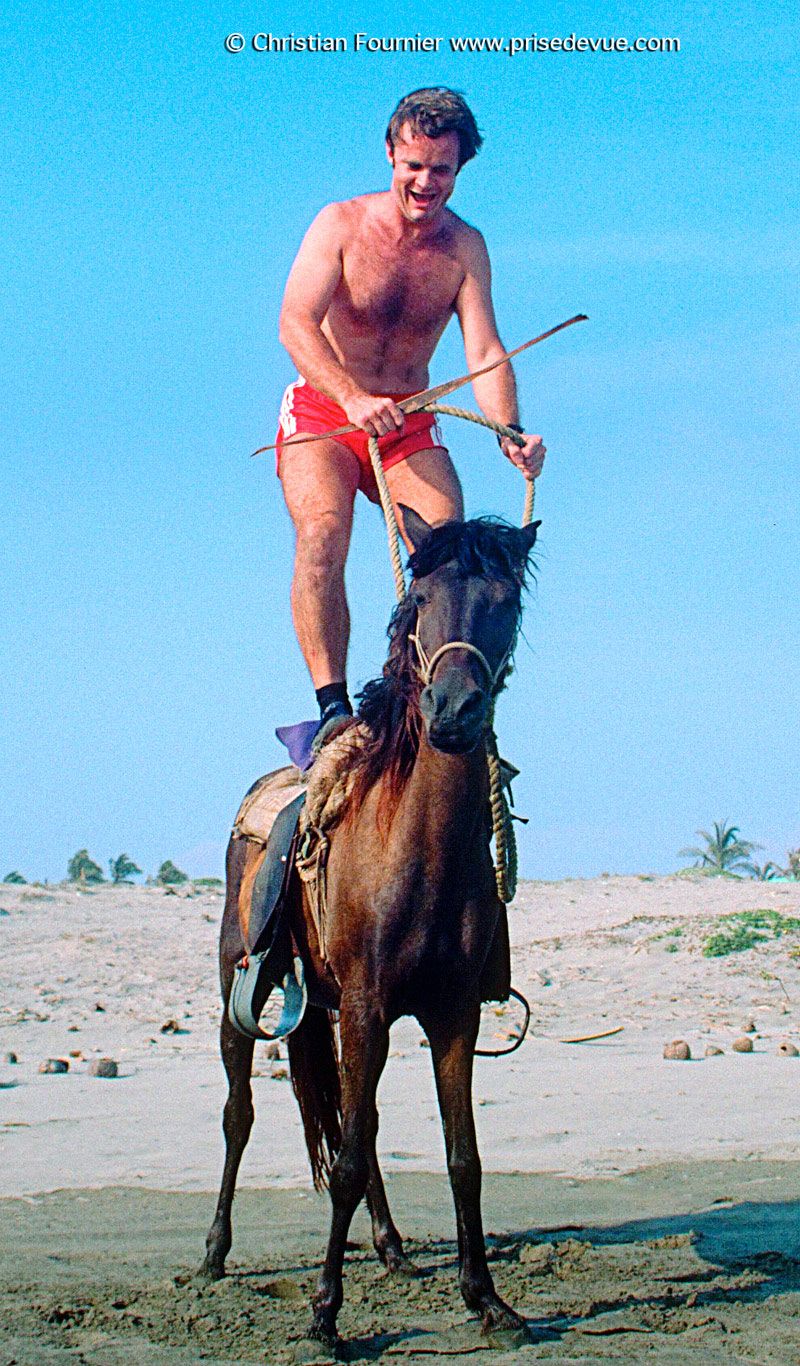 Yes it is a small horse, in Mexico. So?
Is this one better?
with Nicole
Or this one ?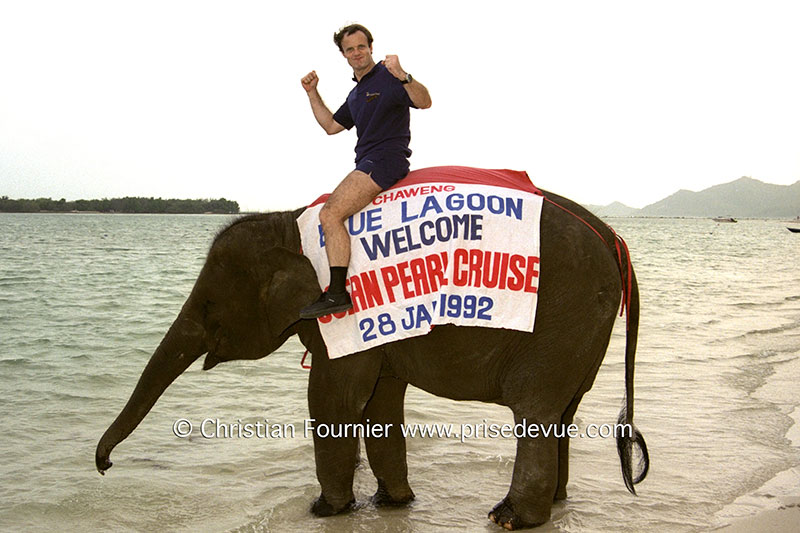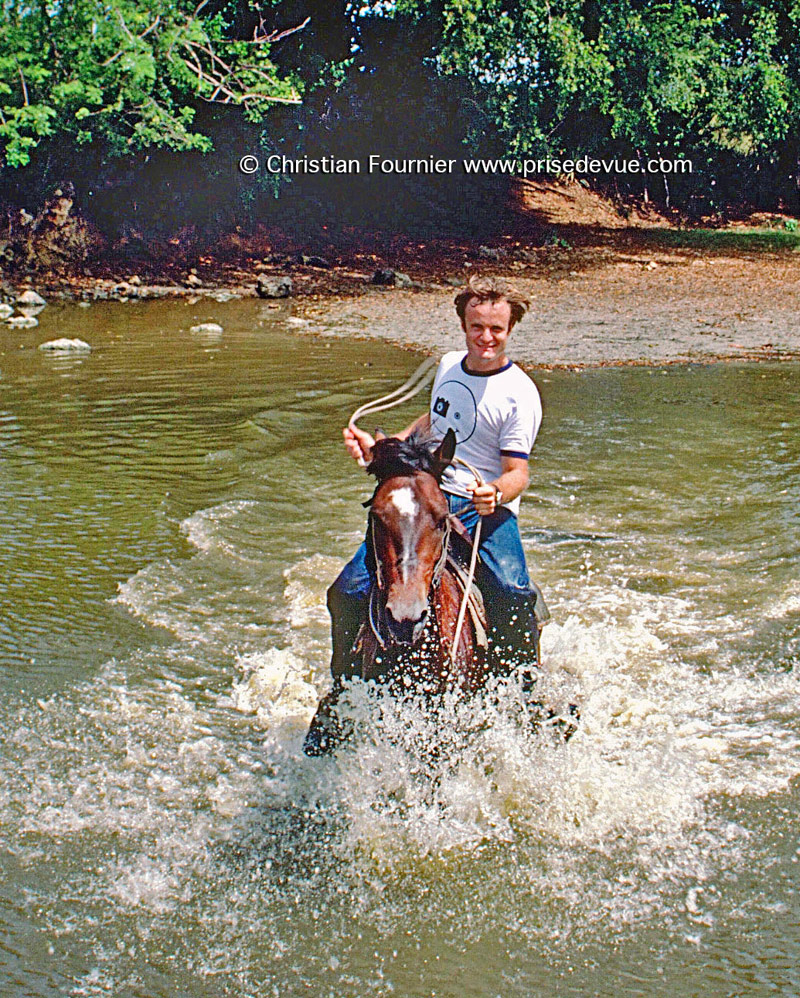 I did a lot of horseback riding photos in Mexico and in the Caribbean, in true nature. I feel bad for those who've only ridden horses in a school.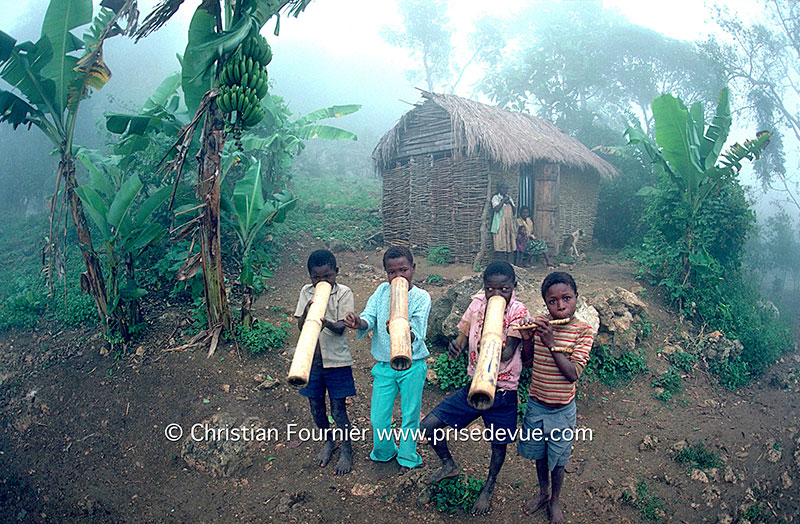 This photo was taken while going horseback riding from Cap-Haitien to Citadelle Laferrière.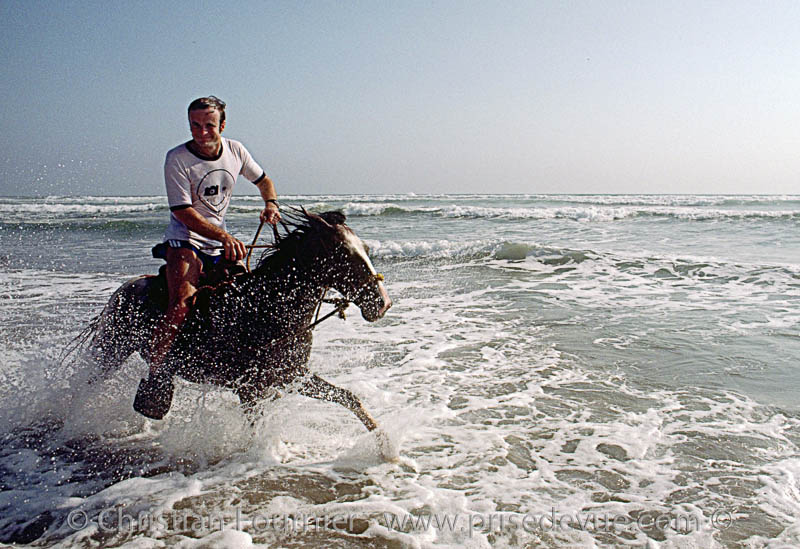 I love horse riding, but not in a barn.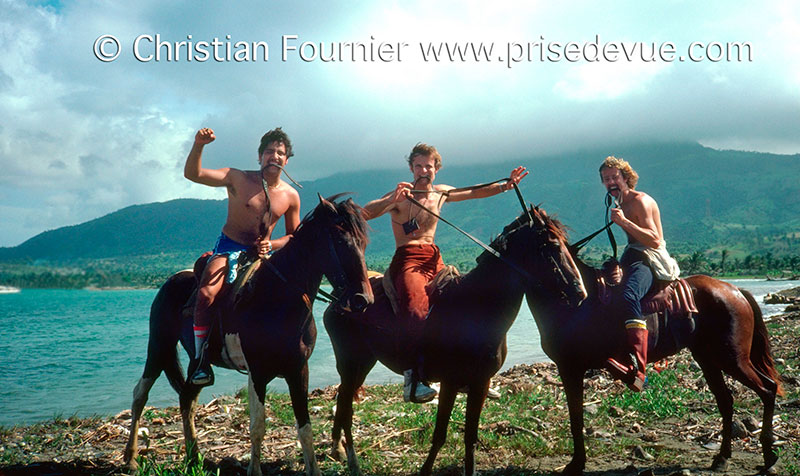 Puerto Plata. On the right Stuart Ward. On the left Reinaldo Perez. We bought the horses for a low price and could go anywhere we wanted. What a life. Thank Mike Gould for having started that.

Stuart Ward : "I always knew you would be a great photog. You had such dedication when most others (like me) partied hard. Love looking at your work. Keep it up Christian!"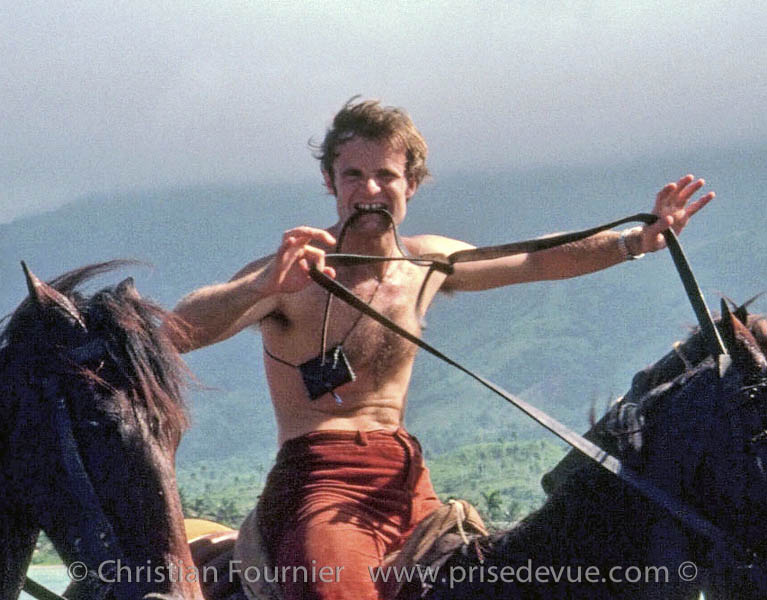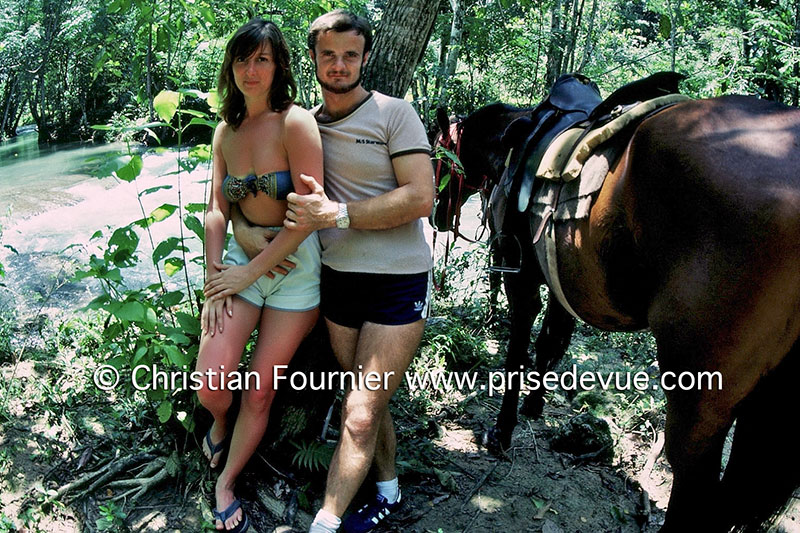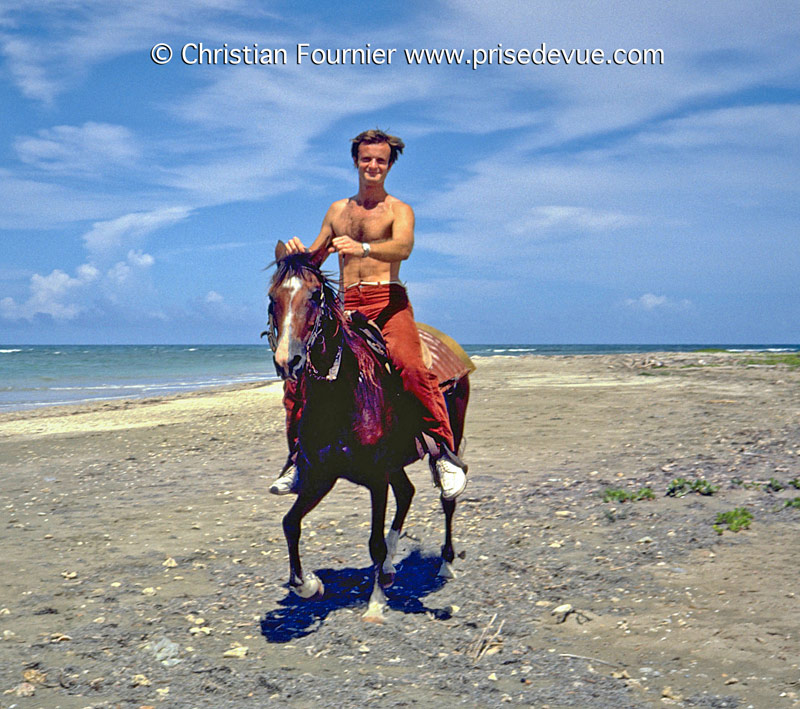 In Puerto Plata, Domenican Republic.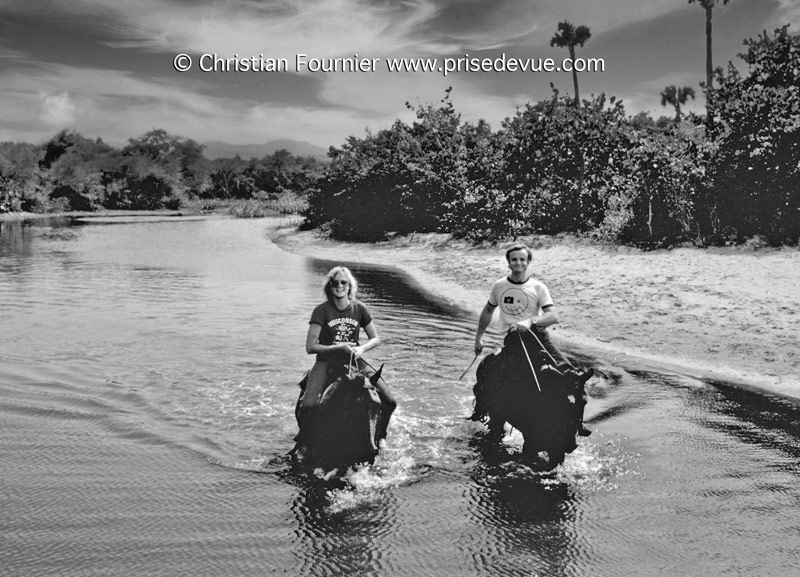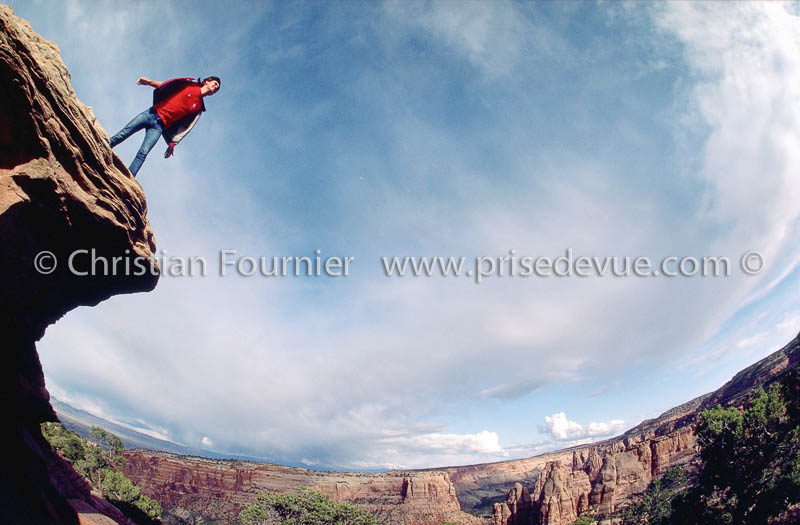 This photo was taken while horseback riding in Utah with David Turner (below).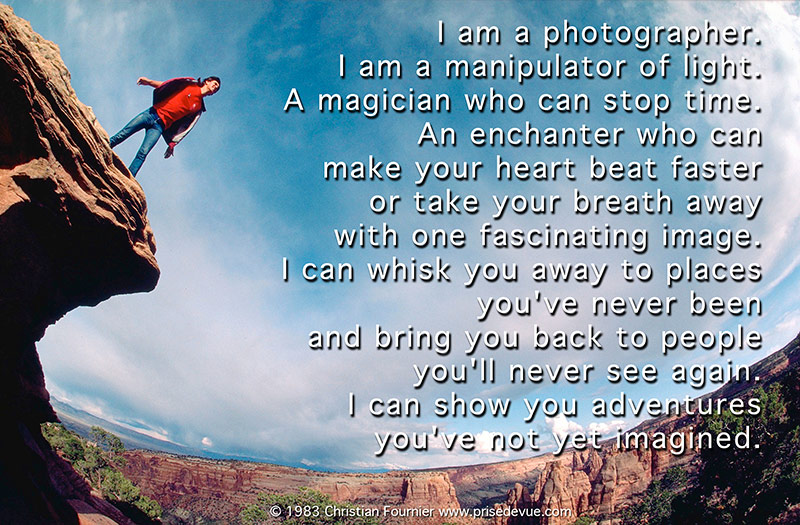 I am a photographer.
Light bends to my will.
I'm a magician who stops time,
a sorcerer who can speed up
the beating of your heart
or take your breath away
with a single fascinating image.
I whisk you away to places
you've never seen
and take you
before people who you no longer see.
I can show you adventures
that you've never imagined.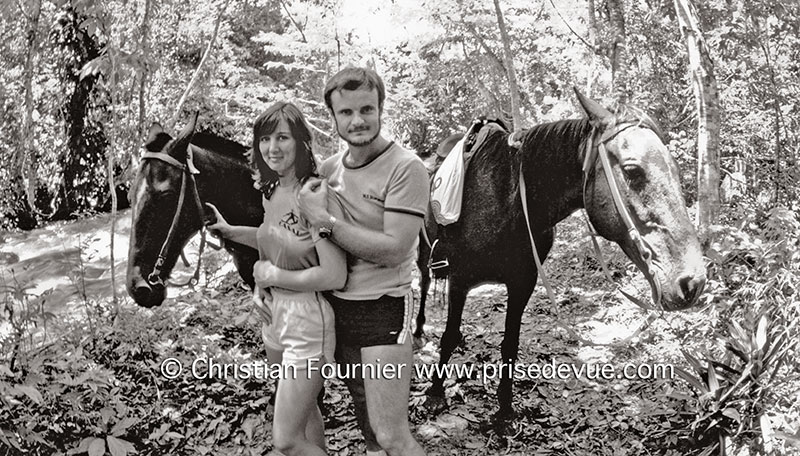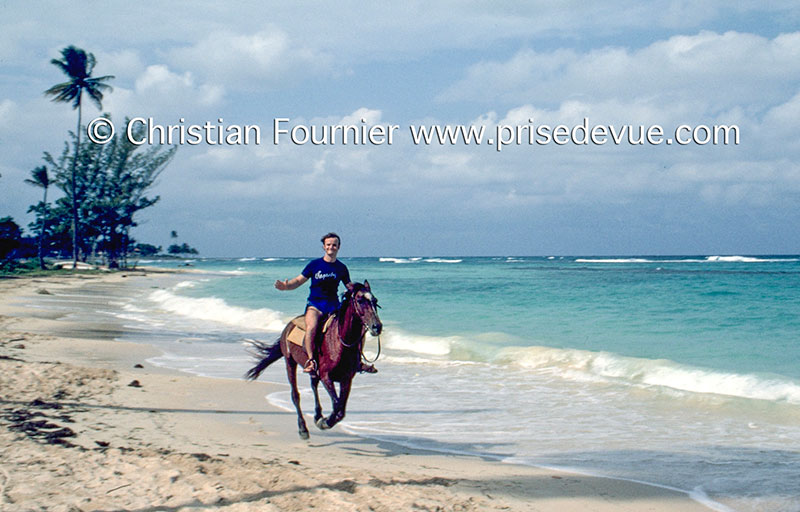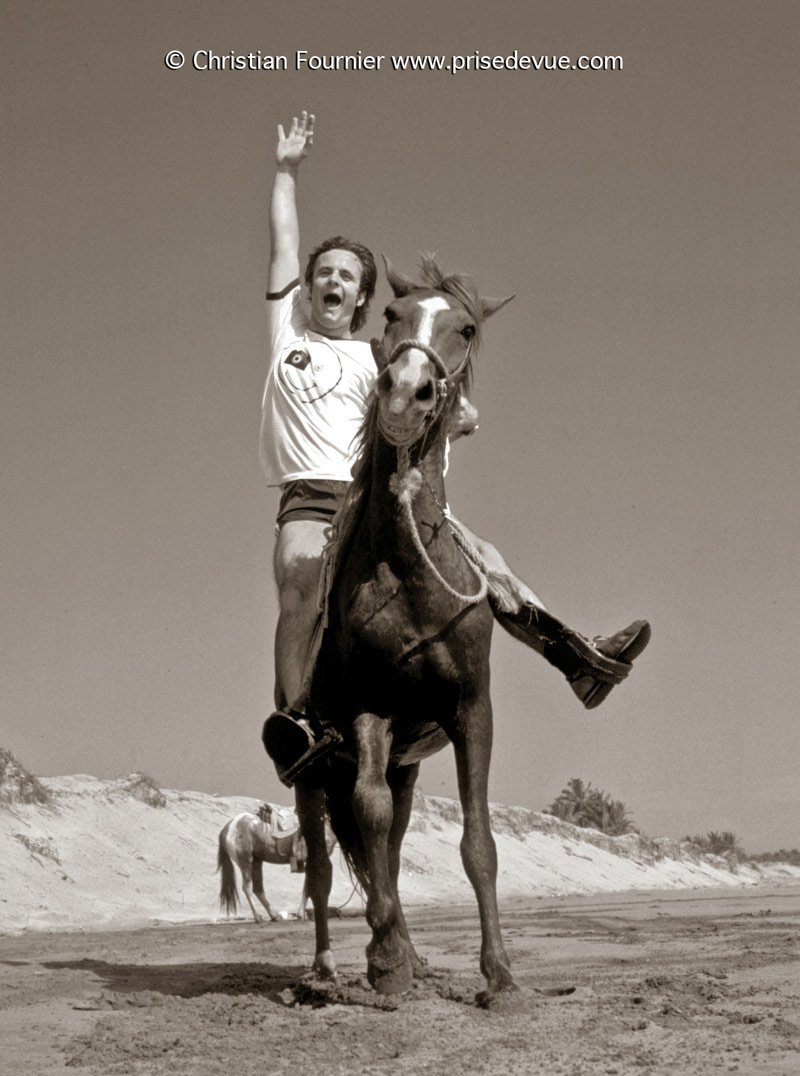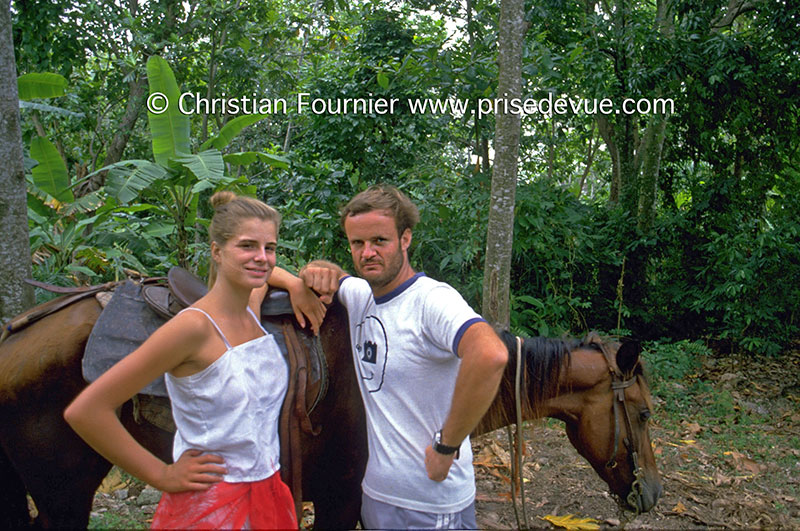 with Gwen in Martinique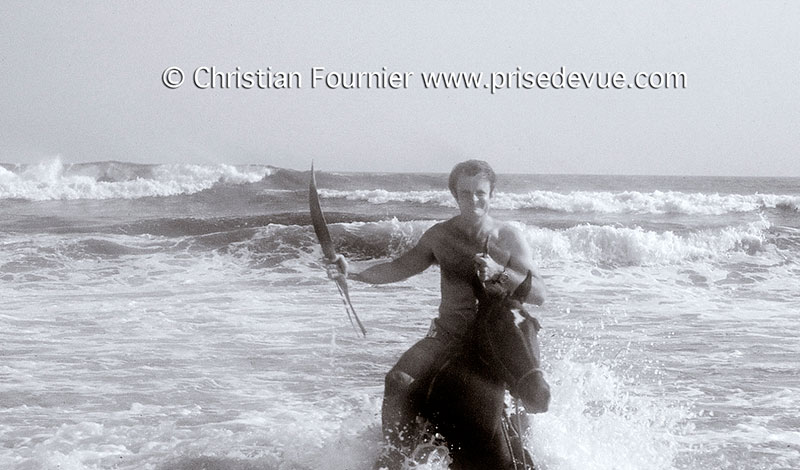 Our horses were not scared of salt water.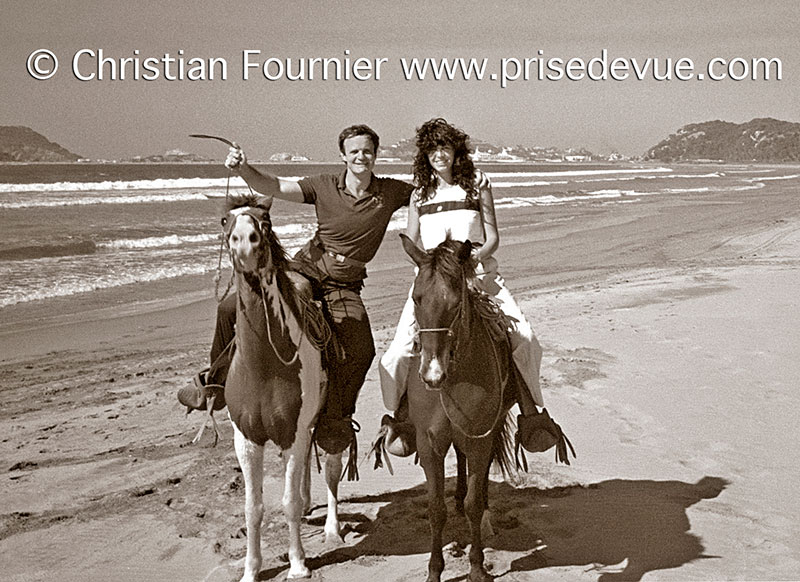 With Nicole in Stone Island, Mexico.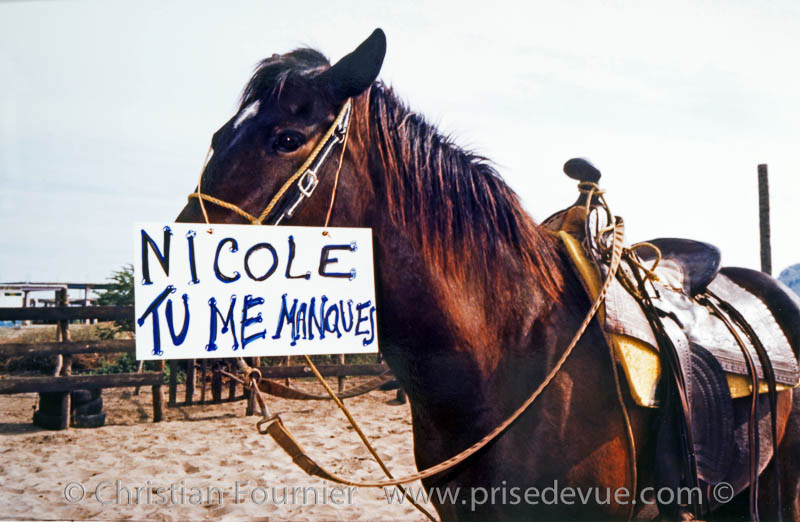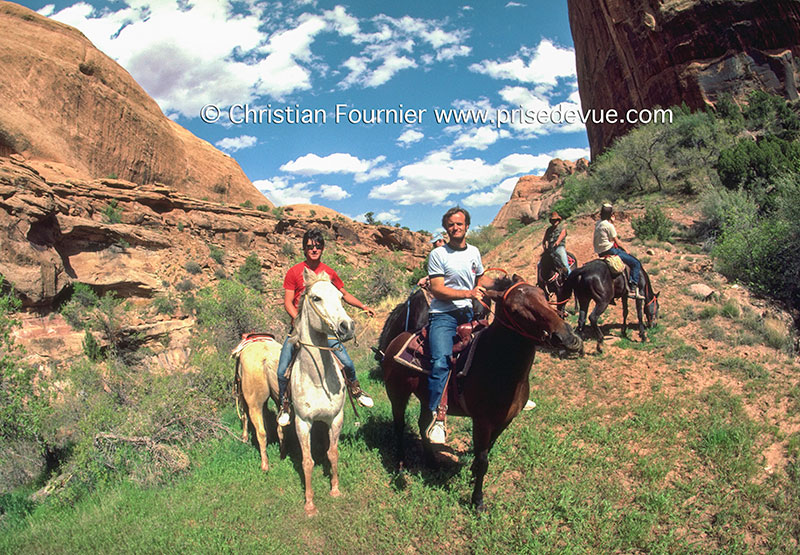 With David Tuner in Colorado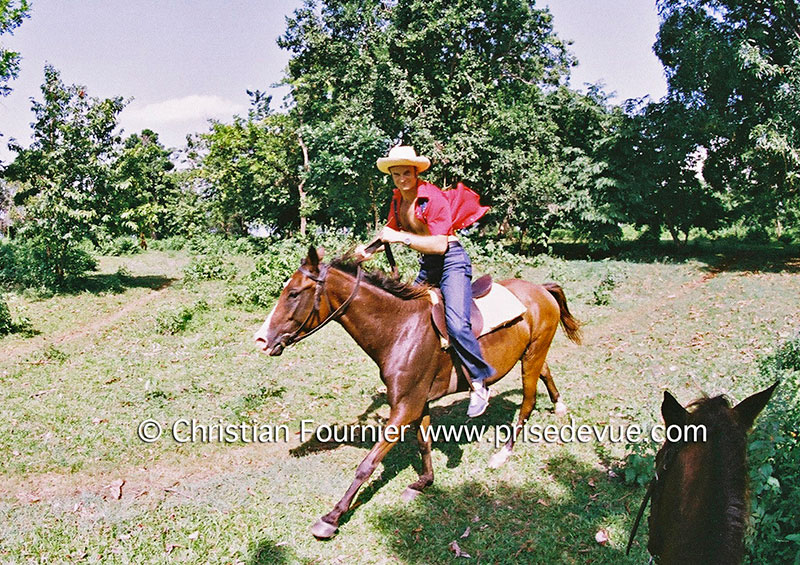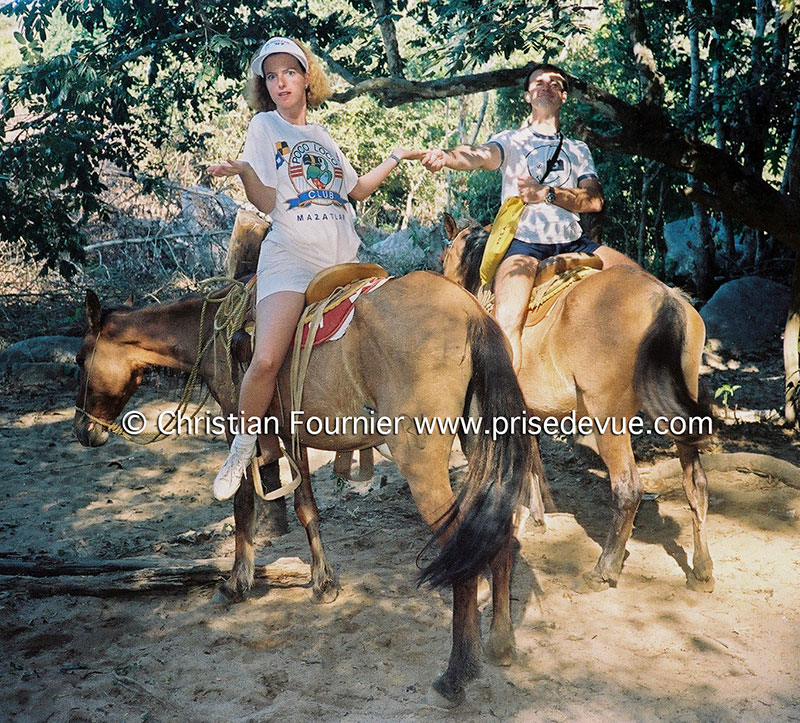 With Alana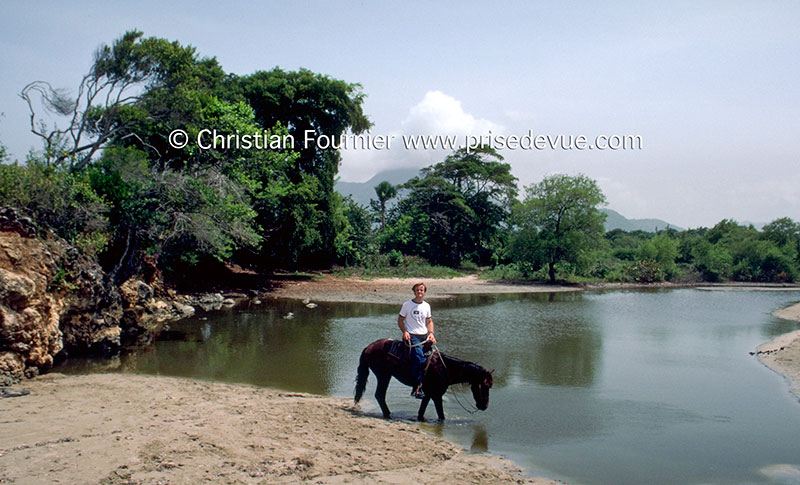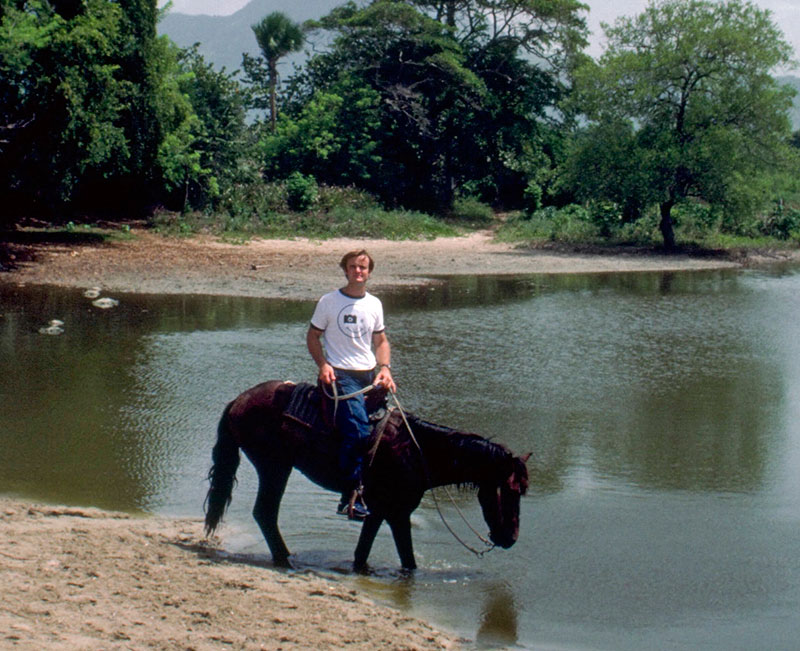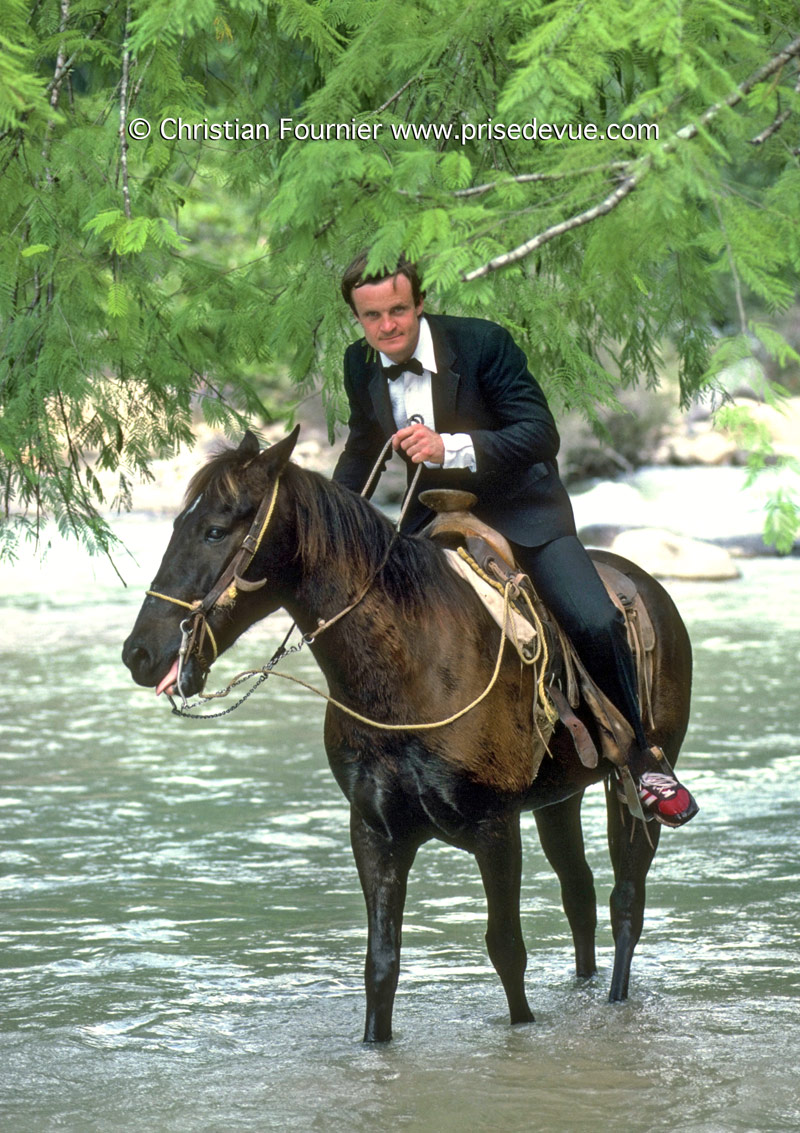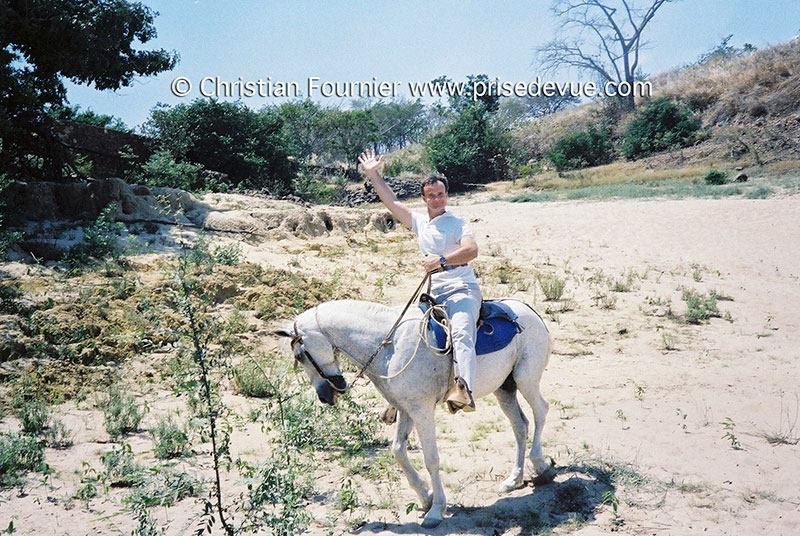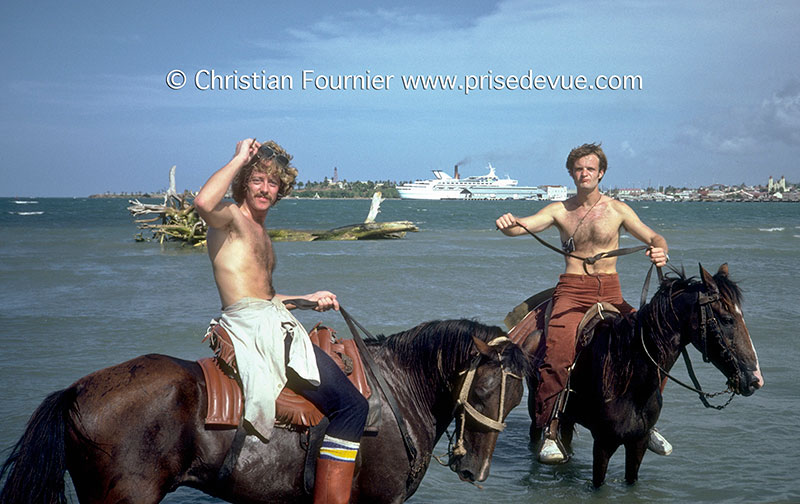 With Stuart Ward in the Dominican Republic.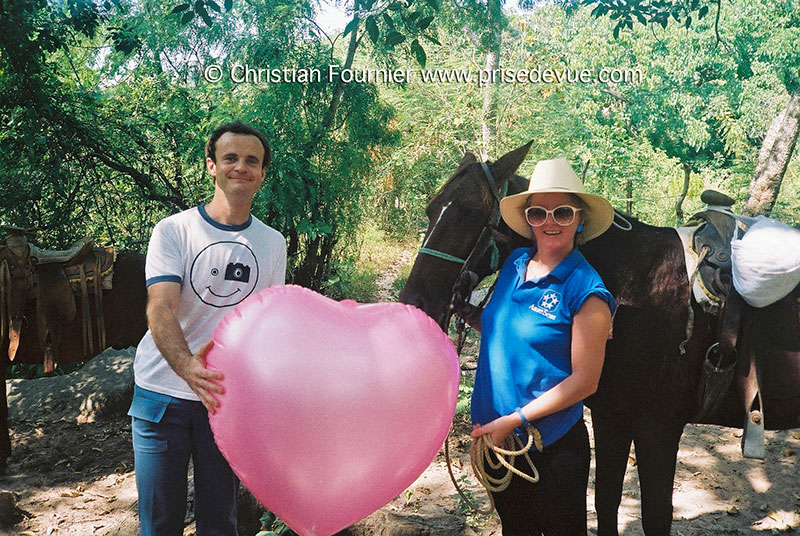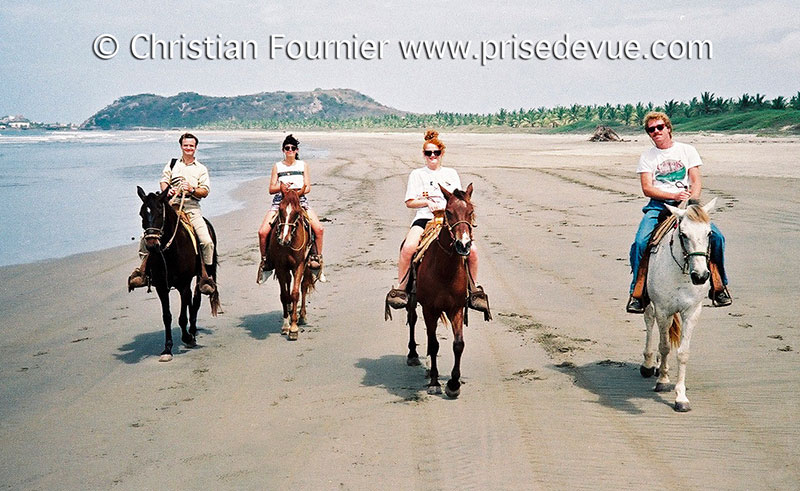 On Stone Island, near Mazatlan, Mexico with Nicole and John Cable.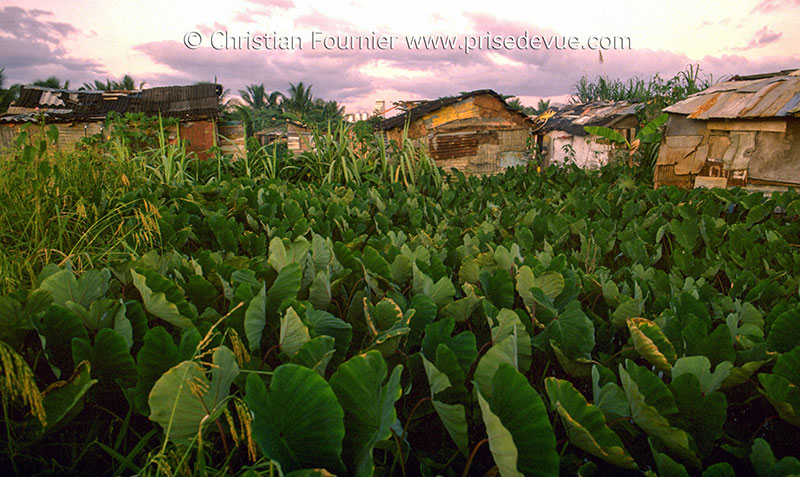 A landscape we came across on a hike in the Dominican Republic.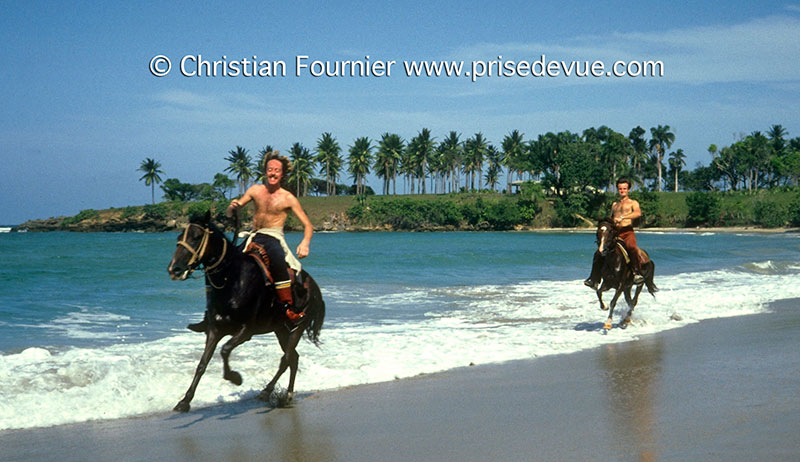 Still Stuart Ward.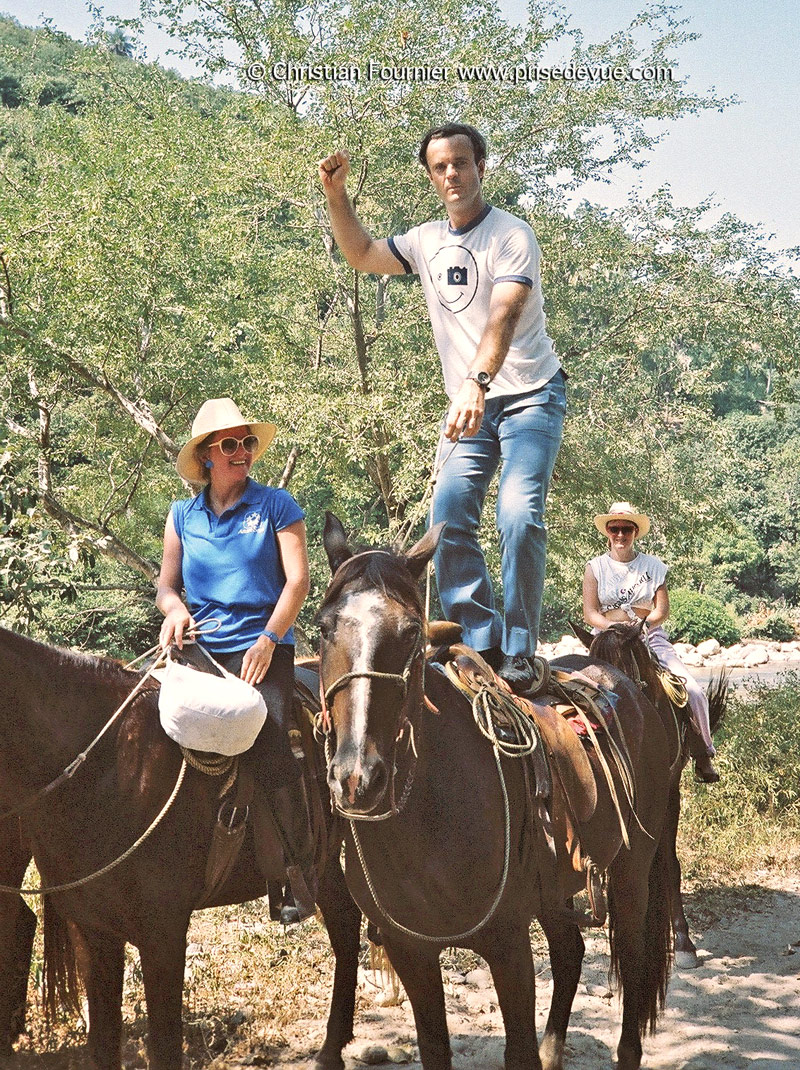 Always ready to fool around.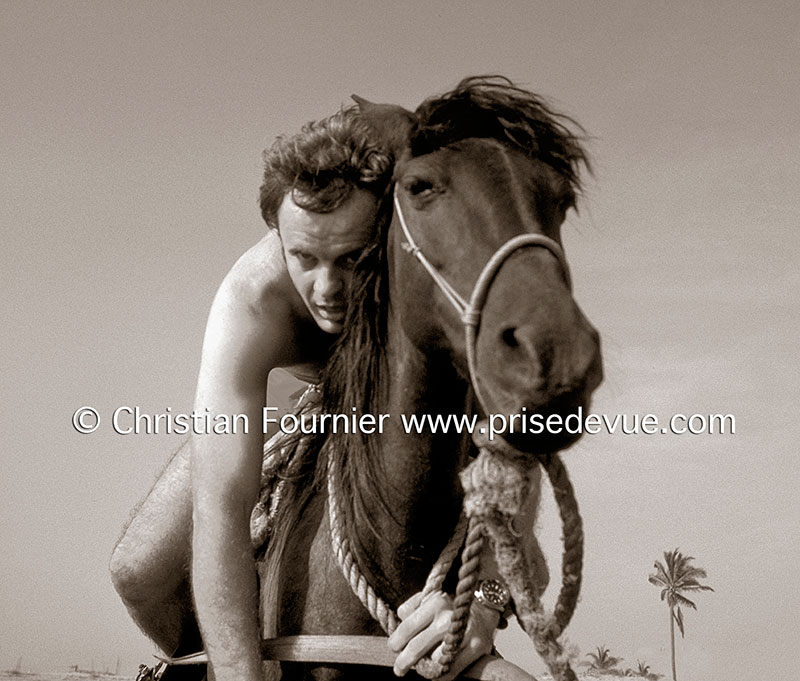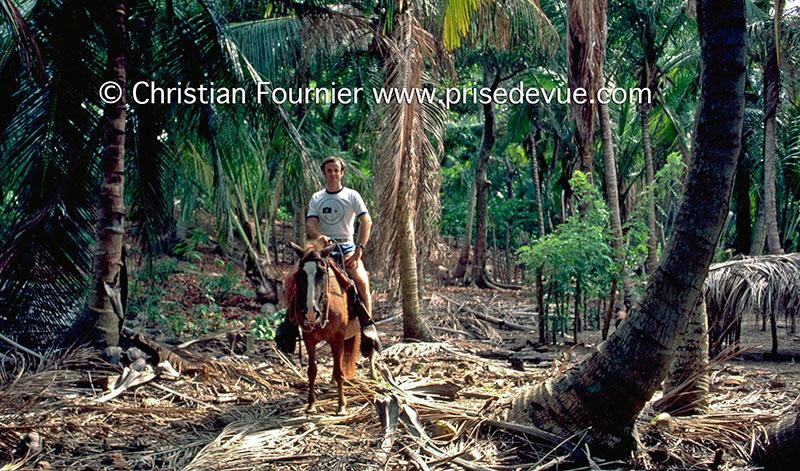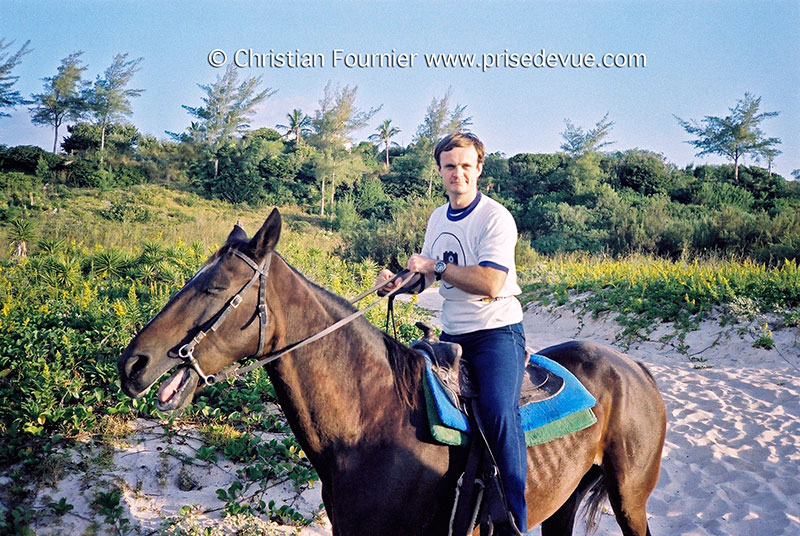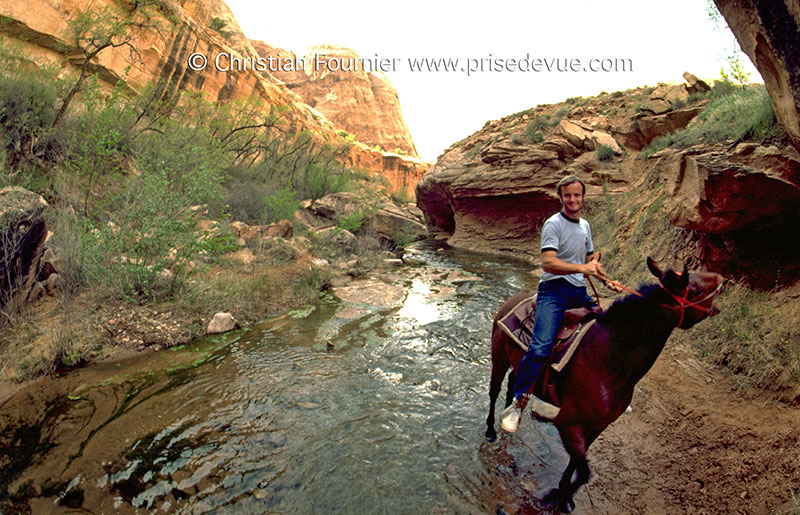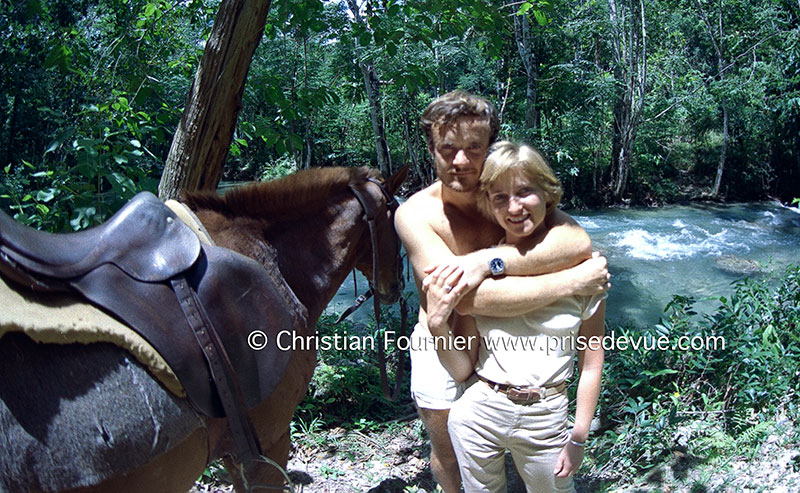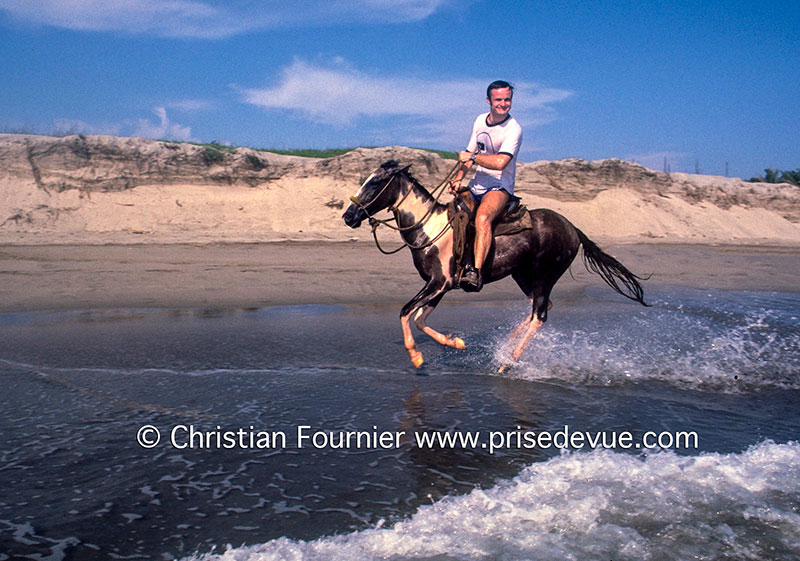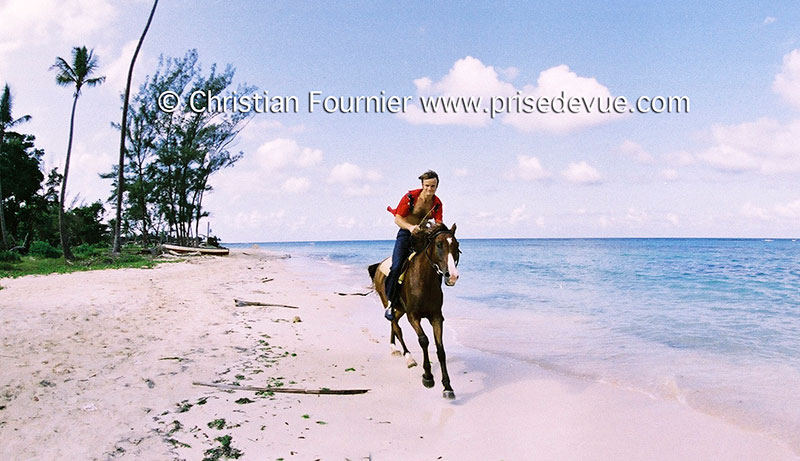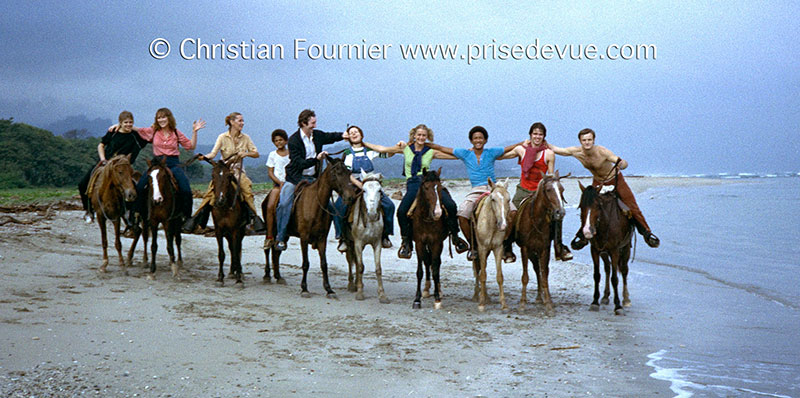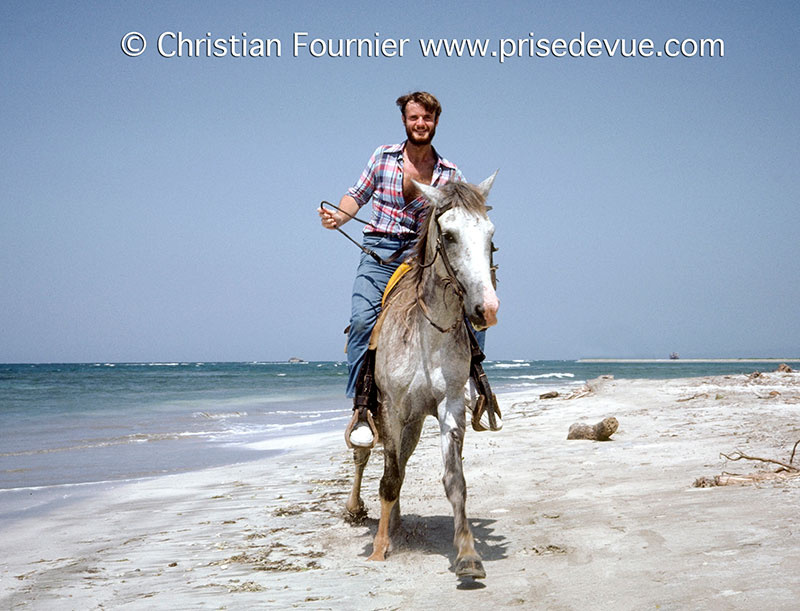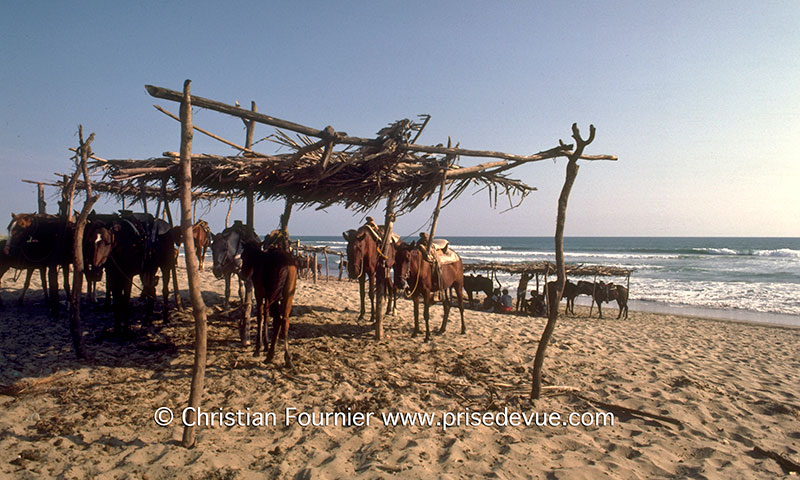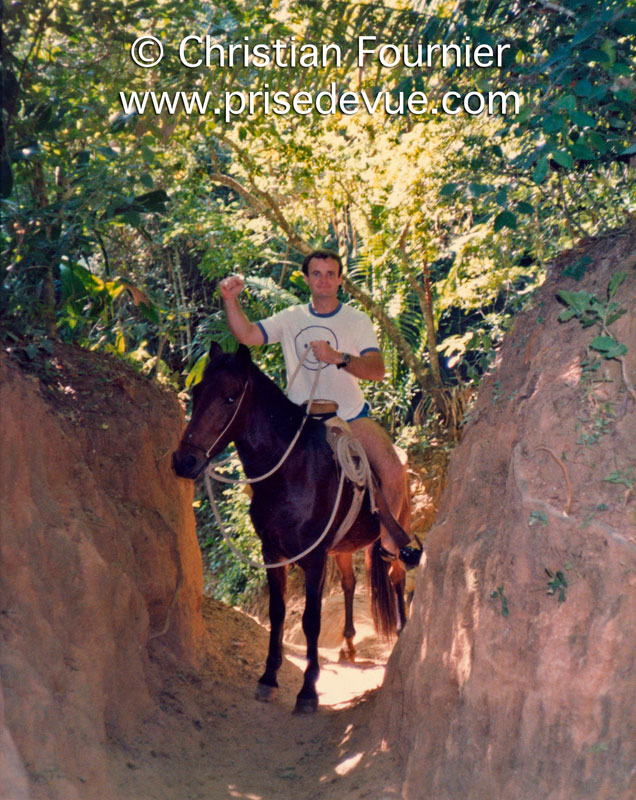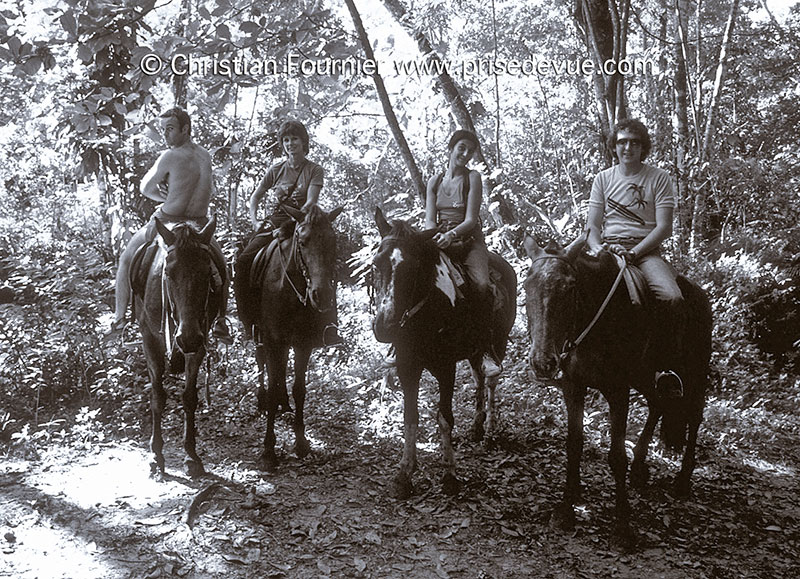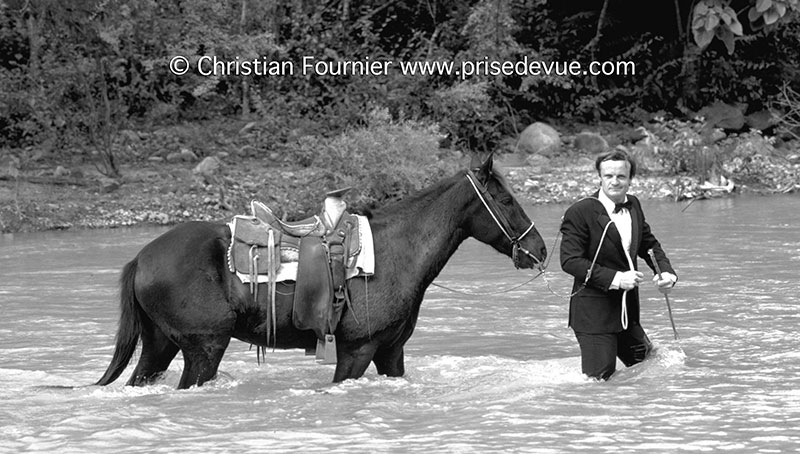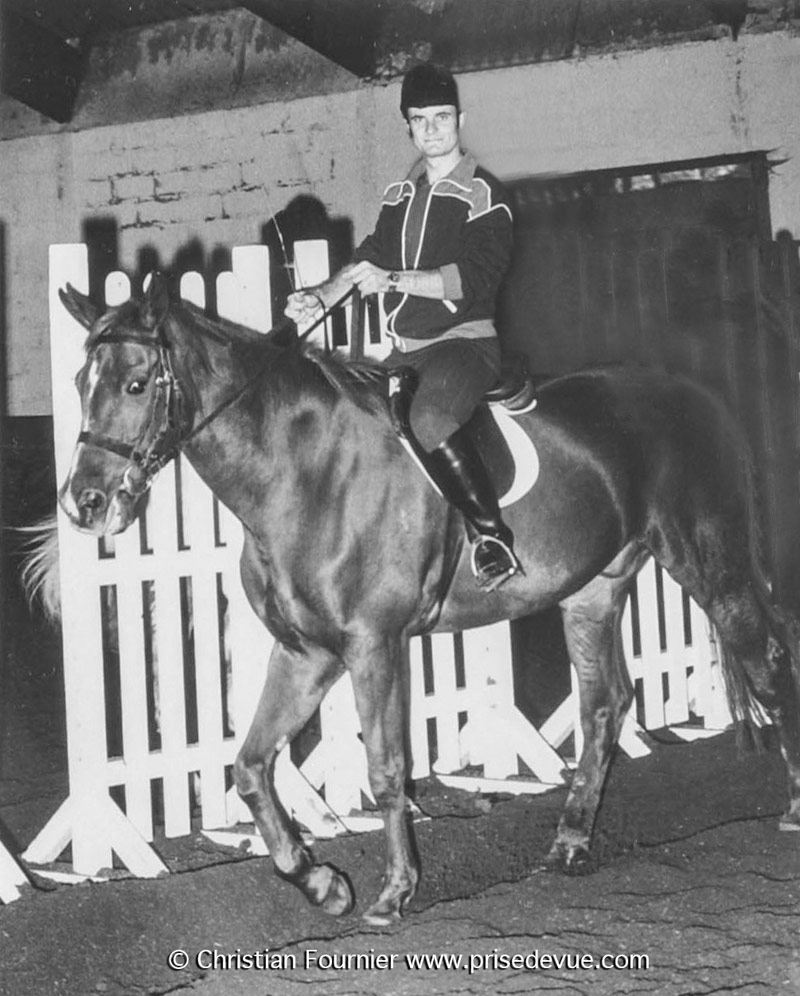 I spent two weeks horseriding with ClubMed at the Centre Pompadour. I only rode in a school and I found it terribly boring. To each their own.



Sur mes cahiers d'écolier Sur mon pupitre et les arbres Sur le sable de neige J'écris ton nom
Sur toutes les pages lues Sur toutes les pages blanches Pierre sang papier ou cendre J'écris ton nom
Sur les images dorées Sur les armes des guerriers Sur la couronne des rois J'écris ton nom Sur la jungle et le désert Sur les nids sur les genêts Sur l'écho de mon enfance J'écris ton nom
Sur les merveilles des nuits Sur le pain blanc des journées Sur les saisons fiancées J'écris ton nom
Sur tous mes chiffons d'azur Sur l'étang soleil moisi Sur le lac lune vivante J'écris ton nom
Sur les champs sur l'horizon Sur les ailes des oiseaux Et sur le moulin des ombres J'écris ton nom
Sur chaque bouffées d'aurore Sur la mer sur les bateaux Sur la montagne démente J'écris ton nom
......

Et par le pouvoir d'un mot Je recommence ma vie Je suis né pour te connaître Pour te nommer Liberté

Paul Eluard, Poésies et vérités, 1942

recto verso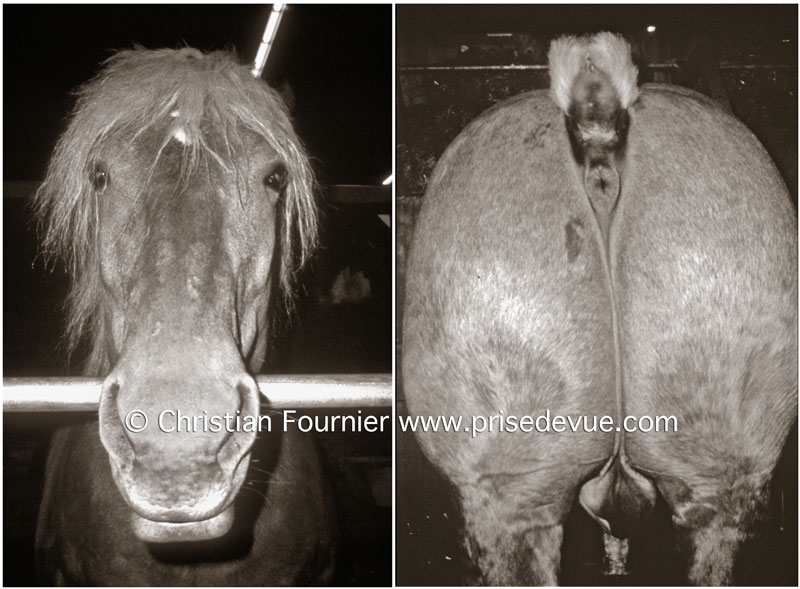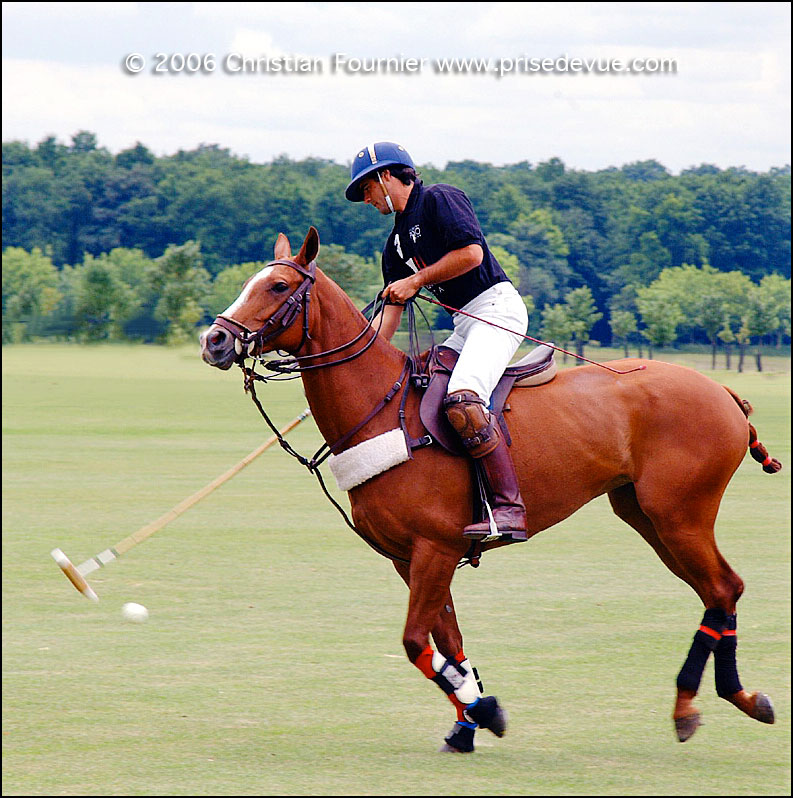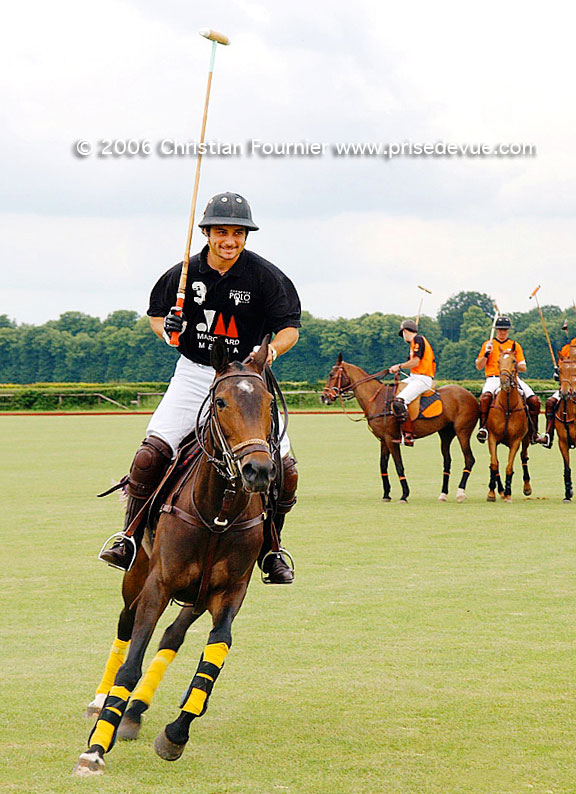 Polo in Apremont.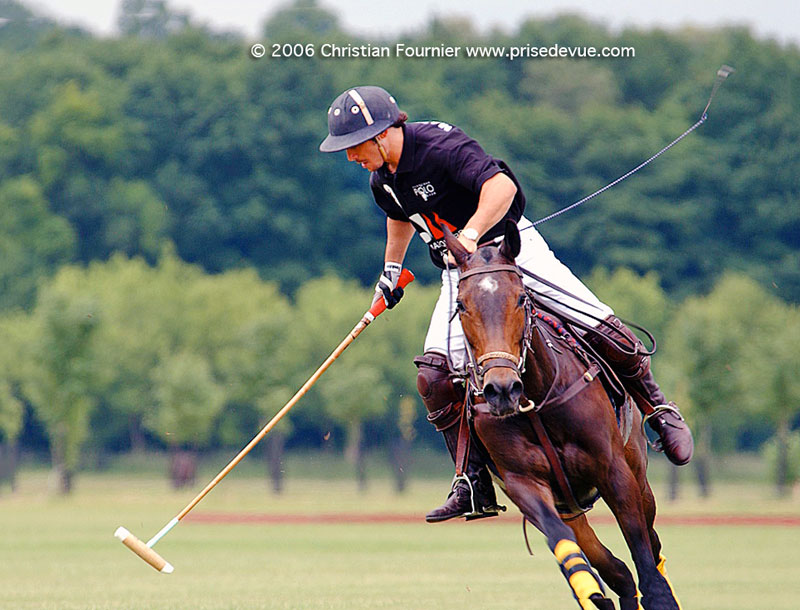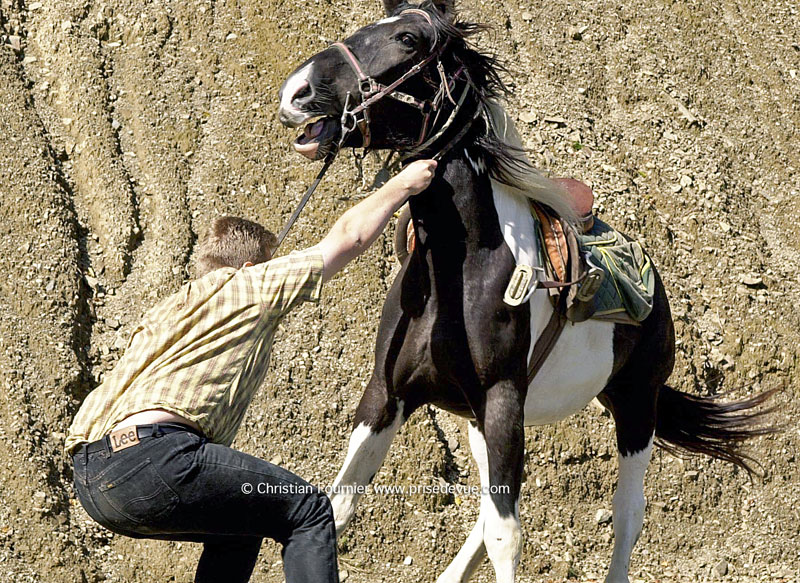 In Ariège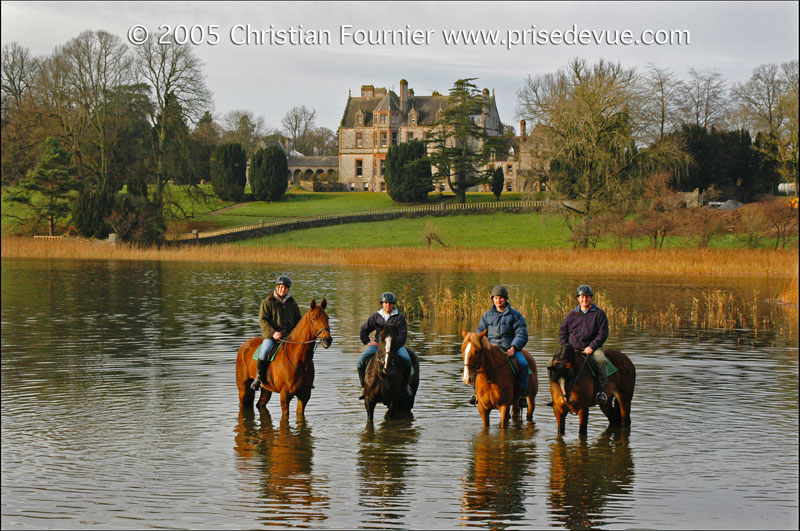 In Ireland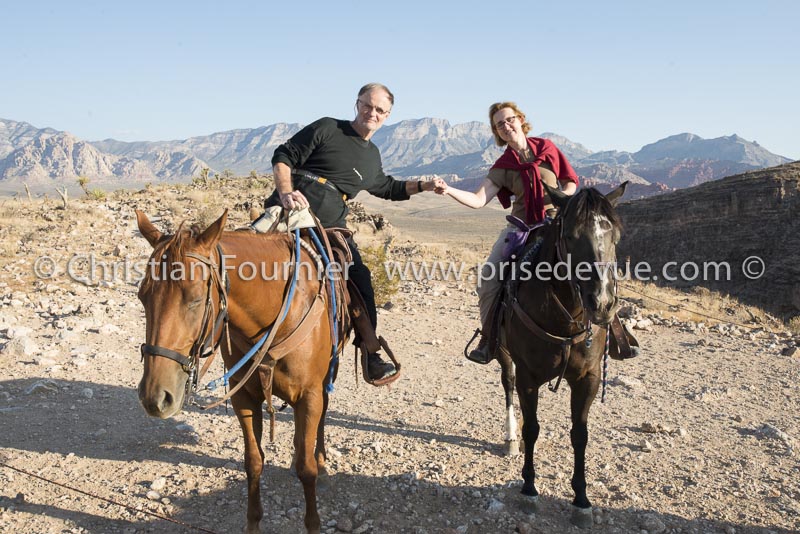 I go horseback-riding again thirty years later in the deserts of Nevada with Frédérique.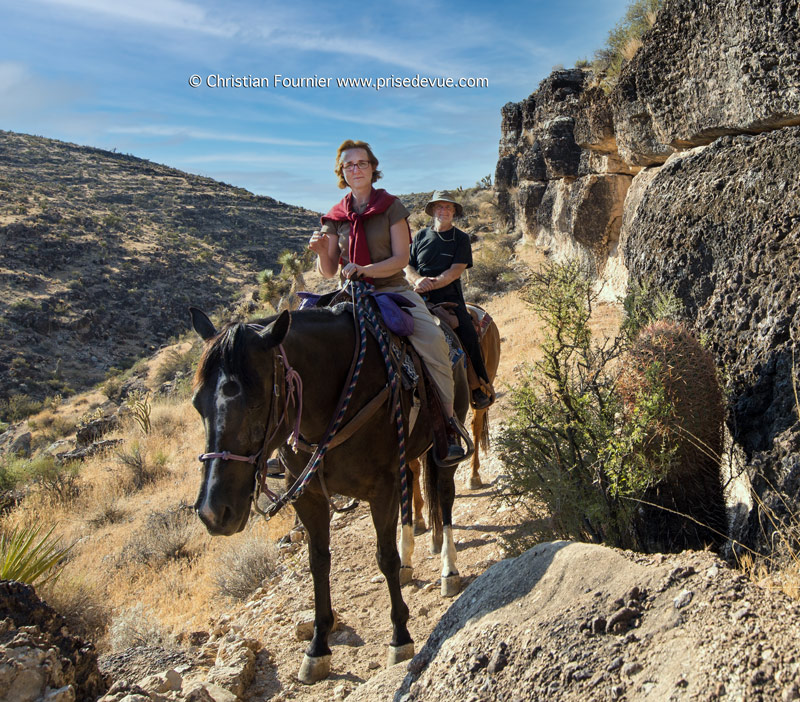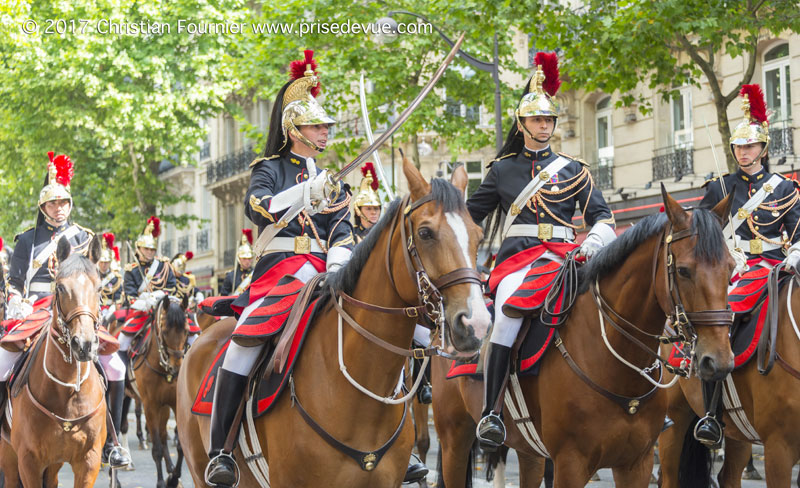 The Republican Guard on parade on July 14, 2017.

July 16 2017 : Historical Re-enactment in Samara : Let's give back to Caesar the splendours of Rome.
The large fortified settlement or oppidum called "Le Camp Caesar" is a historical site on the heights of Samara. In Roman times it could house thousands of men with their belongings and herds. 2000 years ago, a tactical camp was built. Samara and troops from all around Europe have re-established this camp.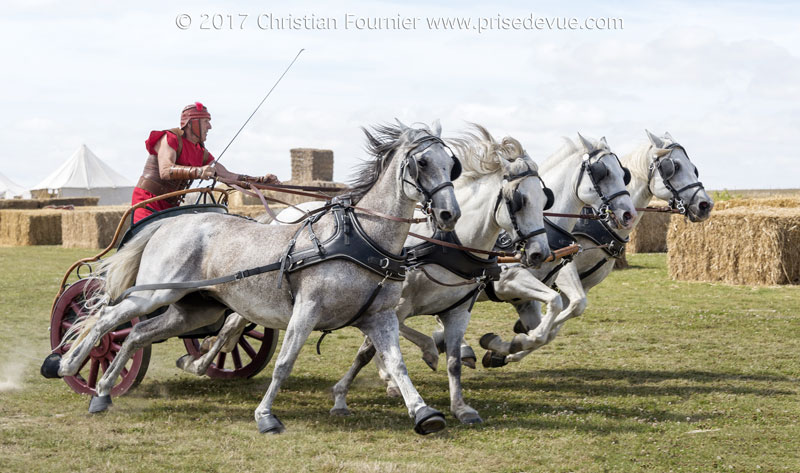 With Frédérique in Ireland in 2018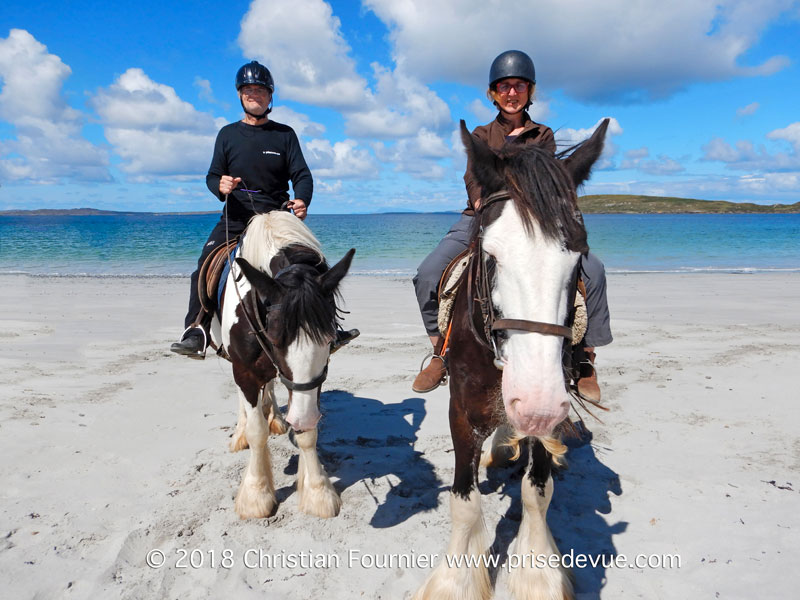 Sandrine Gorsky, cousine de Frédérique Gorsky, travaille dans un élevage de chevaux de courses Derrinstown Stud à Maynooth, Irlande.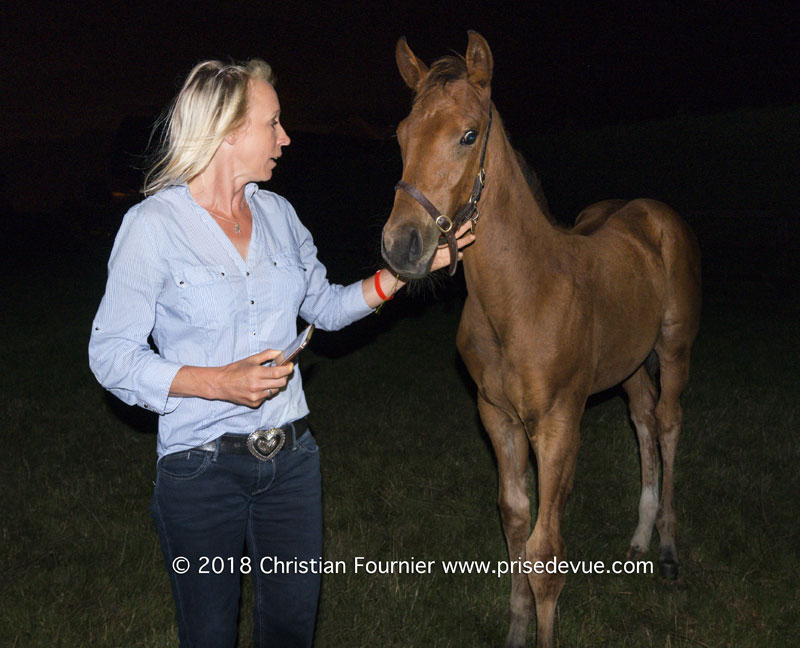 Shadwell Racing is the Thoroughbred horse racing operations of Sheikh Hamdan bin Rashid Al Maktoum, Deputy Ruler of Dubai, United Arab Emirates.

Introduced to Thoroughbred flat racing while a student in the United Kingdom, Sheikh Hamdan established his first racing stable there in 1981. Over the years he has invested heavily in both racing and breeding and has acquired major operations in England, Ireland and the United States.

He owns eight stud farms worldwide containing over 200 regally bred mares and many top stallions. Six of these are in the county of Suffolk, England, three near Thetford – Nunnery, Melton and Snarehill Studs – plus the Salsabil Stud near Bury St. Edmunds, Elmswell Park Stud and Beech House Stud just outside Newmarket. The other two are Derrinstown Stud in Maynooth, County Kildare, Ireland and the 3200 acre Shadwell Farm near Lexington, Kentucky.


1 avril 2019 : Au musée de la Grande Guerre de Meaux avec André Bertaux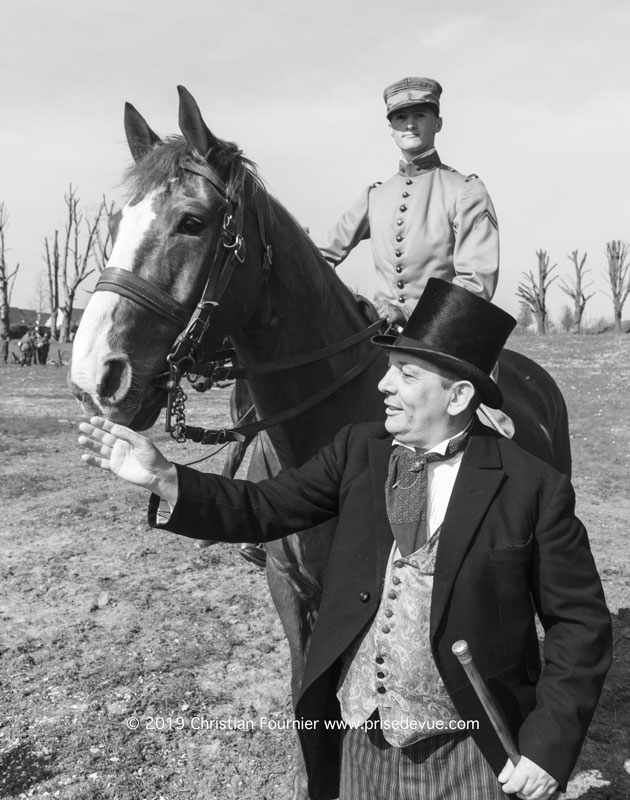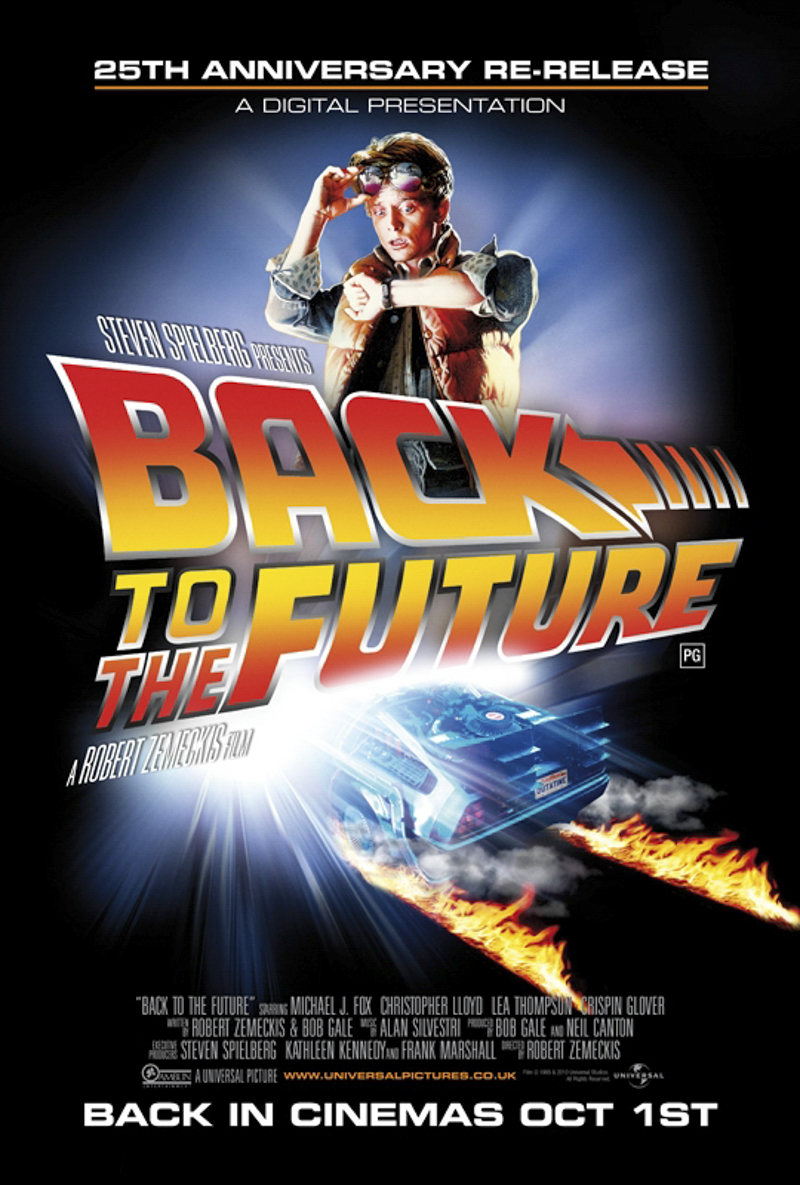 Here are about 620 examples of my photographic event coverage since 1984, that is to say, 30 years. This is without counting those which my clients have requested that I do not show and photos that have been lost.

I know it's enormous.
No, I am not a photographic robot: my mother had me tested


This list begins with the compilations: Fashion & Models, Lingerie, Beauty, Makeup & Hair, Portraits, Events, Objects, Archi & Deco, Industry, Press, Celebrities, etc.


The sensors and web capabilities from 1995 to 2005 were horrible compared to now (2021). 40 KB max by images. My uploads at this time were therefore bad. I replace them little by little. It's long. Thank you for your indulgence.


Conclusion 1: I must not be bad, so that all these people trust me.
I have loyal customers, a sign that they are satisfied with my services. Examples: Tollens, MEDEF, Dior, GMF, Unesco, L'oréal, Anaé, Agefiph, Essilor, Genzyme, Embassy Ireland, The Advertisers Club, Garmin, VW, etc. ...

Conclusion 2: Thanks to all these varied clients (industry, wedding, corporate and personal portraits, press, events, objects, medical, culinary, diving, sports, pageants, etc. ..), I see extraordinary slices of life, confidential or public, trades and fabulous countries. I do feel very privileged. Real life, live. Thank you customers.

In rough estimation, I take 5,000 photos a week. 5,000 x 52 = 260,000 a year. For 35 years = 9,100,000 photos. Well, I would like to reach 10 million anyway!

Conclusion 3:

Photography is my language




There is also a search command, not always up to date, but pretty comprehensive on all my reportages.




Due to manipulations between prisedevue.photos, prisedevue.photos and famousphotographer.com, some links may be broken. Sorry. I'm working on it !


*************************

MY BLOGS

Not many photographers have the courage to show their photos on a daily basis. I do it to show that in a wide range of photography, I always take good photos for my clients. Technical perfection and an obvious sensitivity. If you imagine the logistic necessary for these missions (estimates, preparations, equipment, transports in traffic jams, safety, etc.), you can see that I am a photographer who achieves results in all circumstances.





*************************

CONTACT

WWW.FAMOUSPHOTOGRAPHER.COM The archives



*************************





Intellectual Copyright Property 2020 Christian Fournier.




All rights are reserved. All texts, photos, graphs, sound files and videos in this website are protected. Their reproduction, modification and uses on other web sites than those by Christian Fournier are strictly forbidden.



Most of the photos on my web site are for sale, except, of course, the ones for which I do not have the models or decor releases.

I am at your disposal for any query you may have.