Page 35: Cruises: I invented studio photo shoots during formal evenings, my famous "Formal Portraits".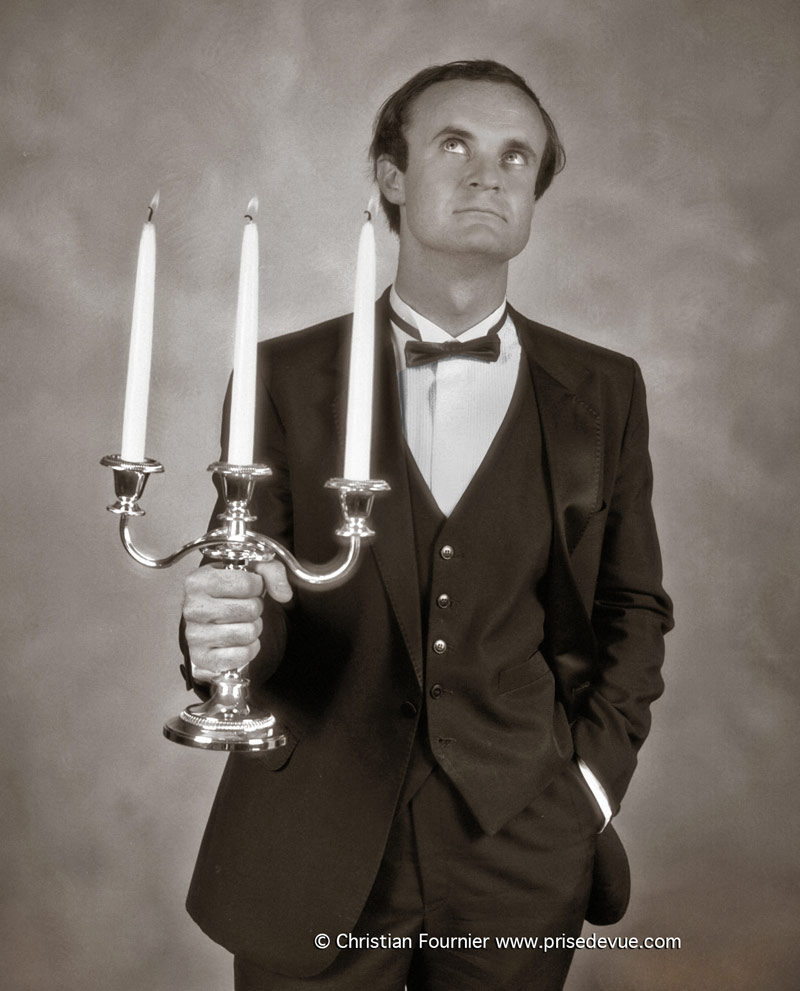 The man of the year

I had noticed, early on, at the very start of my employment as a ship photographer, this phenomenon, which seems strange to a French tourist:
passengers, during the two "Formal evenings" (where men would wear tuxedos and ladies their evening gowns), all want beautiful photos of themselves and their family, even if it had nothing to do with the cruise. They would often ask me for a photo, in the middle of a corridor, even with no particular decor.
It was a perfect occasion to have a good photo of the entire family, united and well-dressed, at the same time and in the same place (and yes, many passengers are a family reunion who meet up to see each other without hassle).
No need to make an appointment with the town photographer.
I dreamed on the idea of a real photography studio, yet ephemeral, when passengers were waiting in line to be introduced to the captain. We just had to be very fast and take pictures of everyone during this formal dress evening, which always takes place on cruiseships on the second evening on board.
I experimented, with the 35mm Leica, hand held flash and a plain corridor wall. These photos sold very well. Obviously it would have been better with a neutral background, like mottled cloth, popular at the time (the 1980s). And in larger format, something more professional like 6x6, a bigger photo with better lighting. Yet, this would require a lot of change for our team.
I had long discussions about this with the director of our Photography Company, Cruiseship Pictures Company Ltd, John Davies, an excellent business man. We met at his superb home, on Grand Cayman Island, which was along our ship's itinerary at the time, the S/S Rhapsody, a French ship. He agreed to let me experiment with large formats, and gave me free reign to solve all these problems (including the proverbial usage of 'tip' to help the authorities). This required authorisation from the maritime company as well as the on-board managers. I did receive authorisation on my French ship.
A week later John Davies sent me all the necessary stuff: Hasselblad 6x6cm camera with a dozen A12 backs, Bowens studio flash and umbrellas, the canvas blue background, the Manfrotto cross bar, autopoles and tripods, 120 roll films, kit to modify our film processing machine, kit to modify our roll paper printer from 5x7" to 8 x 10 inches, 8 inches paper rolls, cheap cardboard folders to show and sale the portraits.
I worked night and day for a week to install everything, calibrated it all, and made it work.
I persuaded the cruise director, Bernard Reid, an extraordinary man, to make official this new photo taking by telling the passengers about it during his cruise presentation.
I persuaded the captain Jean-Marie Guilloux you to let me attempt this experience, promising him not to slow down the line up before handshakes.
I persuaded the hostesses, with backhands and the unlimited use of my body, to help manage the crowd.
I persuaded the Hotel Manager M. Chabot to let me install my photo studio in the corridor in the middle of the queueing crowd, emphasising that's all electric cables would be secured to the ceiling and there would be no accidents.
I let my photo team (two assistants David Turner and Barrie Moss), both very good and cooperative, to shoot on their own the usual pictures of handshakes and cocktail party, and I myself tried the formal portraits.
The key to success was obviously to convince people to come in front of my blue background, pose them and photograph them as fast as possible without too much loss in quality. Luckily Americans understand these situations rather fast, and cooperated, as they were keen on a studio photo with their families. I also had to be extremely fast reloading my A12 Hasselblad film backs, which only contained 12 photos each. I believe I acquired, over the weeks, an unequal dexterity at A12 backs loading. I should have made it to the "Guiness book of records"
Obviously, I hit Immediate success. My beautiful 8 x 10 professional prints sold like hot cakes, often several copies of each, even though it had nothing to do with a cruise. Later on, I improved my technique:
- Advertising campaign in the photo gallery and in the entrances to lounges, with on posters showing samples of portraits
- Public address speeches before and during the portrait sessions
- Written inserts in the daily sheets delivered under cabin doors
- I trained hostesses to manage the line-up
- I improved the lights for faster changes from singles to families
- I acquired a Hassleblad Softar One filter too soften ladies and old people skins
- I got a flash meter to measure the lights properly
- I got a remote control triggering of the flashes to eliminate sync cables
- I got a set of posing stools to help with families
- I got a Nylon tripod bag to keep the A12 backs exposed and unexposed separate, and within the photographer's reach, and out of reach of passengers
- I standardised all poses to go faster
- I got castor wheels for the tripod to make faster and smoother movements for close ups to far away views
- I fine tuned my speech to the passengers in the line-up to make them relax while waiting and smiling during the poses, etc.
John Davies was very impressed by the sales figures and the photo quality. He immediately supplied all other ships with all the necessary equipment and samples of my portraits.
But after a few weeks, few ships could match my sales and quality. Most other photographers were highly trained at running after the passengers with a Leica in hand, but not at convincing them to come to the studio. Advertising and marketing was necessary. You had to believe in the new technique. You had to negotiate with the ship's management. You had to know how to install and use a professional photo studio (most photographers had never been to a photo school). You had to learn how to pose people in a studio. You had to learn the use of a Hasselblad. You had to learn how to modify the paper processor to a larger format. You had to learn how to load 120 film spools in the dark.
John Davies asked me to spend a week or two on-board each one of the company ships, as a portrait consultant. A lot of work, a lot of airplanes. I realized it might be difficult to interfere with the authority of the other chief photographers and try to change their habits. I am not even English! I would also have to negotiate with the ship managements. I would also have to supervise the shipping and installing of all the new equipment. I would also have to teach studio photography. I would also have to teach posing techniques. I would also have to teach advertising and marketing. And the worst, I would also have to teach "smugging" (the essence of our job, the reason we are paid more that musicians ...) passengers in a line up, for a very fast studio photo which has nothing to do with a cruise!
I knew my best argument would be to convinced them that they would earn more money due to the increase in revenue that my portraits would bring.
I agreed with John Davies to do it, for a simple salary: a straight 20% of the sales increase that my portraits would generate.
I worked hard, very hard. Luckily, as that time, I did not know the meaning of the word "jetlag".
The financial success of my portraits had been grossly underestimated, so I became rich. Well, not as rich as Bill Gate, for I am very stupid compared to him, for I did not negotiate a time duration or copyrights of my "invention".
Very rapidly, all other cruiseships, including from other photo concessions, copied my idea and made it a standard all over the world.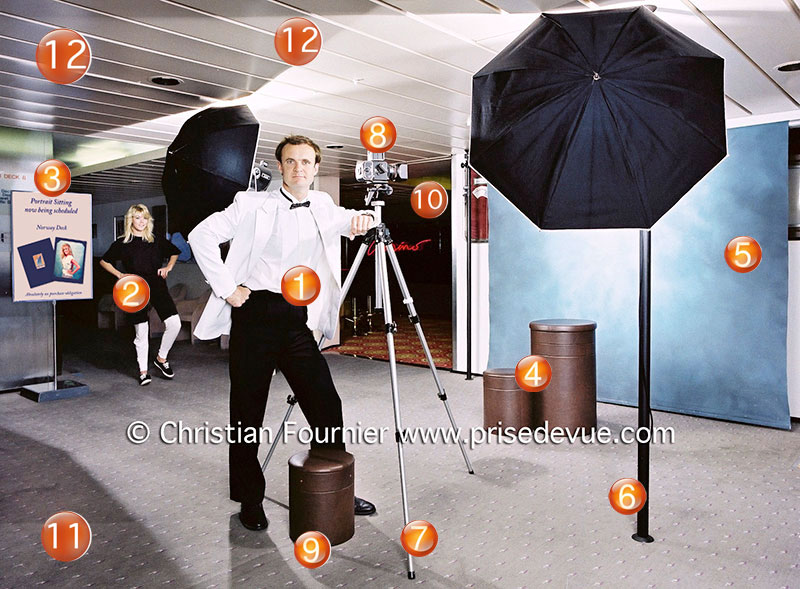 1 Photographer Christian Fournier, inventor. Not of the tux, but of this way of shooting!
2 Girl waiting for her turn to pose.
3 Interchangeable poster display featuring a photo by Christian Fournier
4 "Russian doll" stool set for photos of families and couples
5 Roll of painted canvas with a cloud in the middle
6 Telescopic Manfrotto autopole which extends from the floor to the ceiling, moveable and no screws or nails
7 Manfrotto tripod with quick release support
8 Hasselblad 500CM with waist-level viewfinder, softening filter Hasselblad Softar 1 to smoothen skin
9 A piece from the "Russian Doll" stool set so that the photographer can be slightly higher up than the models
10 The Casino and the pub 'Stanley'
11 The dining hall exit
12 Off-screen: the reserve (a tiny cupboard) to the side where all of this is stored during "non-Gala" evenings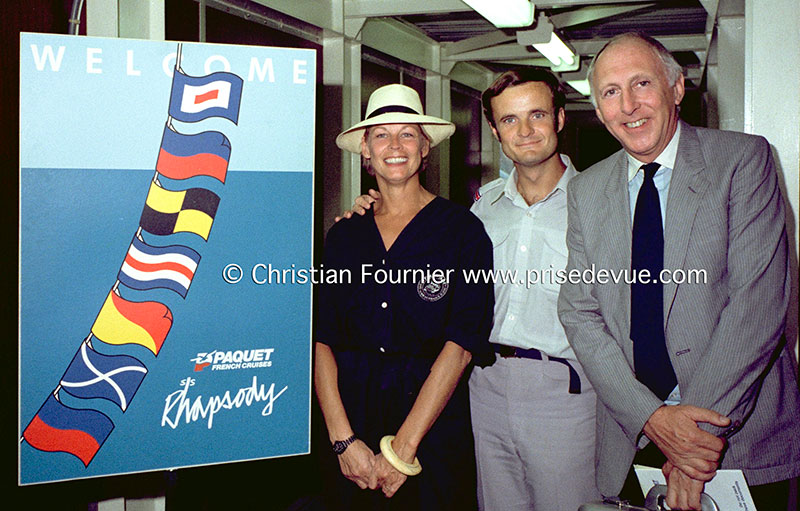 John Davies and his wife visiting me onboard the S/S Rhapsody.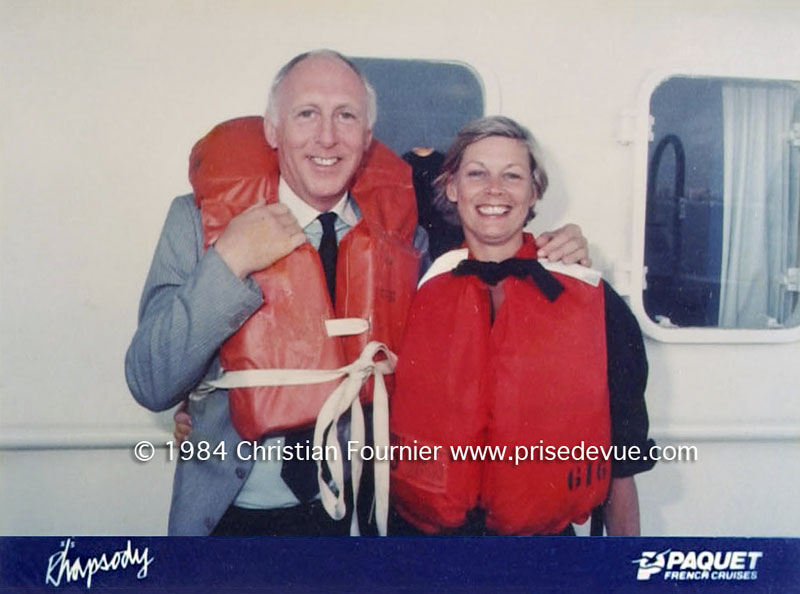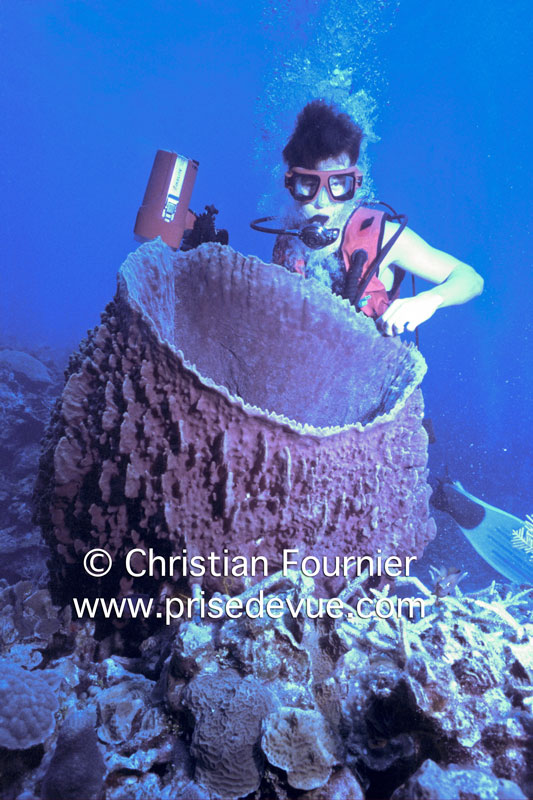 John Davies' son, here I'm taking a photo of him in Grand Cayman.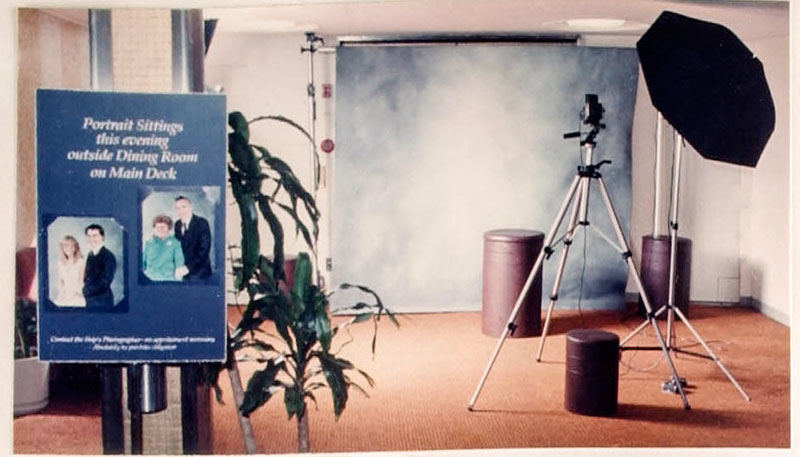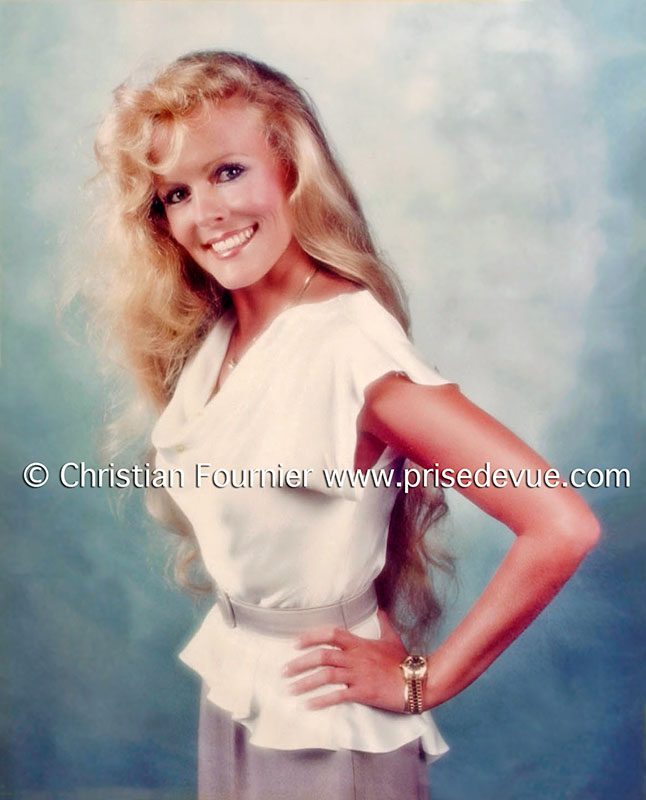 My famous portrait that made John Davies freak out. He had me print out 50 copies to distribute on the other ships and encourage the other photographers to do as good…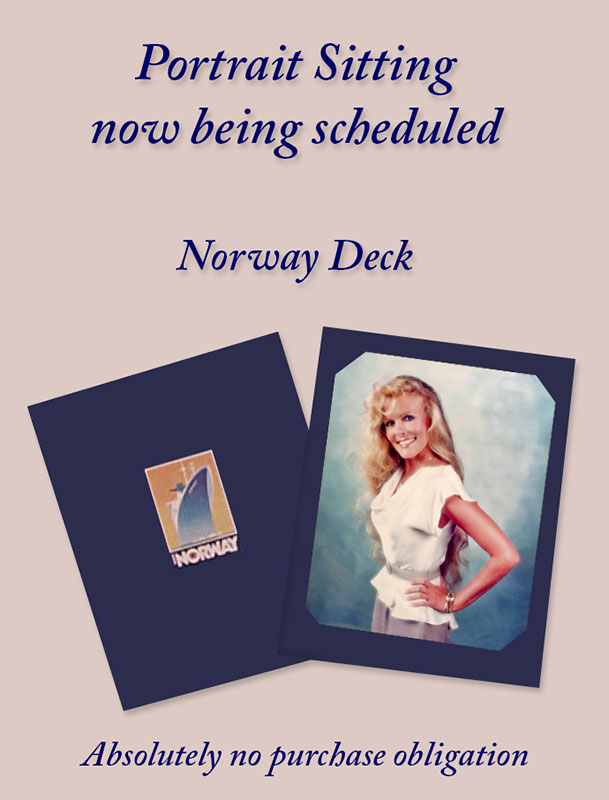 … and to make posters to draw in passengers.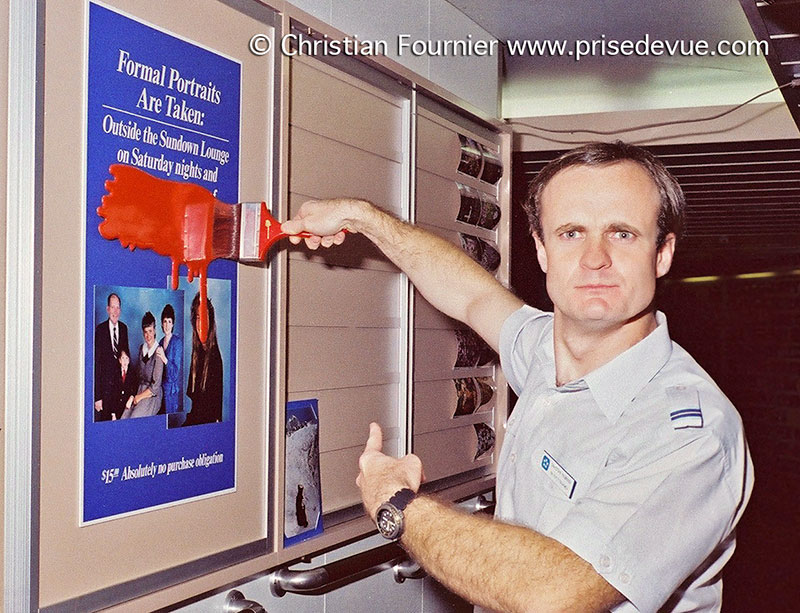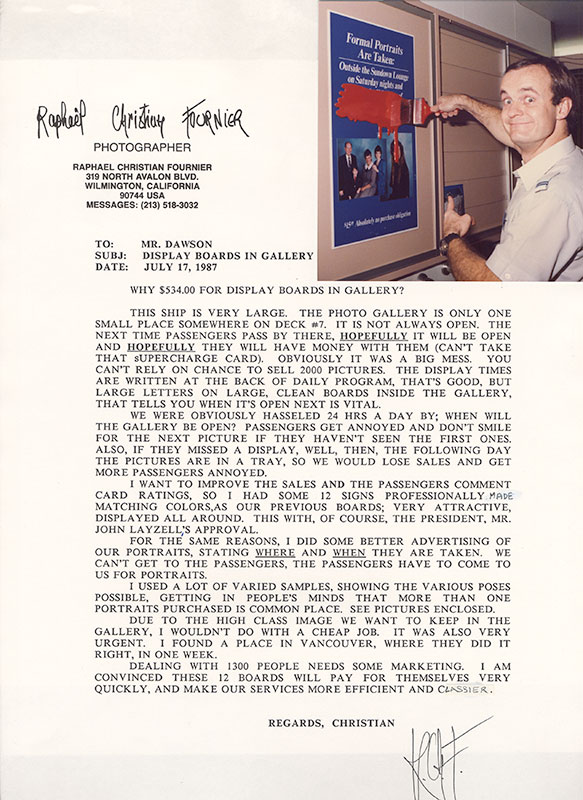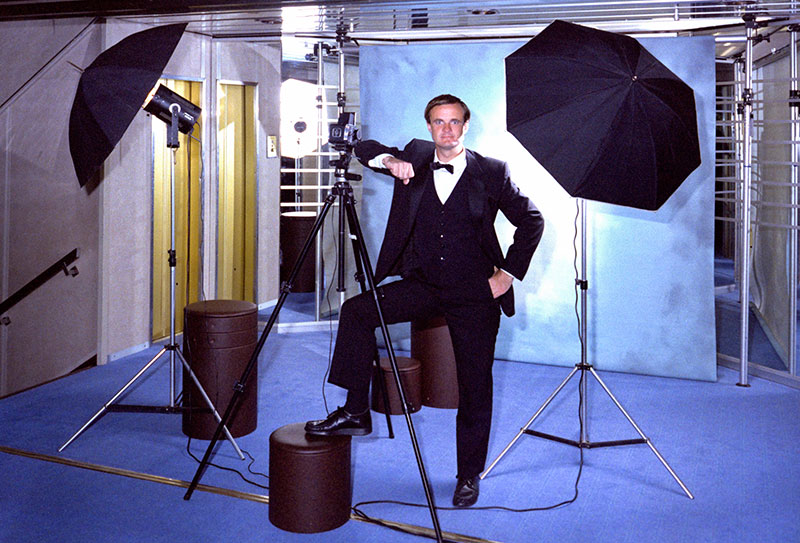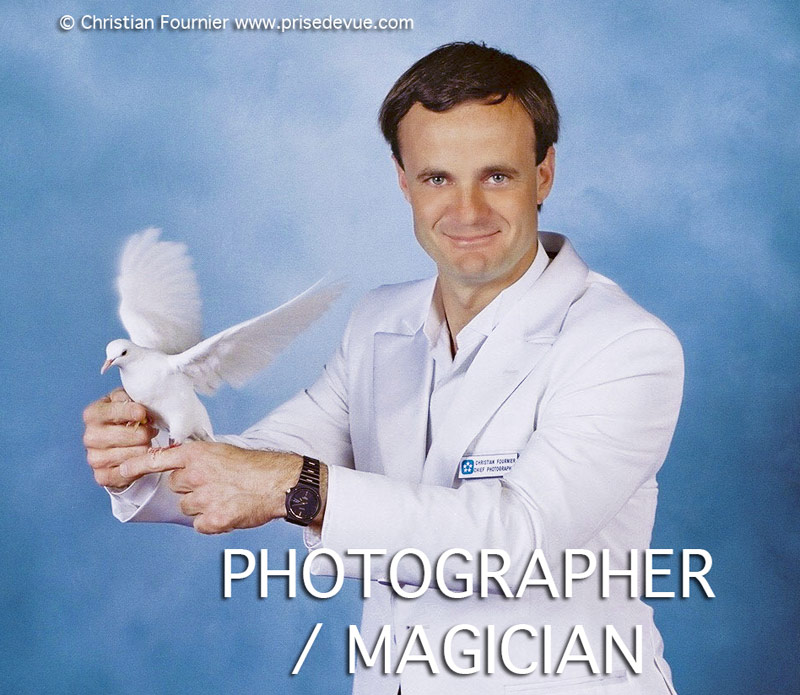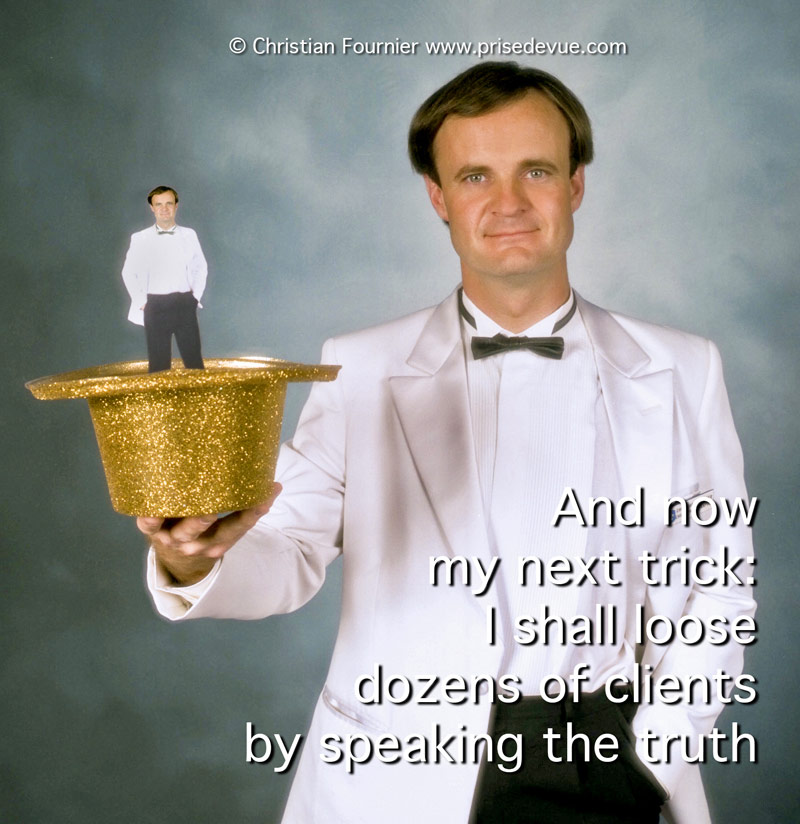 Some typical poses: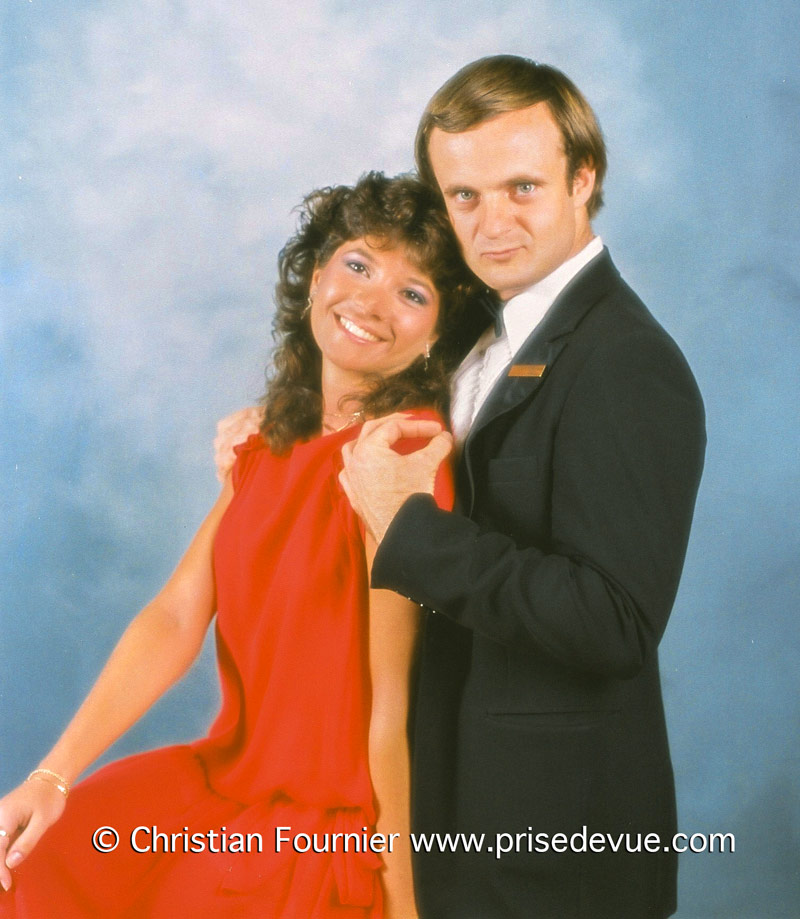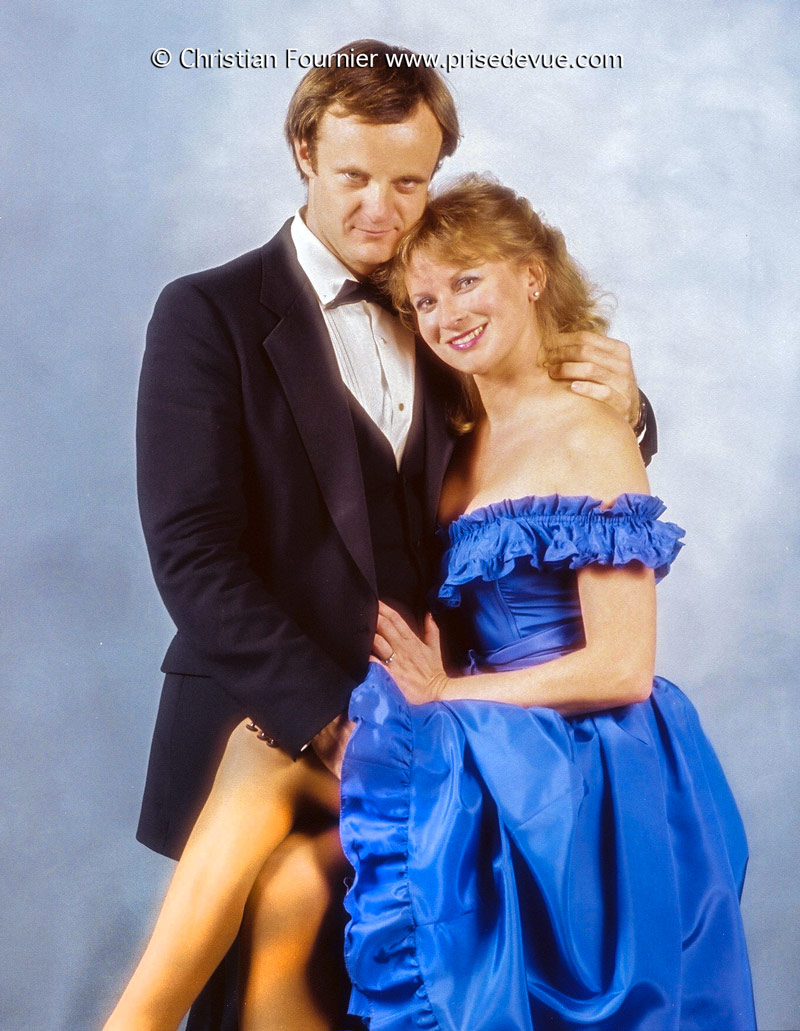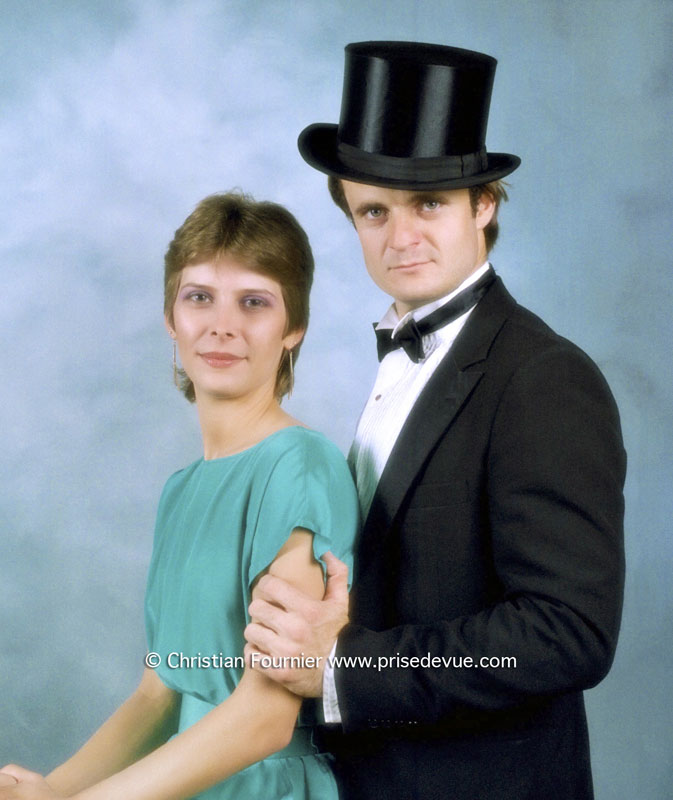 With
Margaret Cleveland.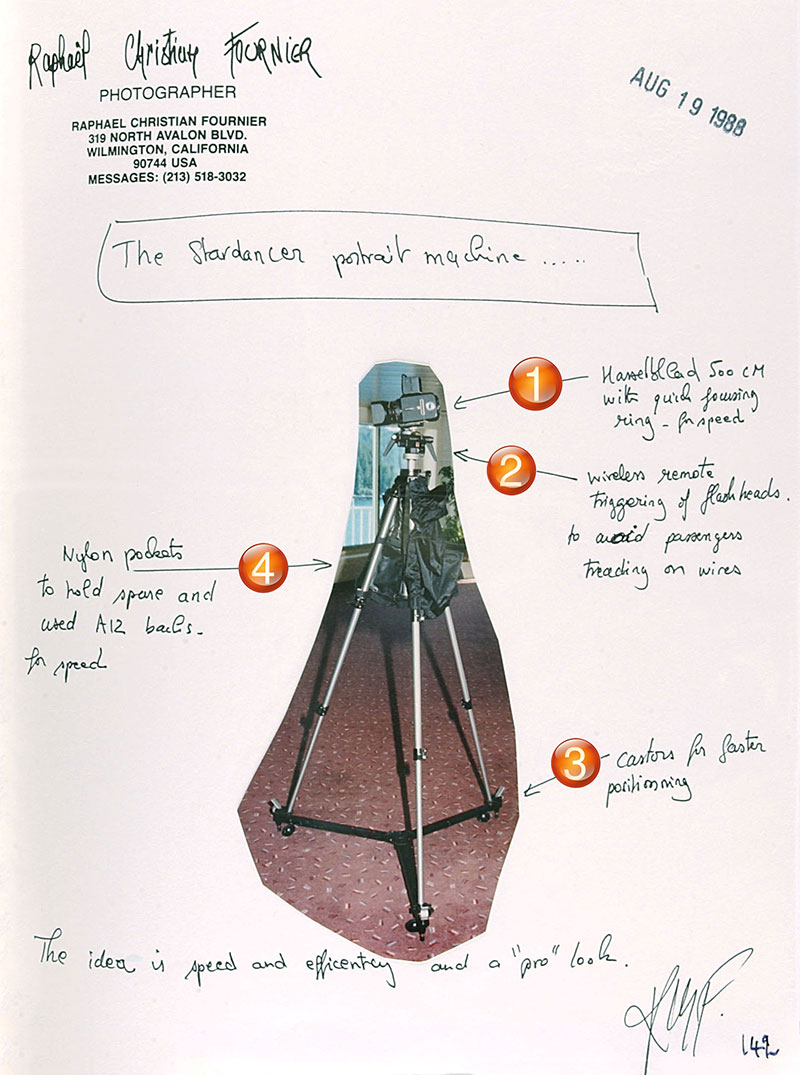 1 - Hasselblad 500CM with quick focusing ring (for speed)
2 - Wireless remote triggering of flash heads to avoid passengers treading on wires
3 - Castor for faster positioning
4 - Nylon pockets to hold spare and used A12 backs, for speed
The idea is speed and efficiency and a "pro" look.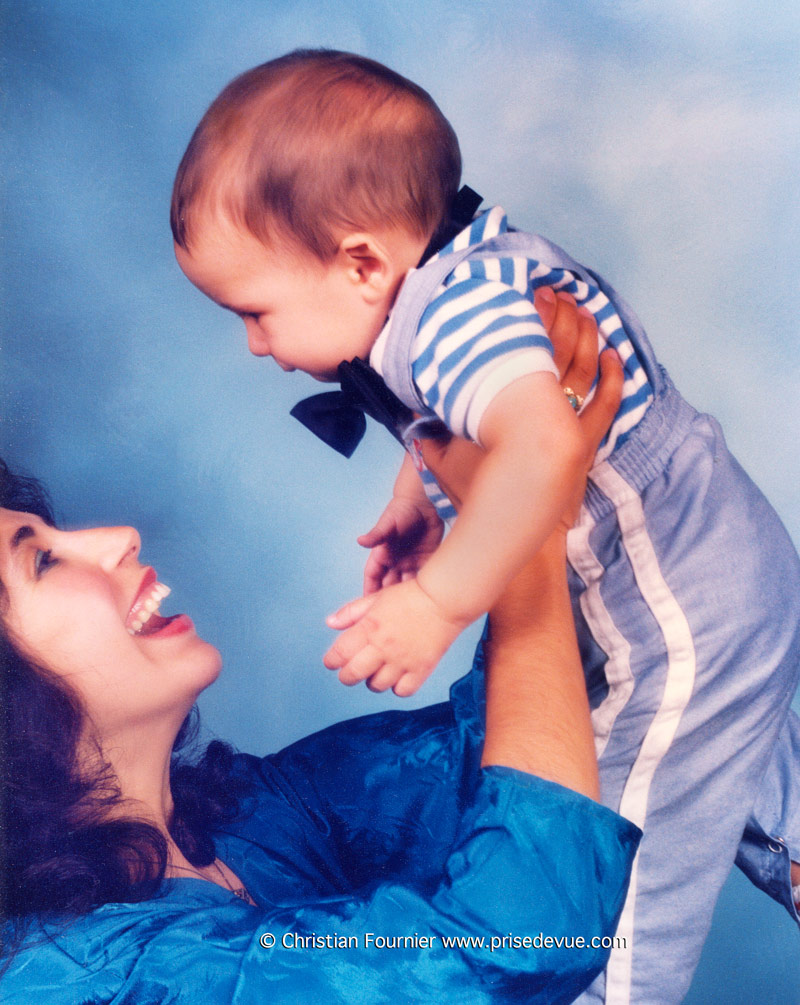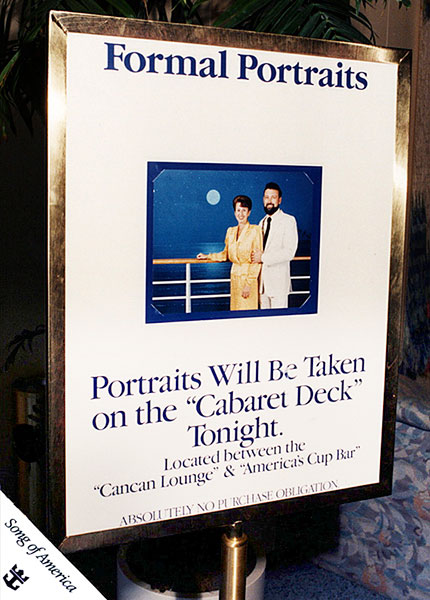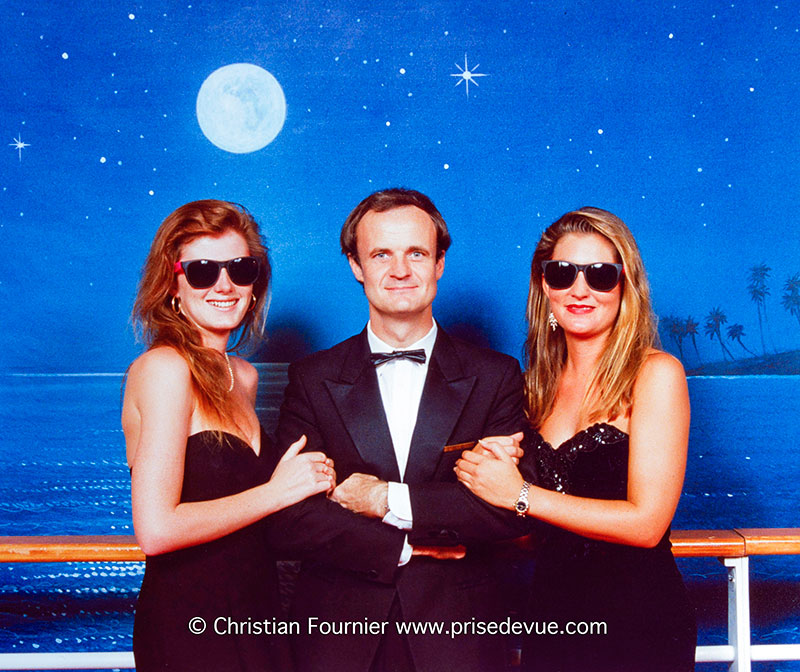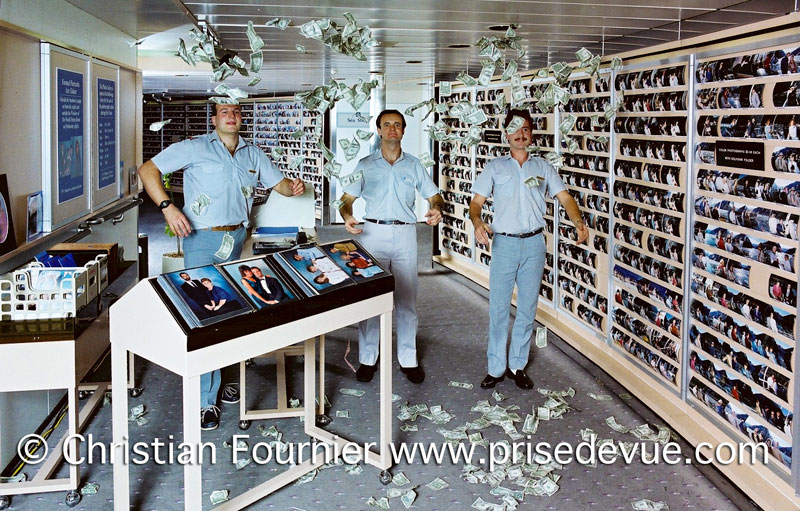 Yes, we made a lot a money.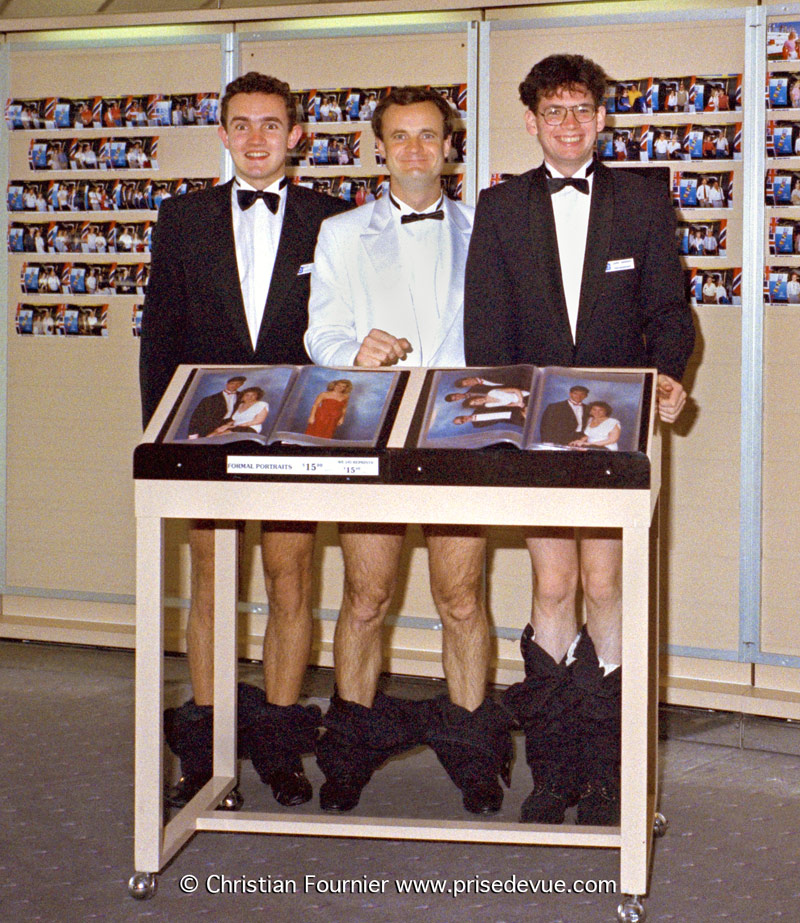 Nick llewellin, me, Jamie Harrison. We were young, remember!

The idea is to attract attention to the 8x10" photo albums and the stand to display the portraits.
Carole Holt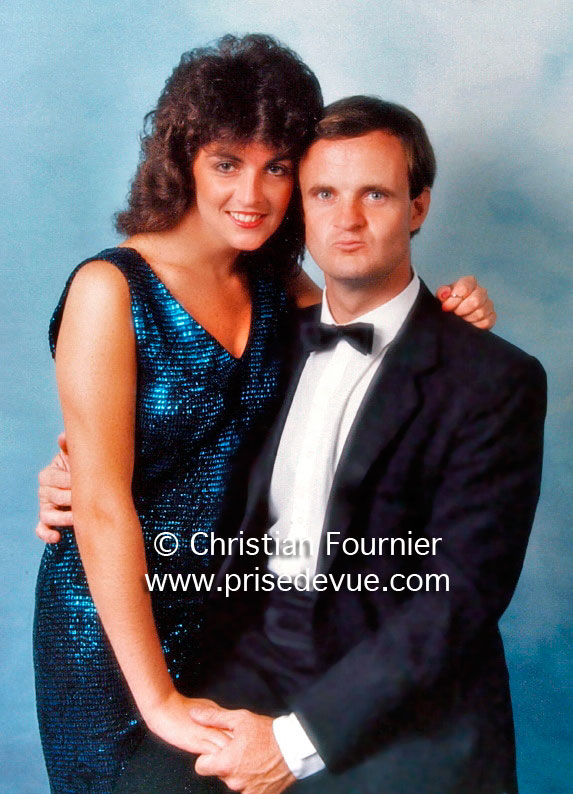 Man sitting.
Shannon Templeton.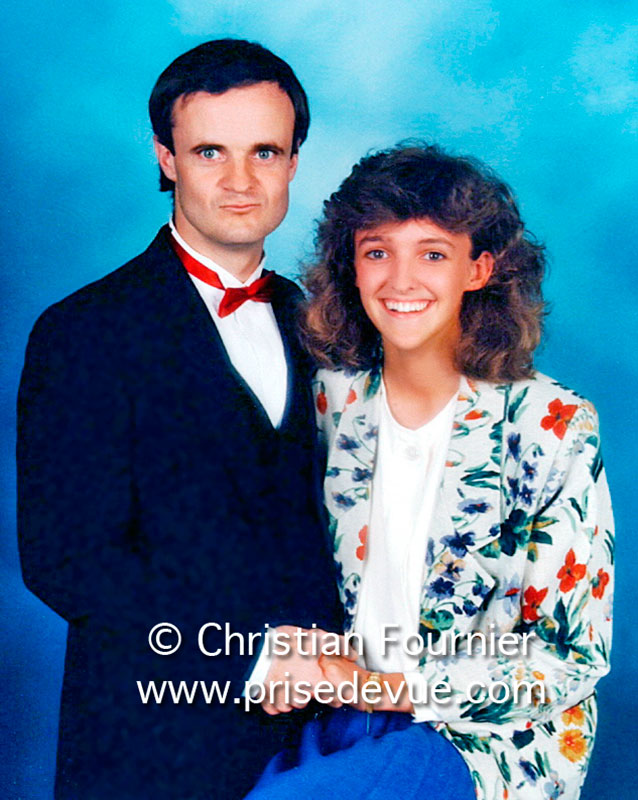 Woman sitting.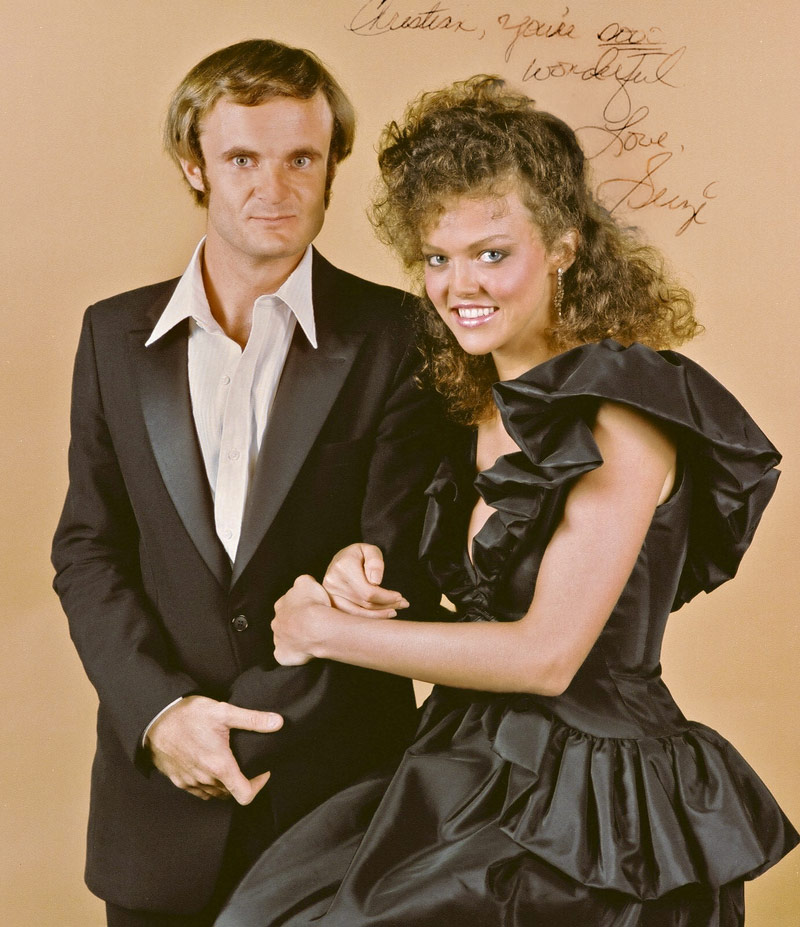 Many thanks to David Macey for letting me participate in this Playboy photo shoot. Thank you to Playmate Susan Schott.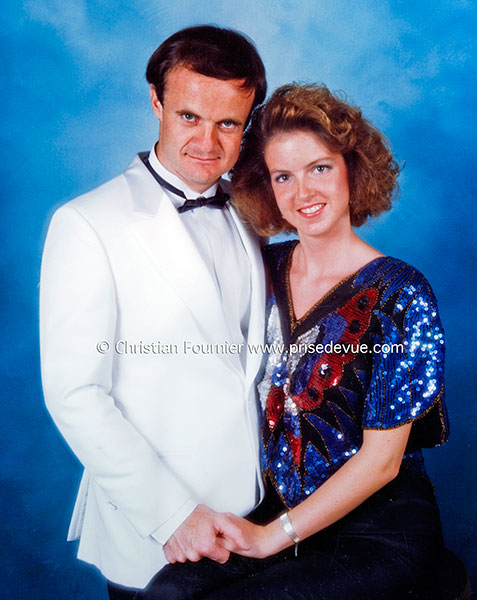 Alana Mausley.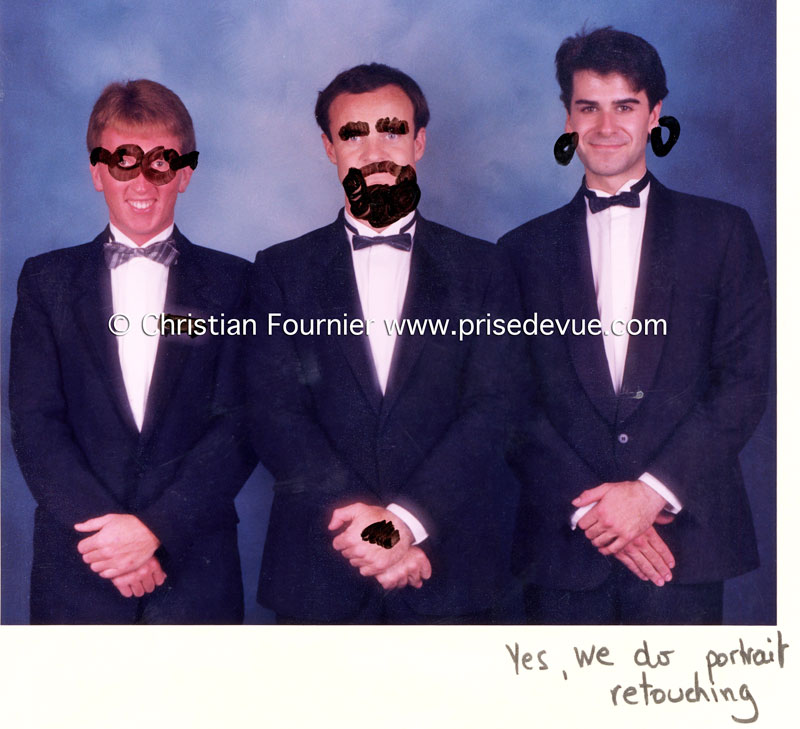 Yes, we do portrait retouching! No Photoshop then!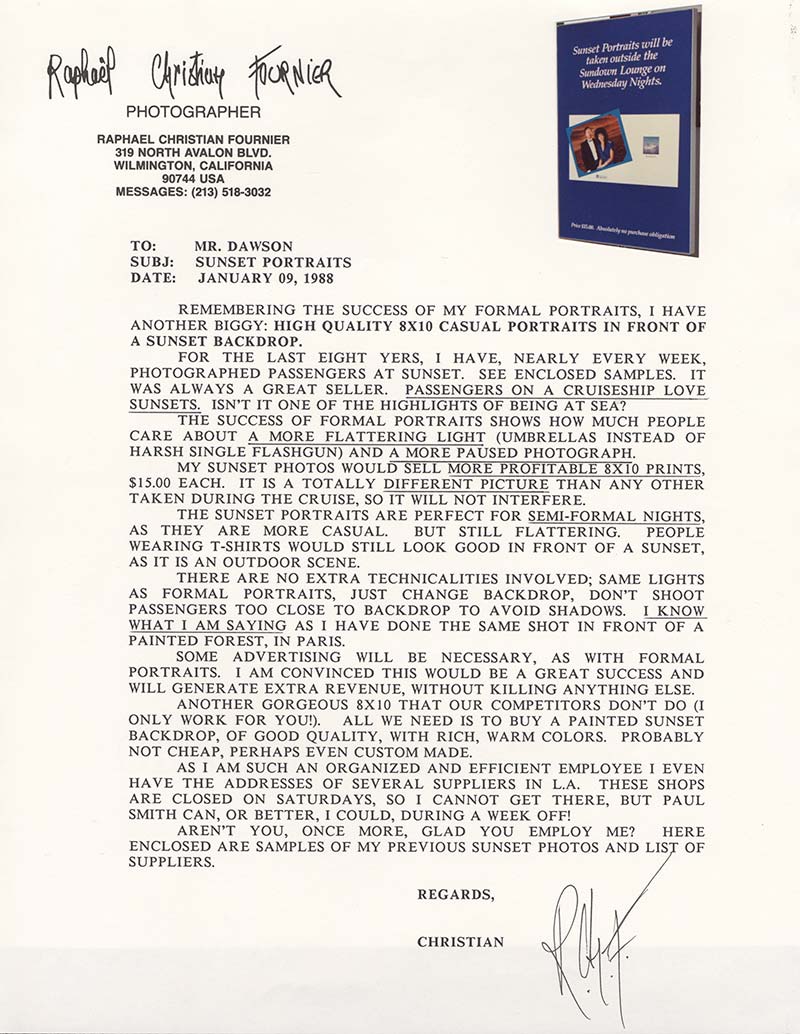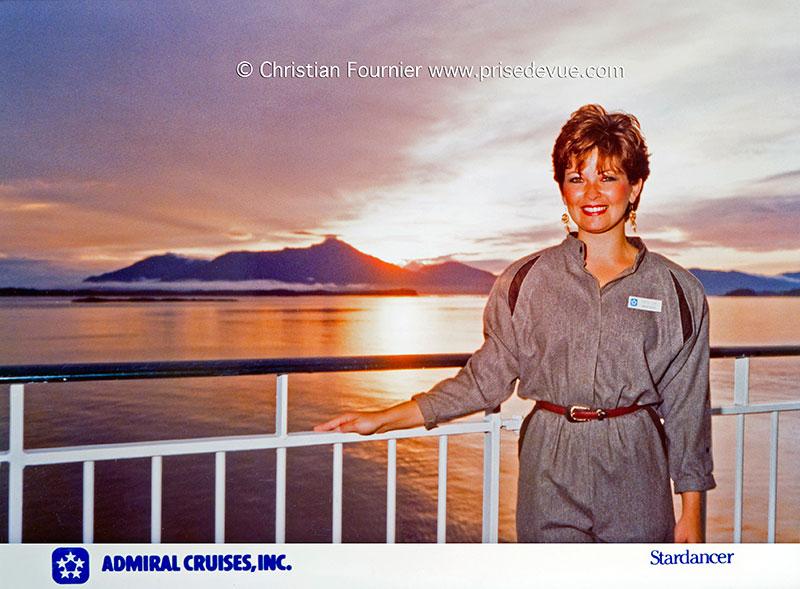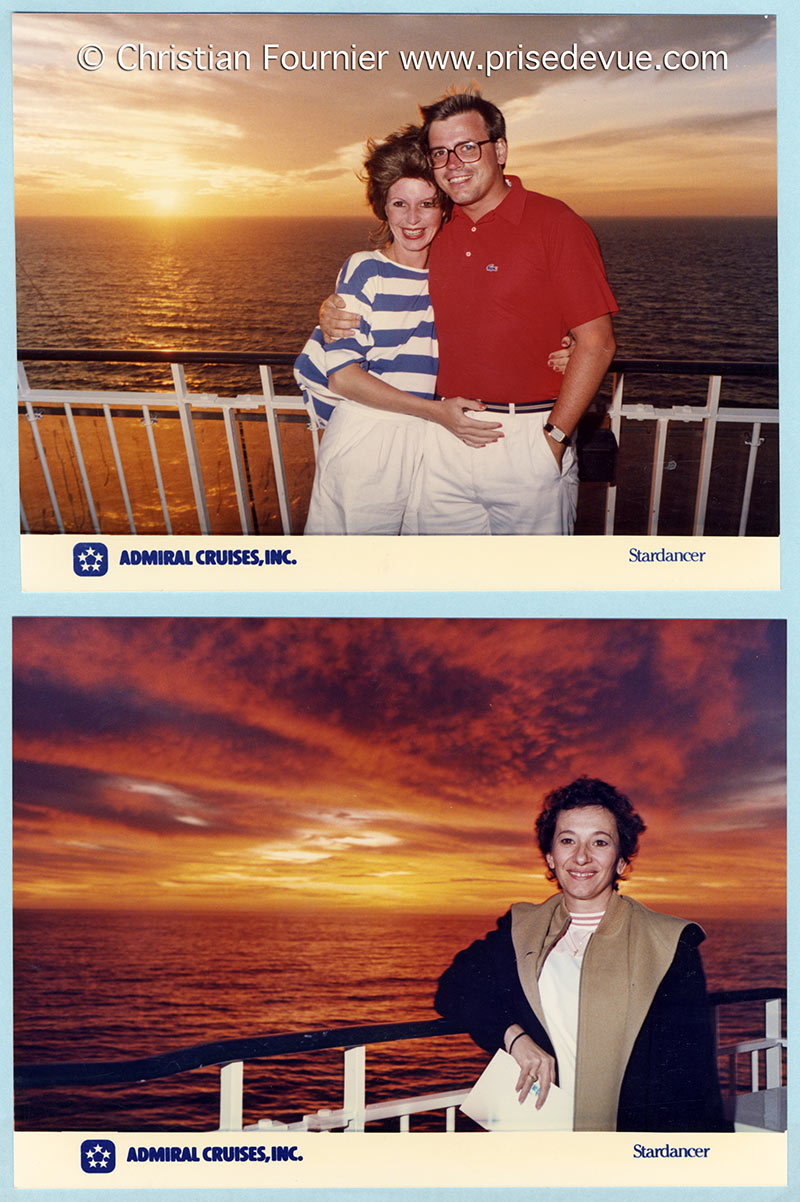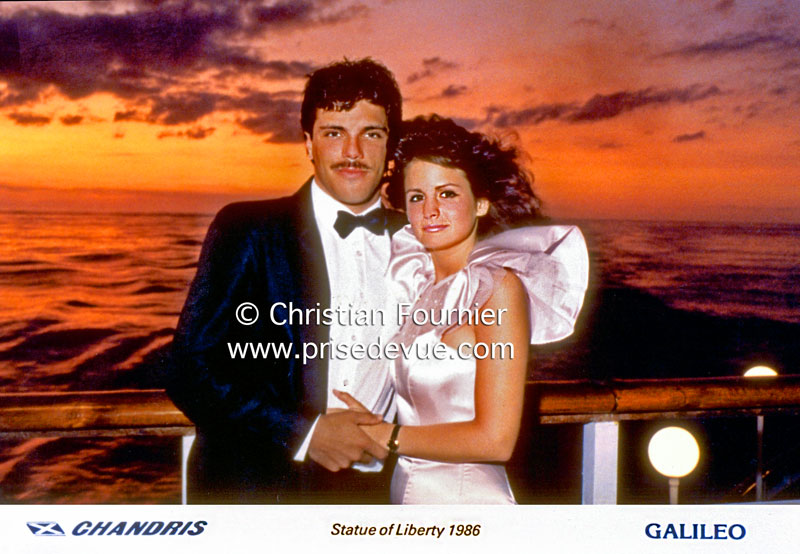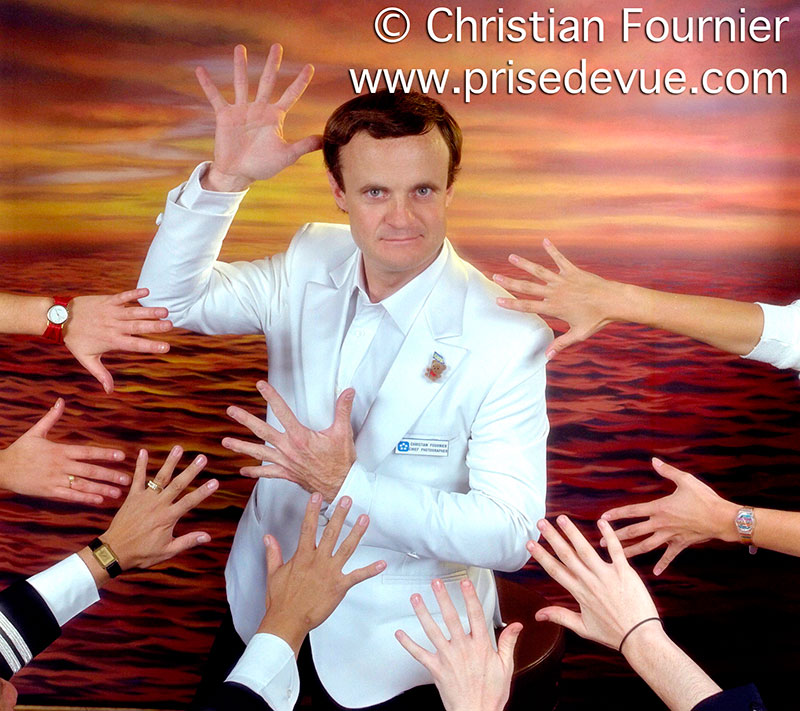 VARIED PORTRAITS

TO: CRUISESHIP PICTURE CO. LTD. FROM: CHRISTIAN FOURNIER, Chief photographer.
DATE: AUGUST 12th, 1988
Since we are shooting two sessions of portraits per cruise, it is obvious to me that we would make more money by offering two different types of portraits per cruise, instead of twice the same portraits. Here are some suggestions for different types of portraits: -Standard "waist up" upright with blue background.
-Sunset, waist up, horizontal, with hair light.
-Close up (head & shoulders only) on black seamless backdrop with hair light.
-Full length, long white backdrop, classy Victorian chair in the foreground.
-Old time photo, sepia toned thanks to XP1 film on C41, with props.
-A front projection system could unable many possibilities.
CHRISTIAN FOURNIER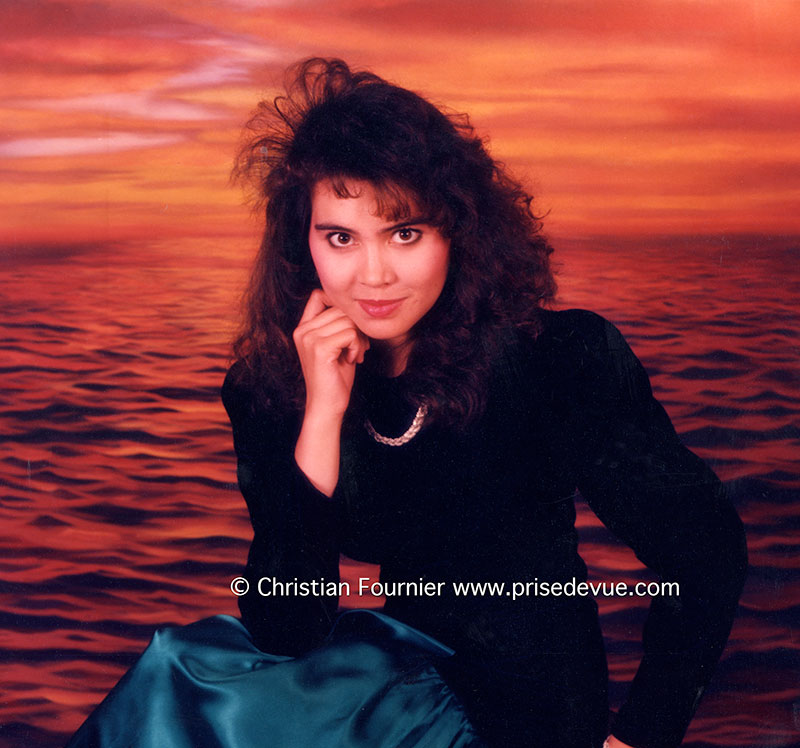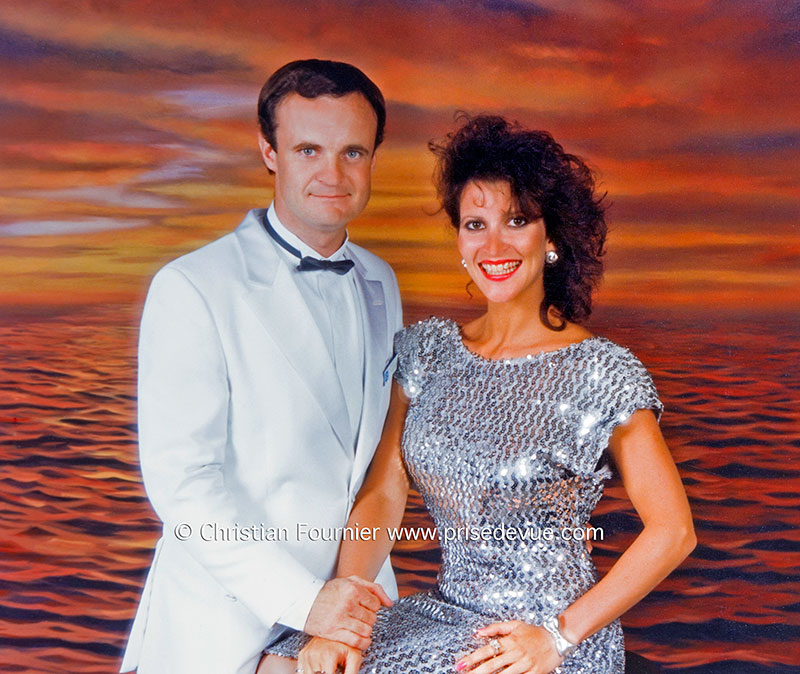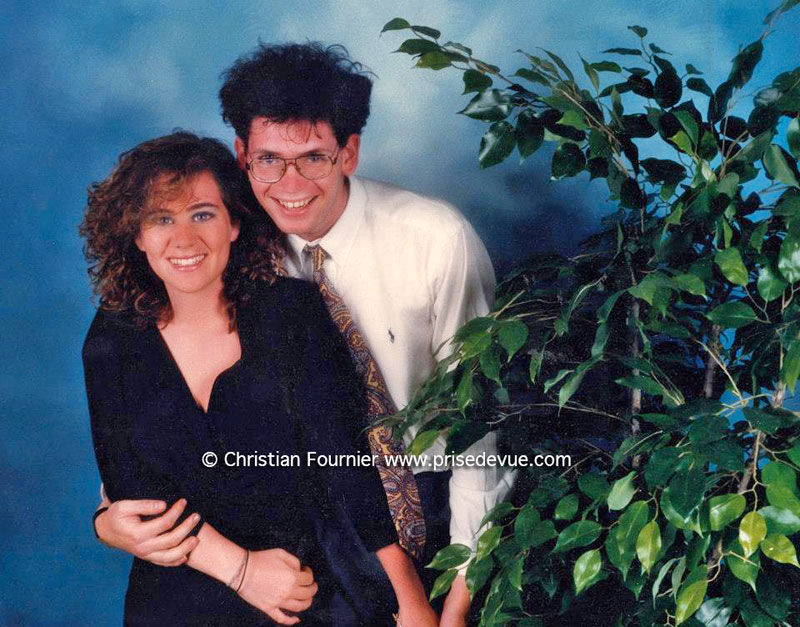 We even tested plants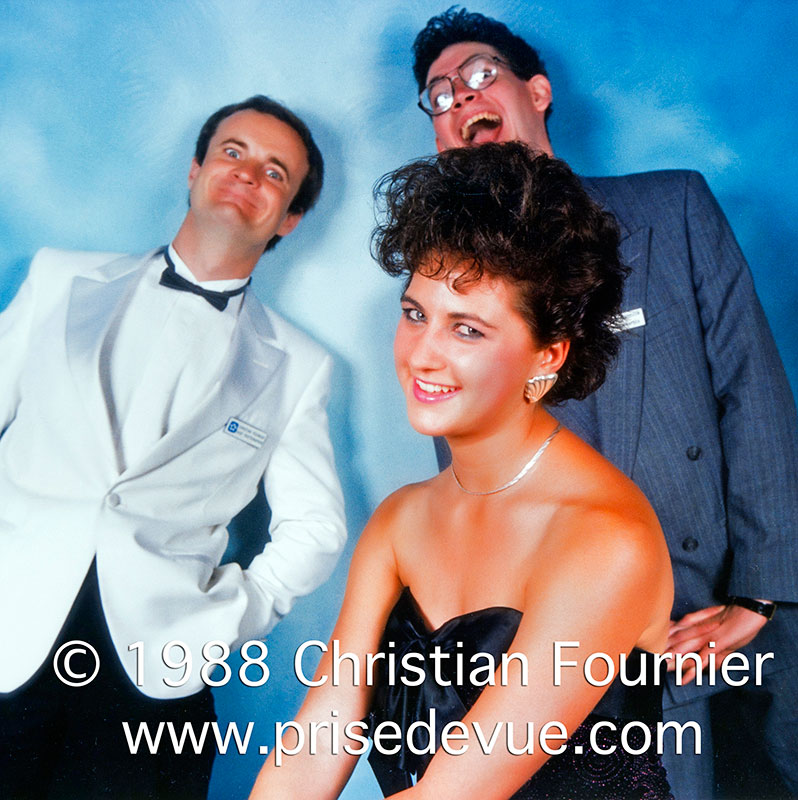 Photobombing in 1984, ruining someone else's portrait. We did it a lot, only for friends, never for passengers.
This also illustrates our capacity to get the attention of our models.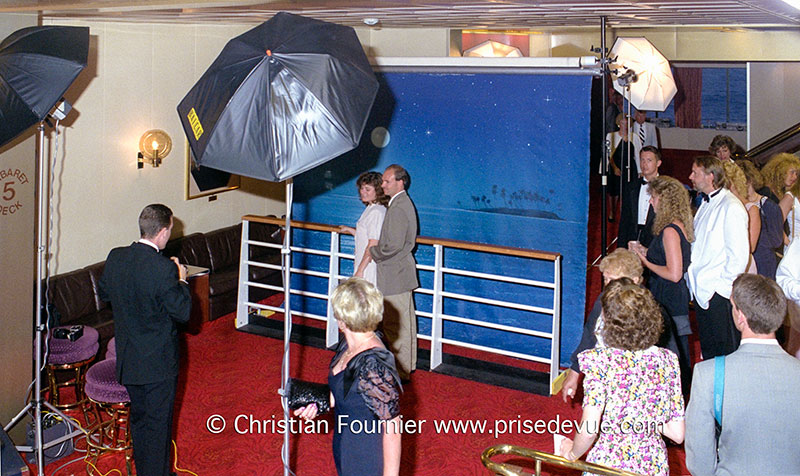 Later, we even added a railing and scenery.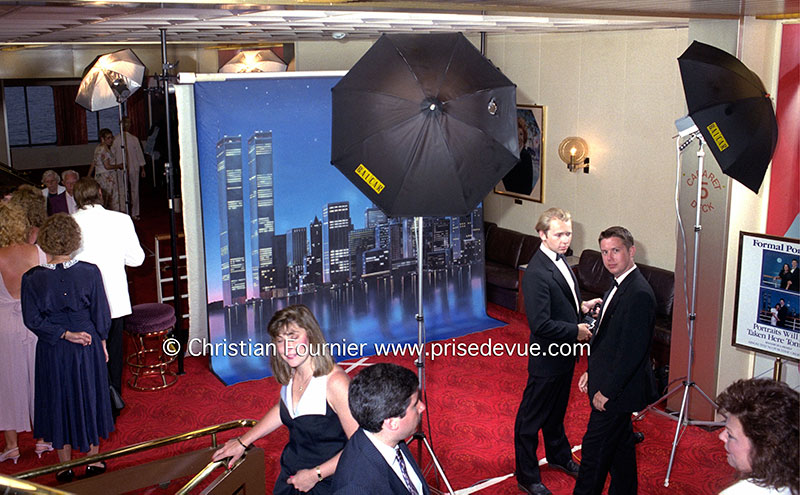 And back to back studios for faster action.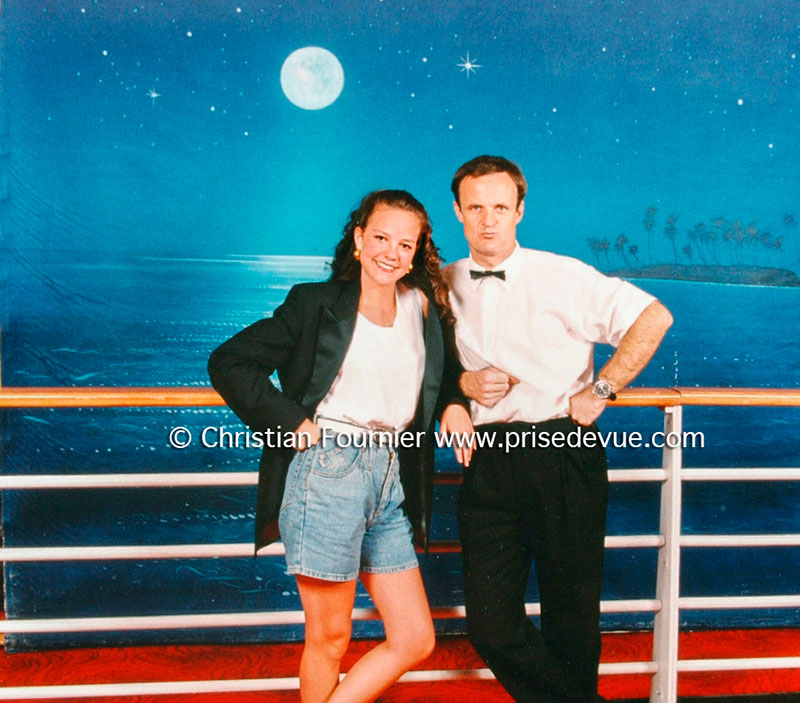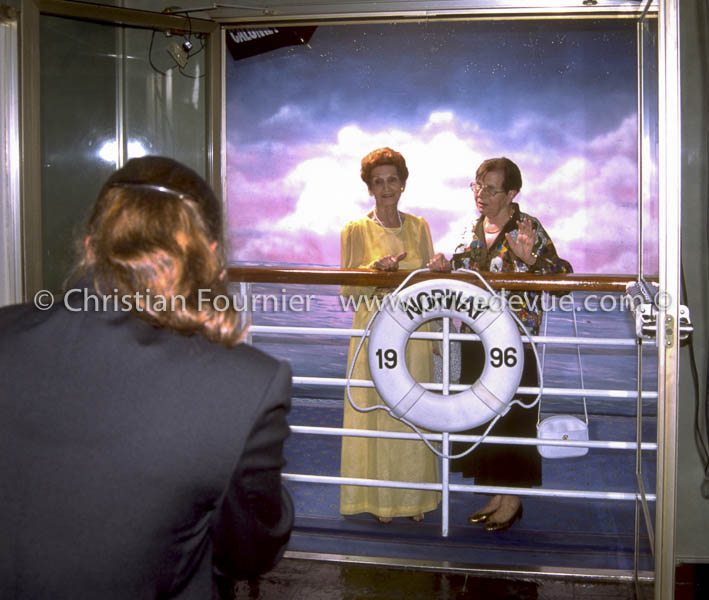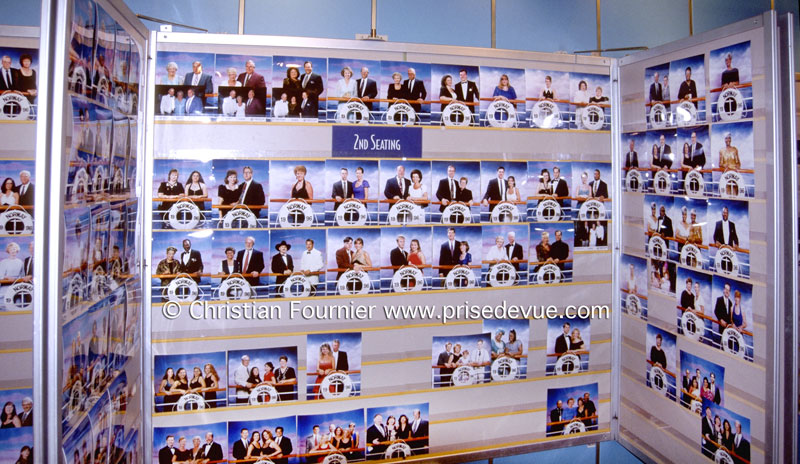 Other examples, with less standard poses. .....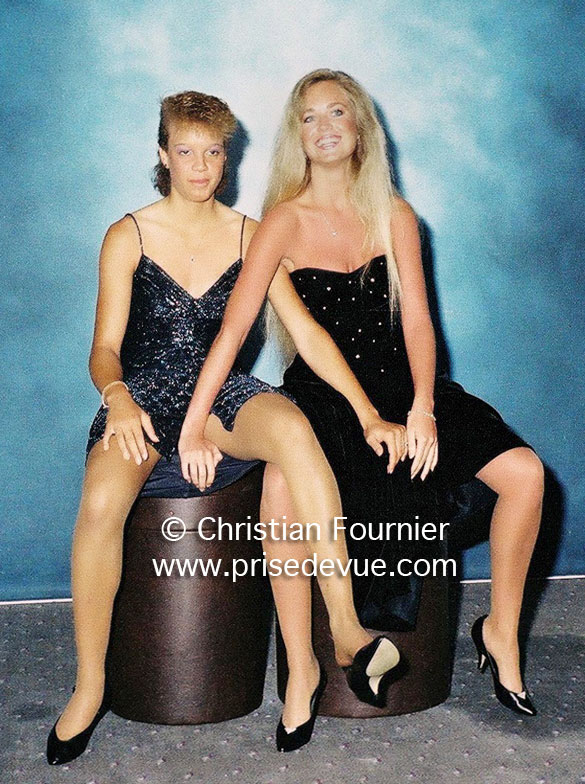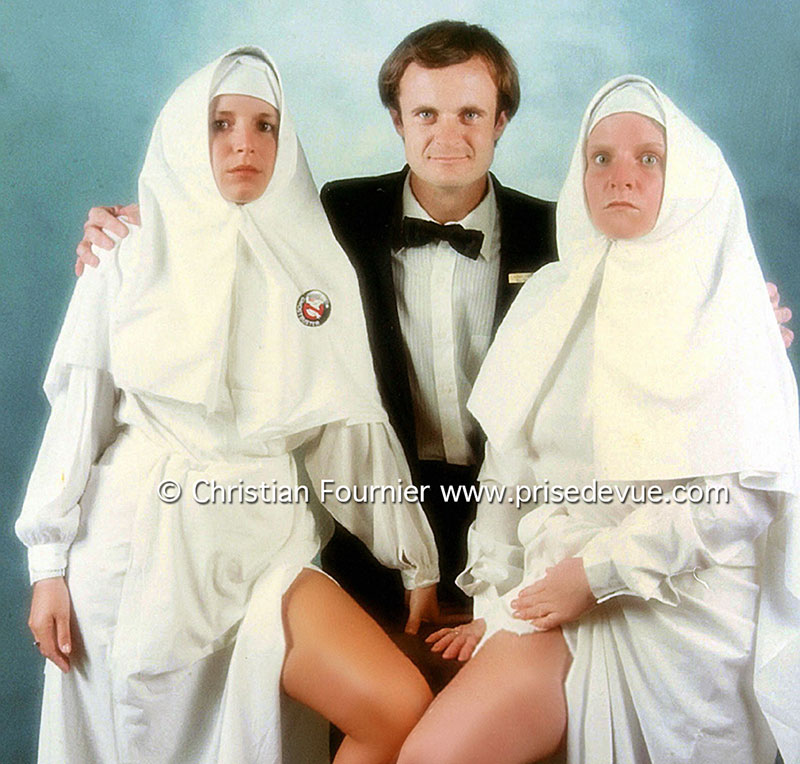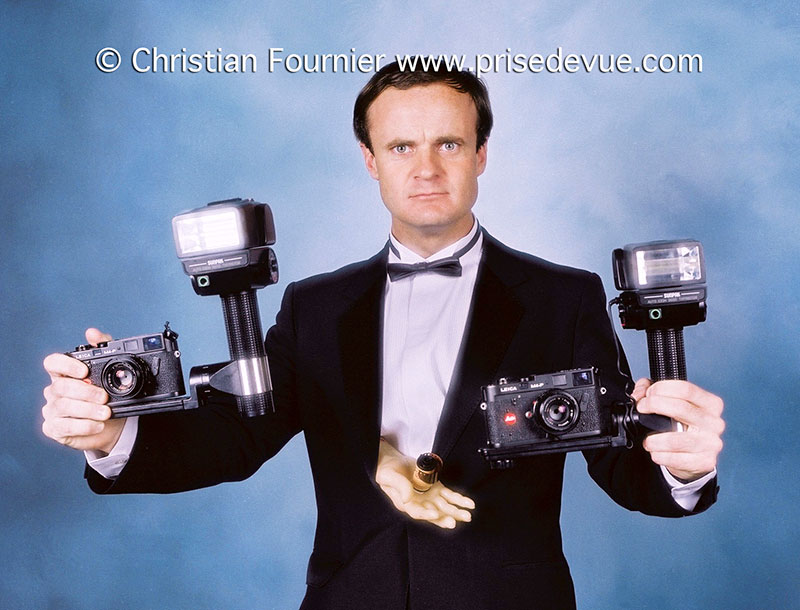 The multitasking photographer. Note the Leica M4P. There were always at least 6 of them on each ship.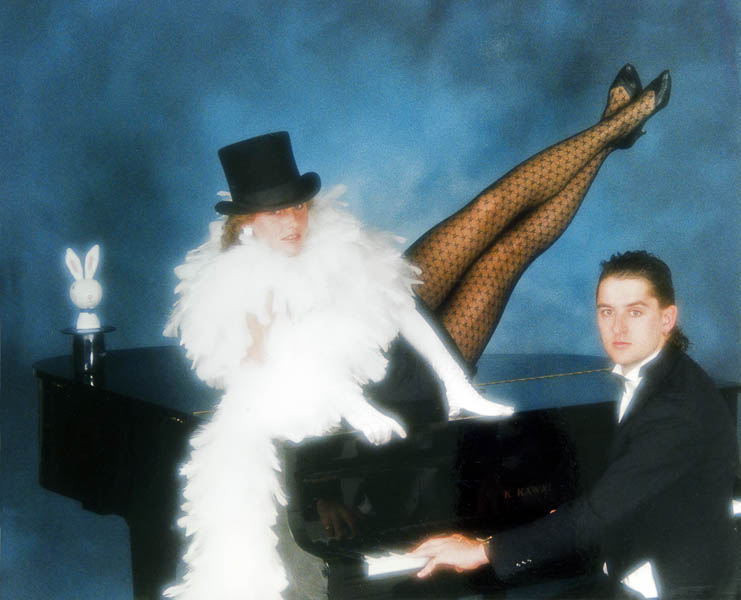 With Terri Russel on piano, literally, and Andy Novis.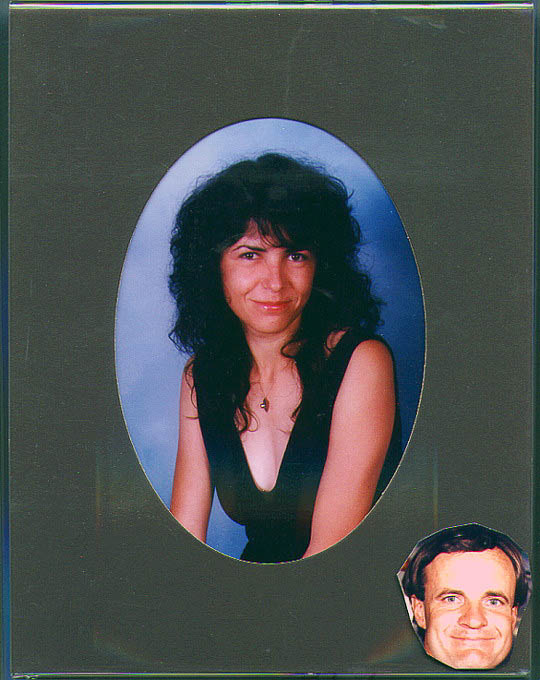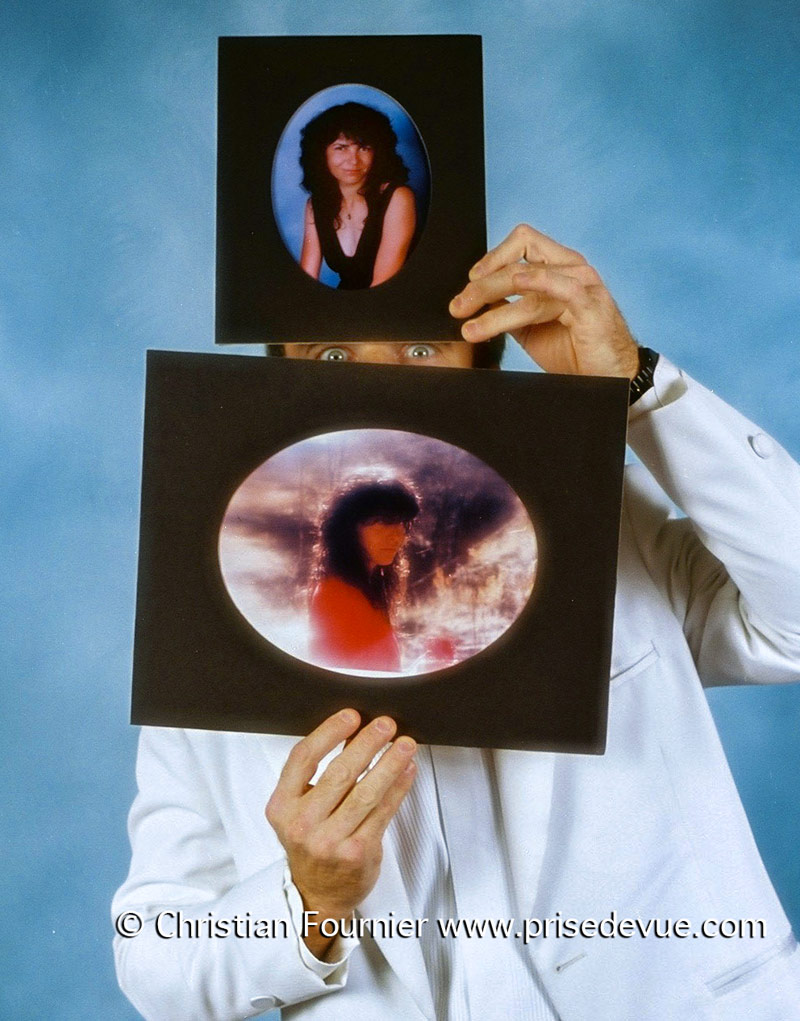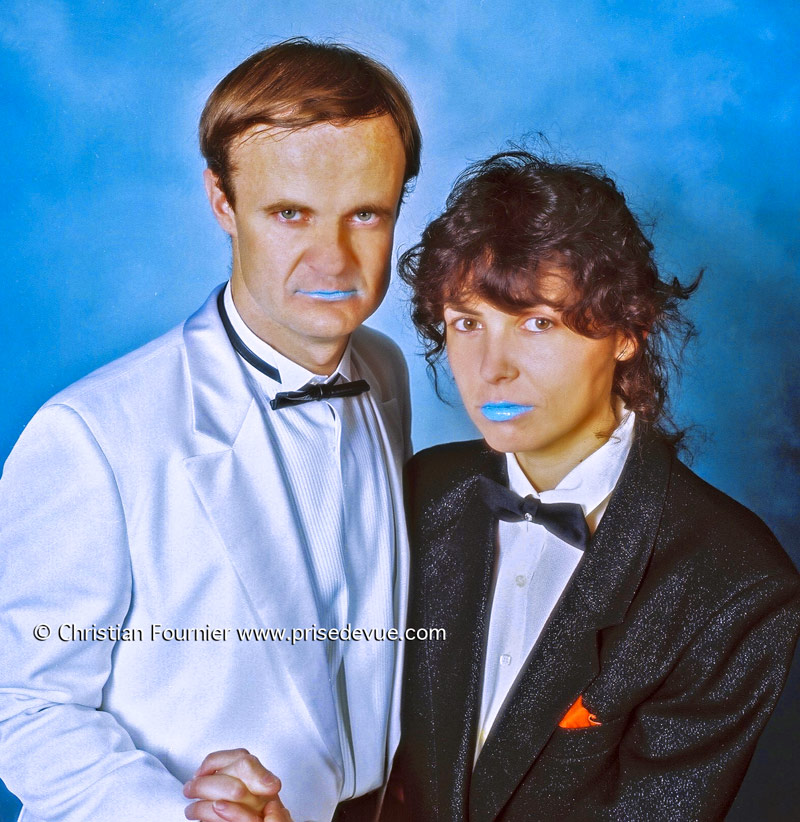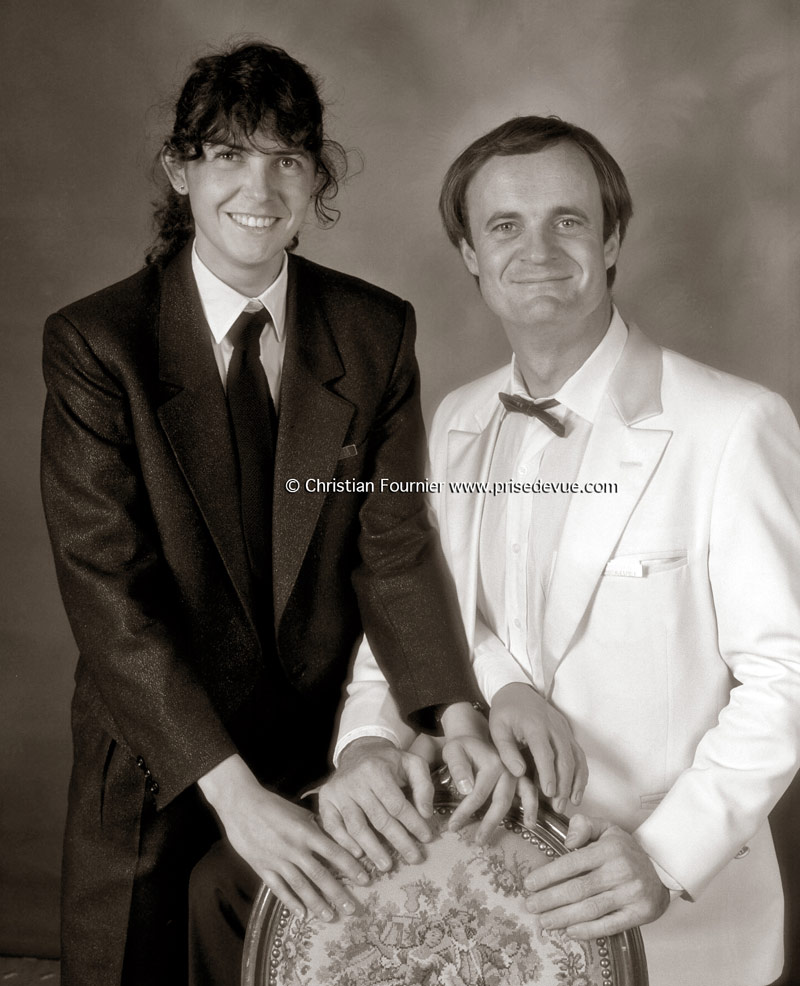 Count the hands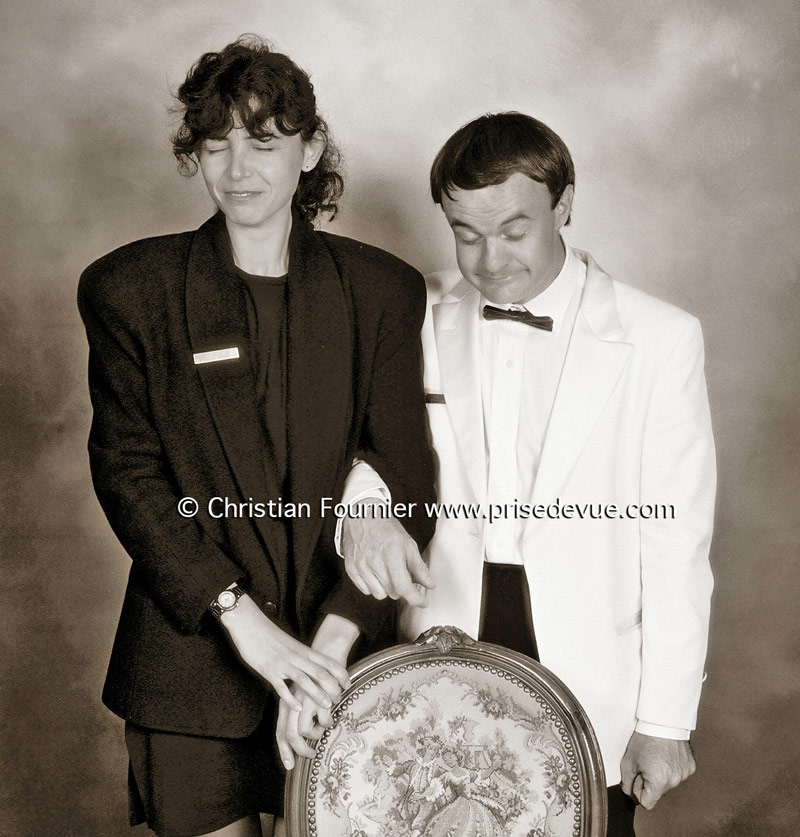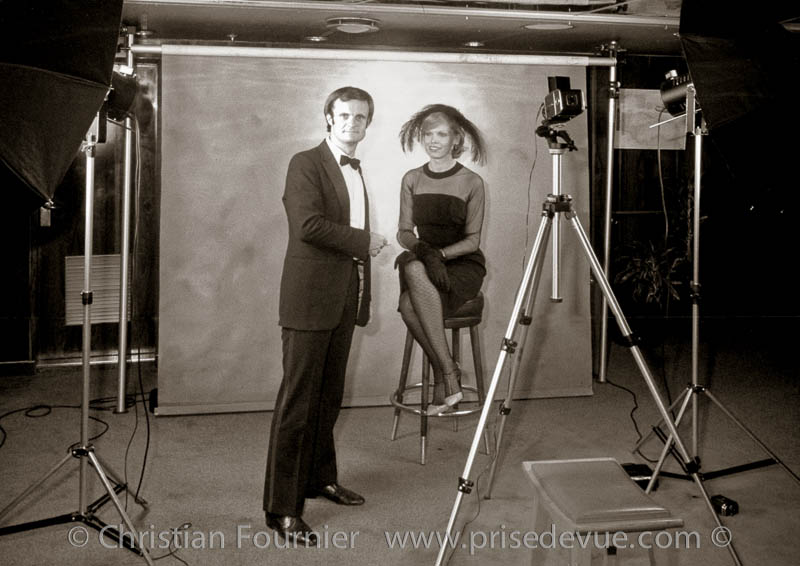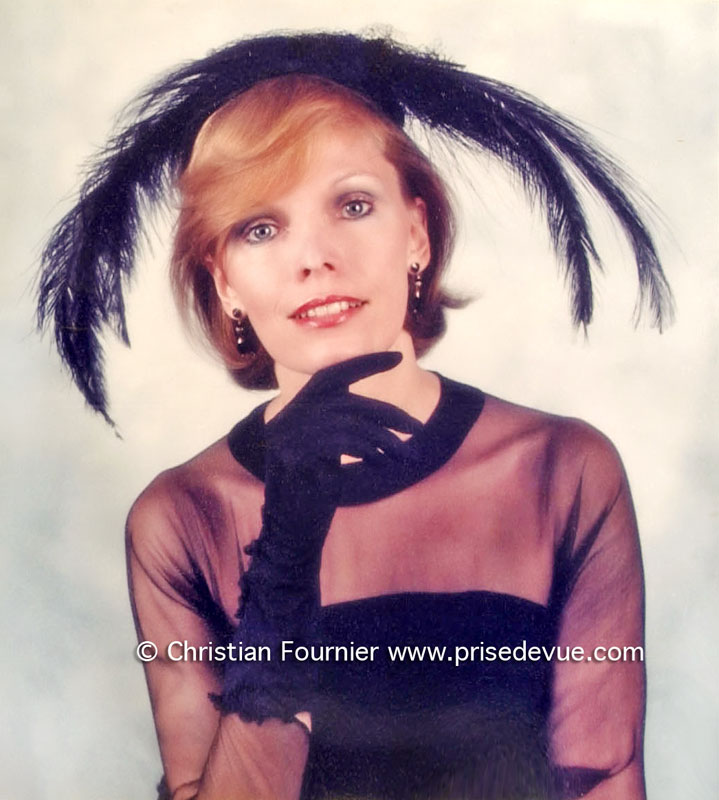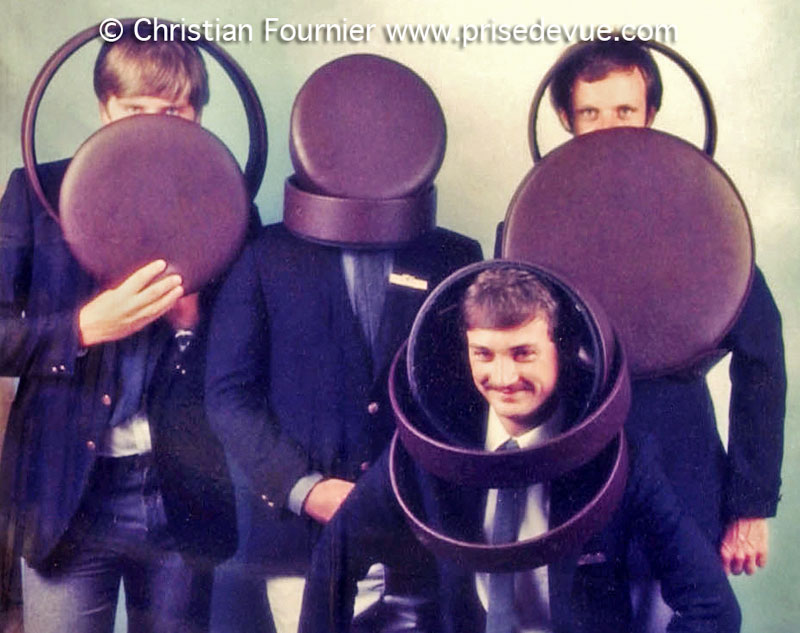 The stool kit to pose famillies.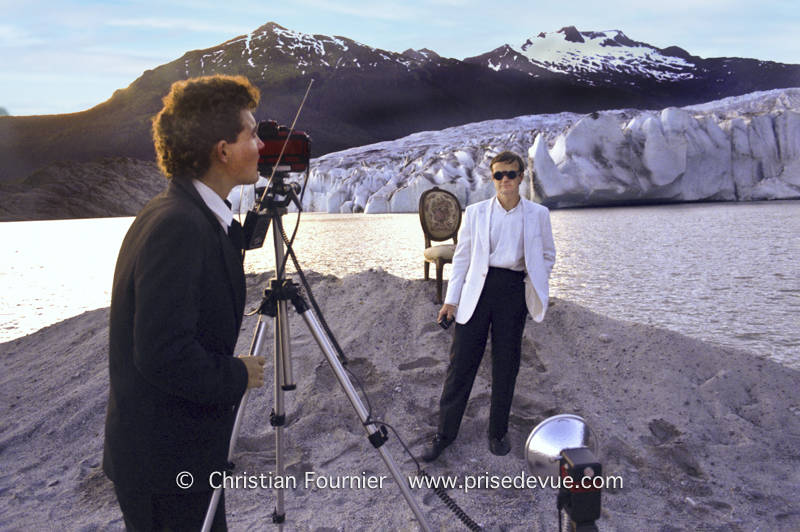 Chaise victorienne et smokings, flash Norman, pas mal sur un glacier. En premier plan, Nick Llellelyn.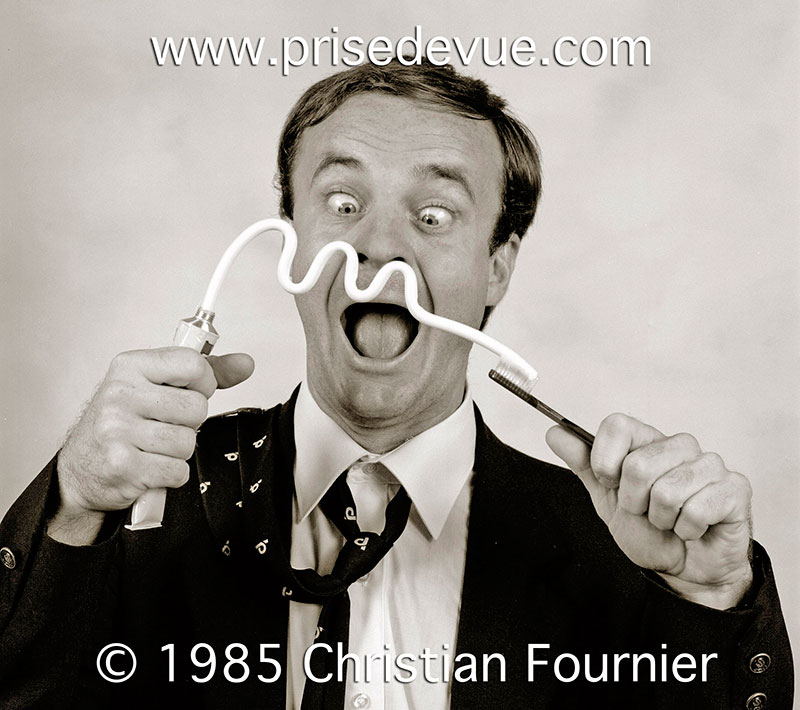 One of those days!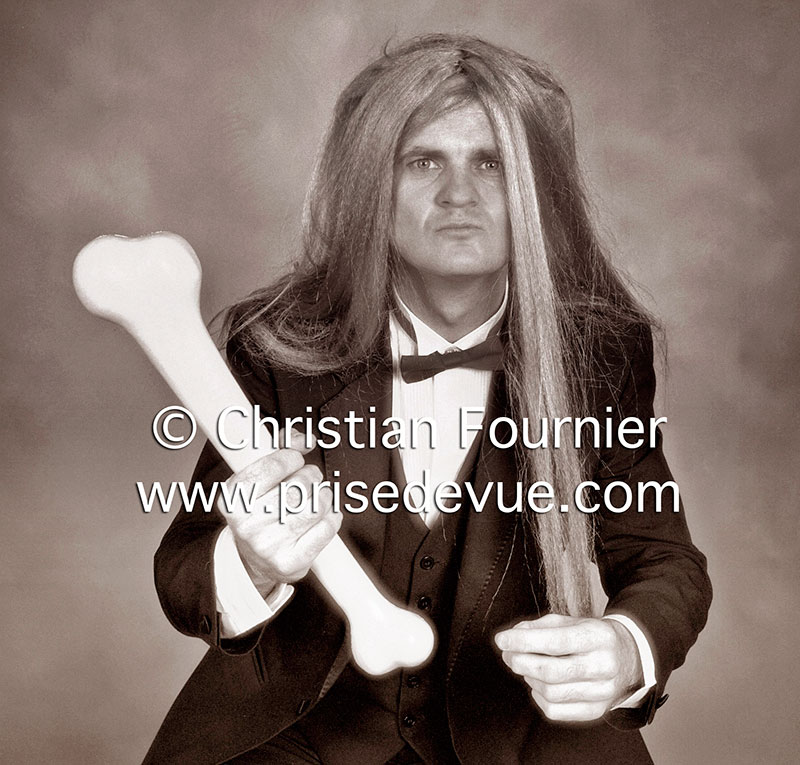 Evolution.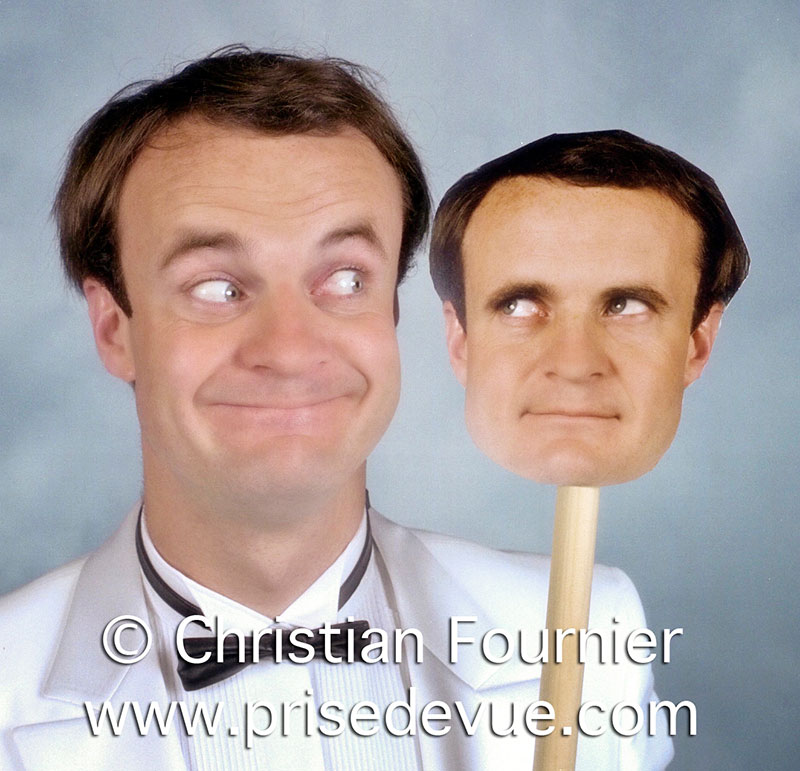 Before Photoshop, you had to do this sort of things with prints and scissors. And people thought you were crazy.

The portrait of Dorian Gray: The older the photo, the younger I look!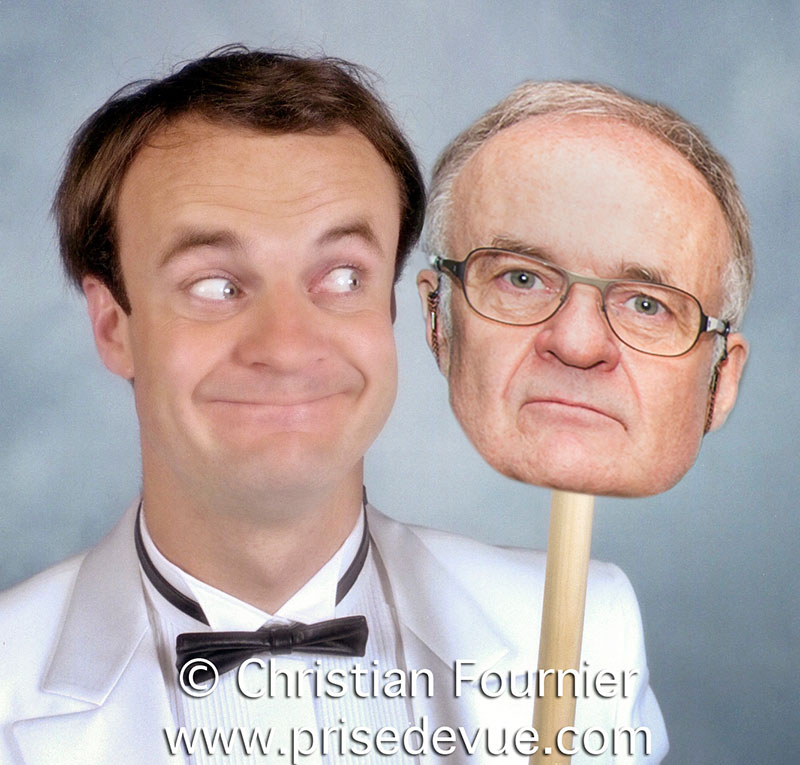 It used to be better before, as my grandmother used to say.
Yes, a French with a sens of humour does exists.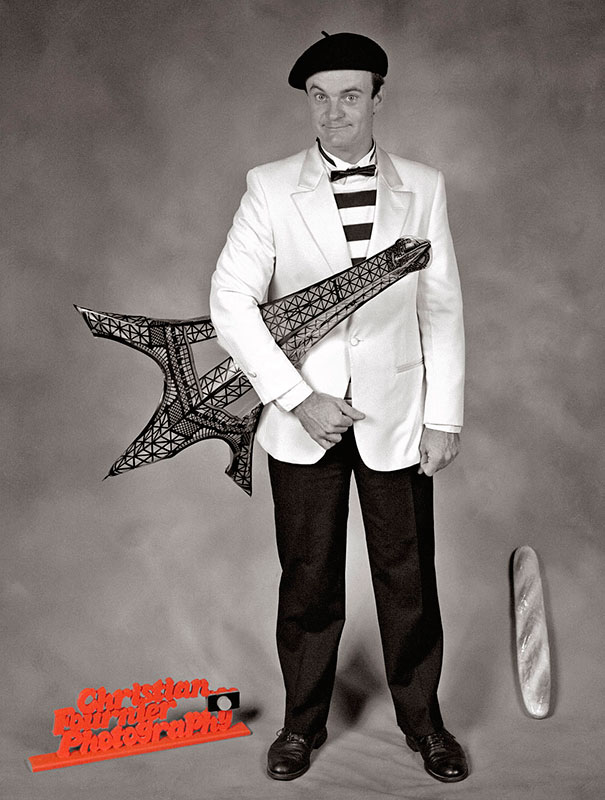 "Of course I am French, why do you think I have this outrageous accent for?"
This is a famous line from The Monty Python.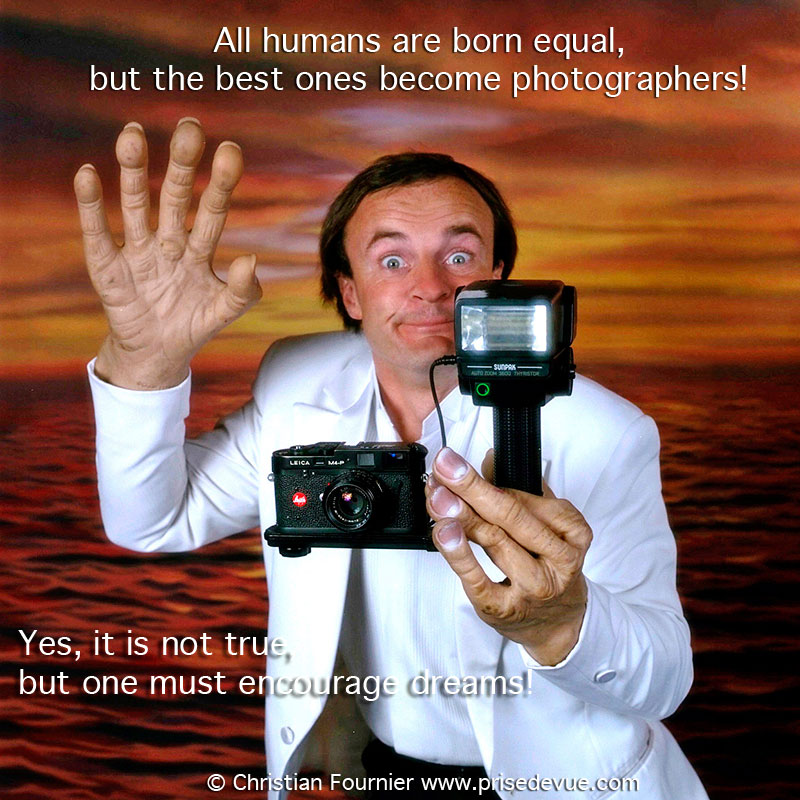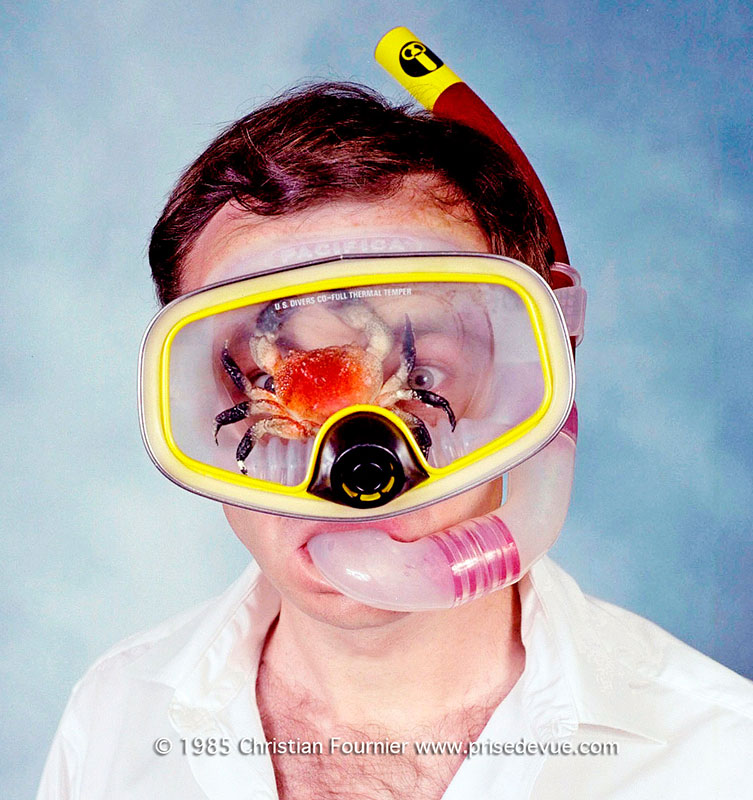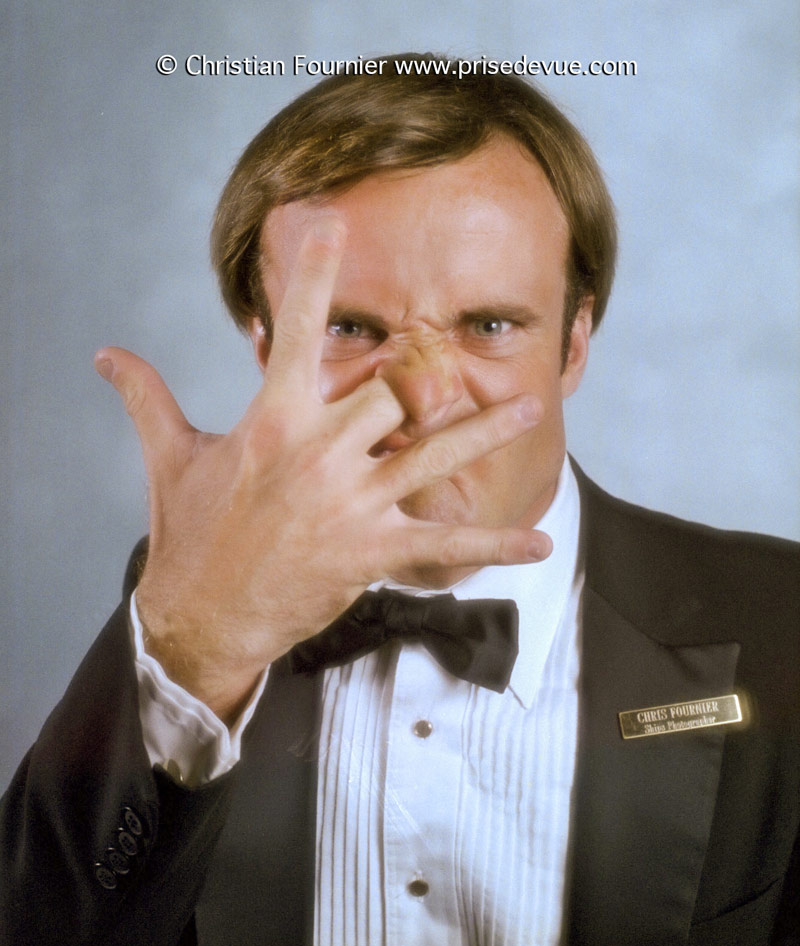 Again, I am not mad, just happy.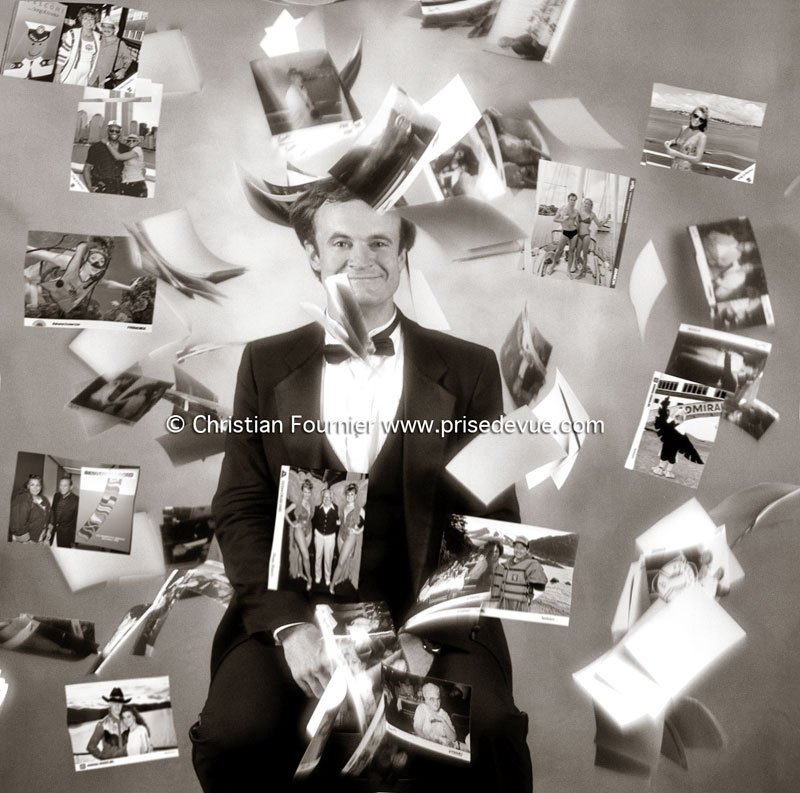 Picture throwing: Barry Moss and Allen Green, plus most of the cruise staff and dancers.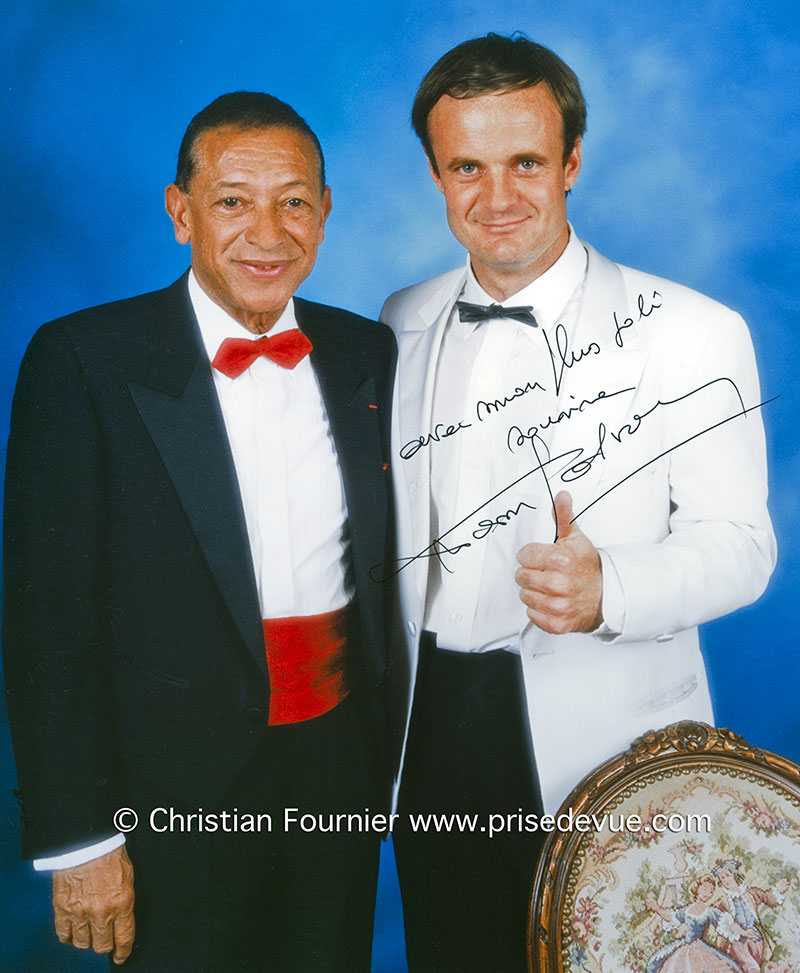 Henri Salvador
Henri Gabriel Salvador, né à Cayenne, en Guyane, le 18 juillet 19171 et mort à Paris le 13 février 20082, est un chanteur et humoriste français. Compositeur et guitariste, il joua à ses débuts dans des orchestres de jazz français. Sa longue carrière (débutée dans les années 1930), prend une nouvelle dimension lorsqu'il entame à partir de 1948, une carrière de chanteur. Artiste populaire, apprécié d'un large public, on lui doit de nombreuses chansons qui aujourd'hui encore demeurent dans les mémoires : Syracuse ; Maladie d'amour ; Le Loup, la Biche et le Chevalier (Une chanson douce) ; Le lion est mort ce soir ; Dans mon île ; Le travail c'est la santé ; Zorro est arrivé… Avec Sacha Distel, ce sont les deux seuls chanteurs français de variété à figurer dans le Dictionnaire du Jazz. Son corps repose au cimetière du Père-Lachaise, à Paris, non loin de celui d'Édith Piaf.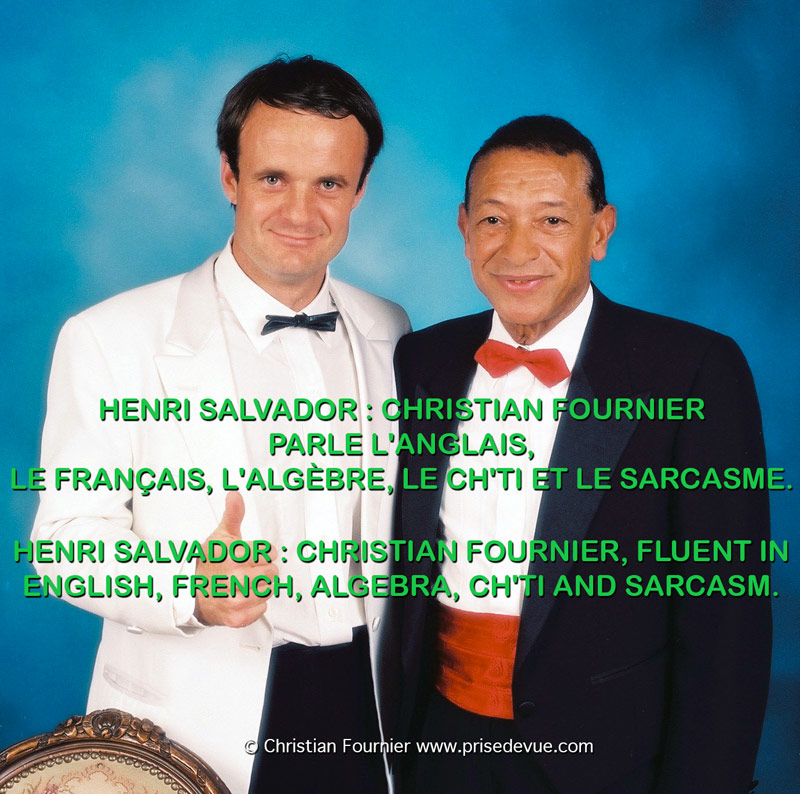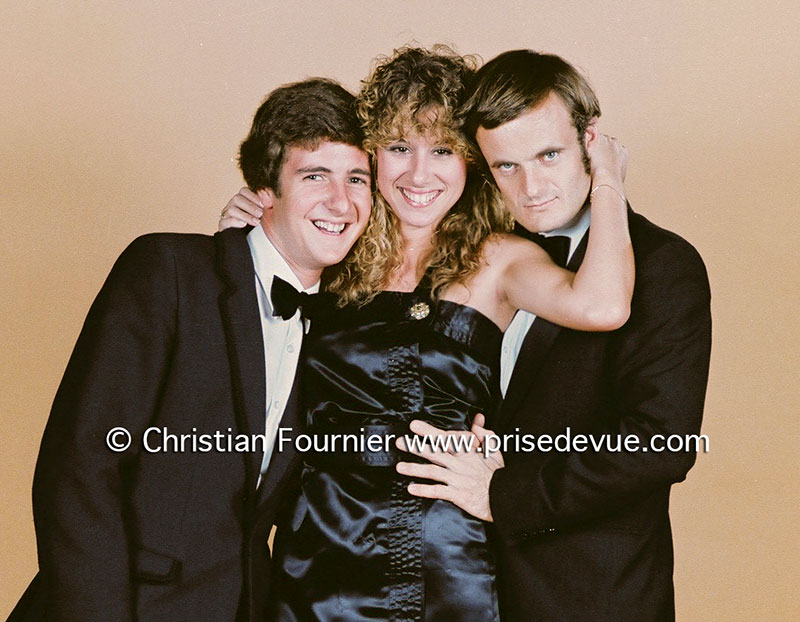 Barrie Moss and Mary D'Angelo.
Dede Tabor.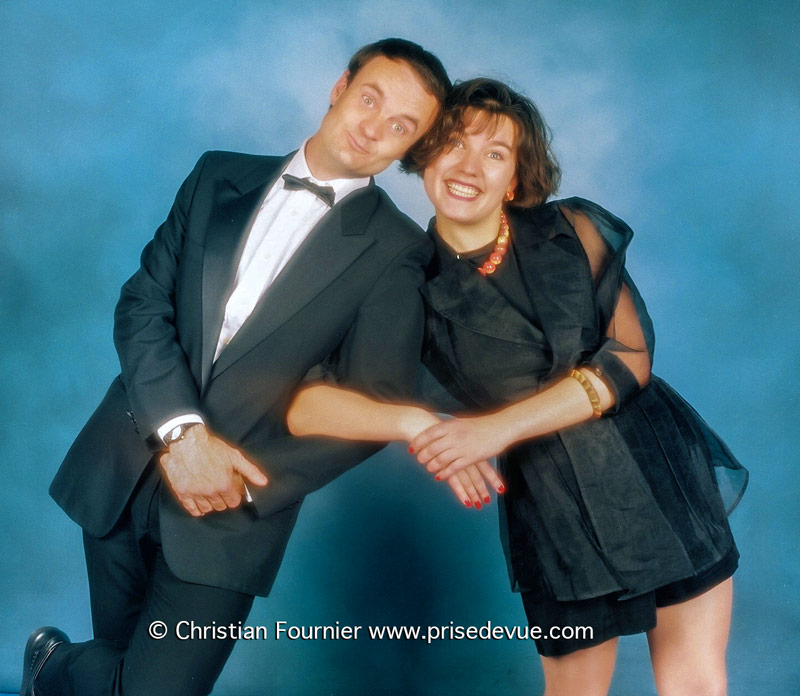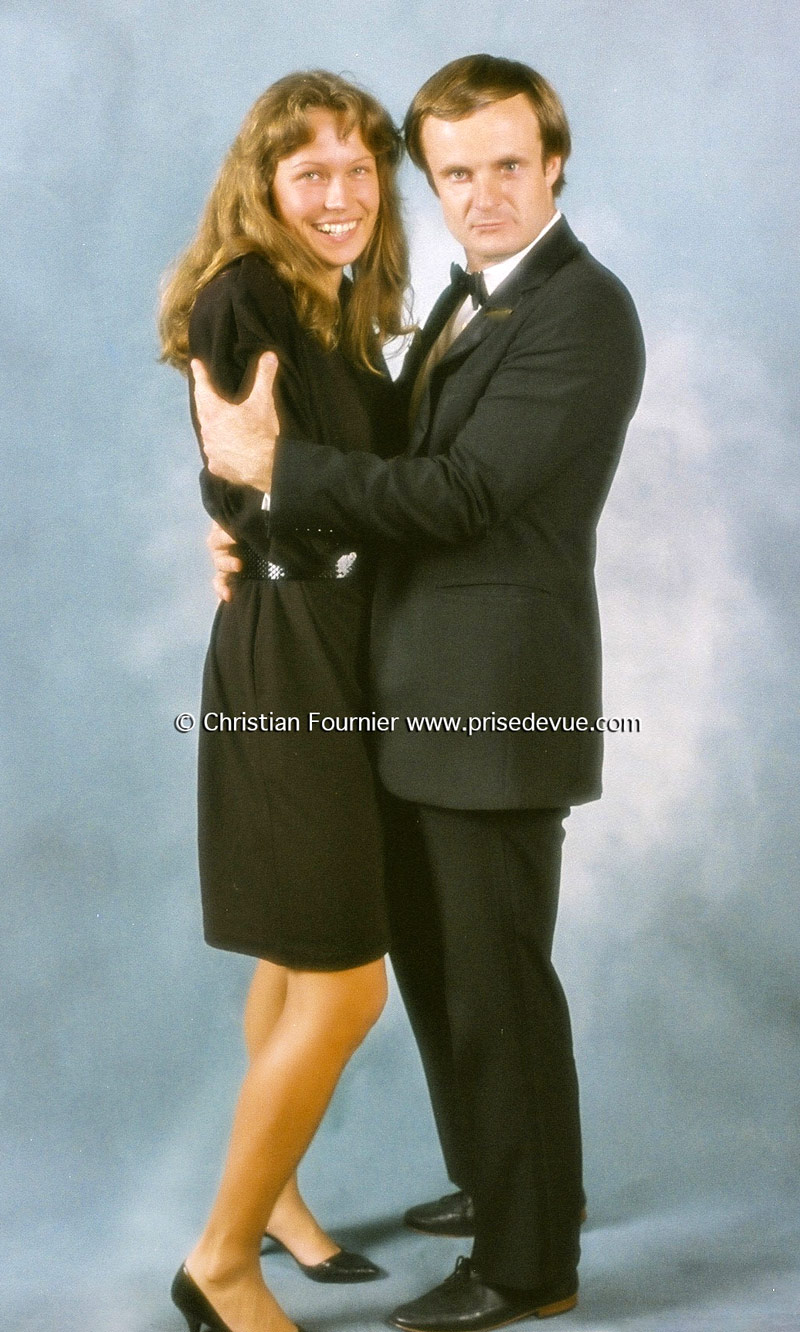 Andrea Dorfmeister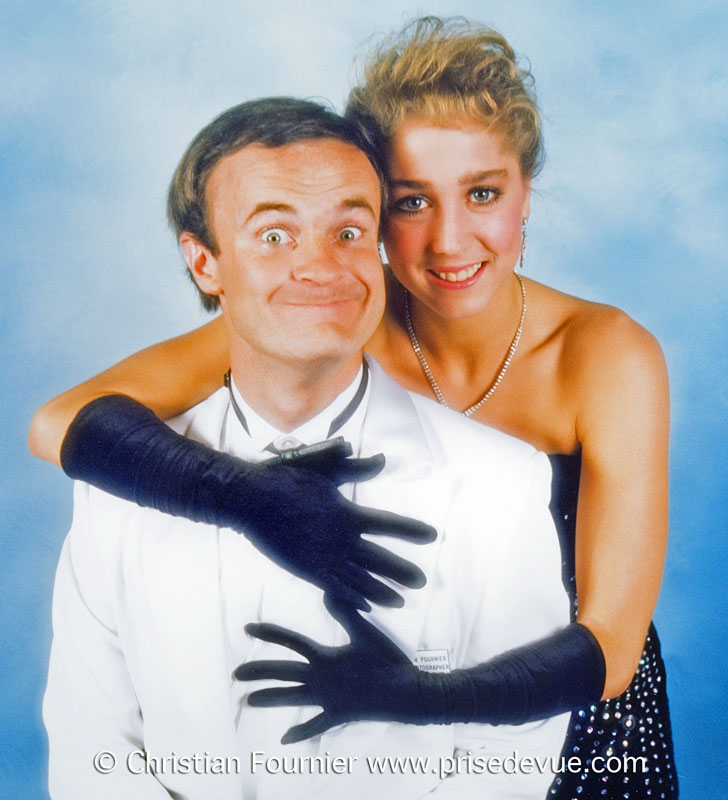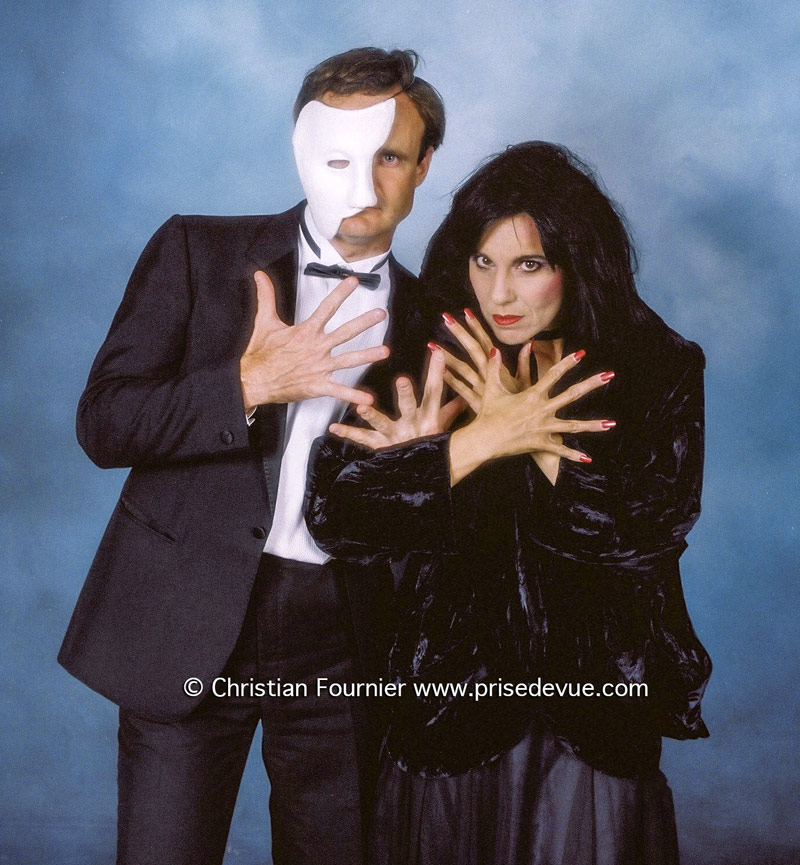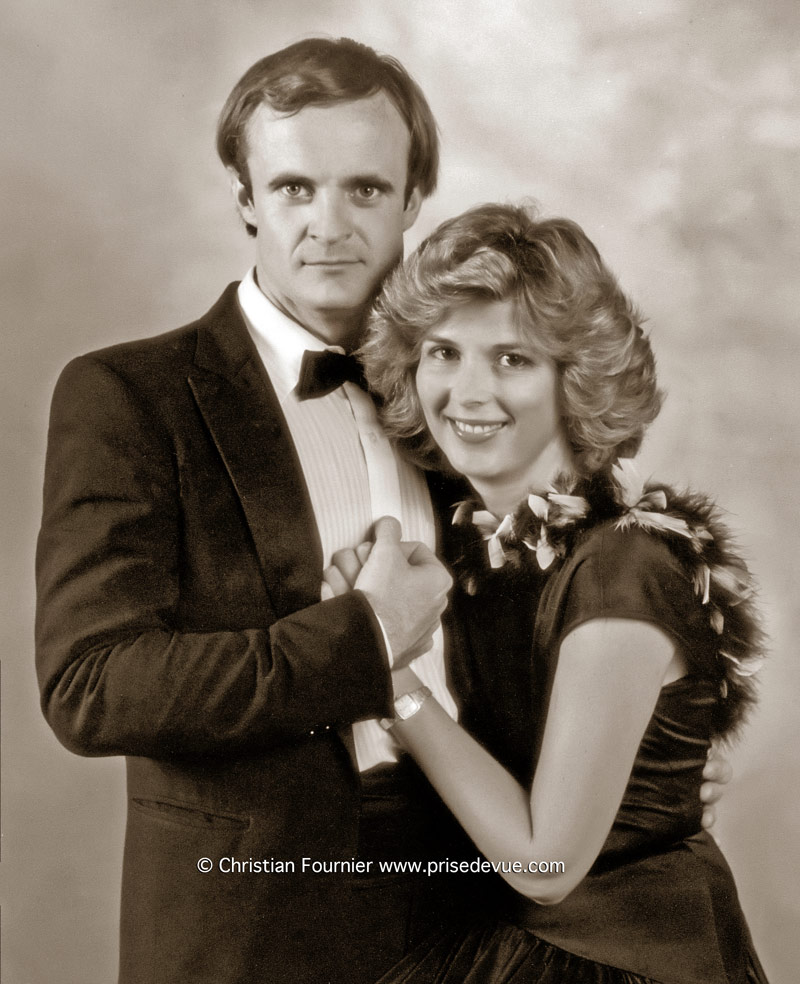 Judy Mesaros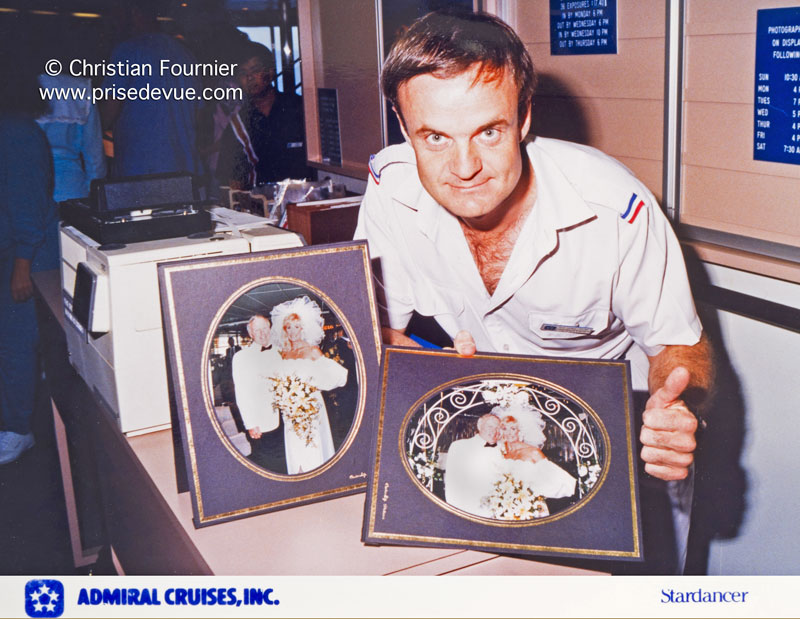 I sometimes used the portrait system of 10x8" prints and presentation folders for special occasions.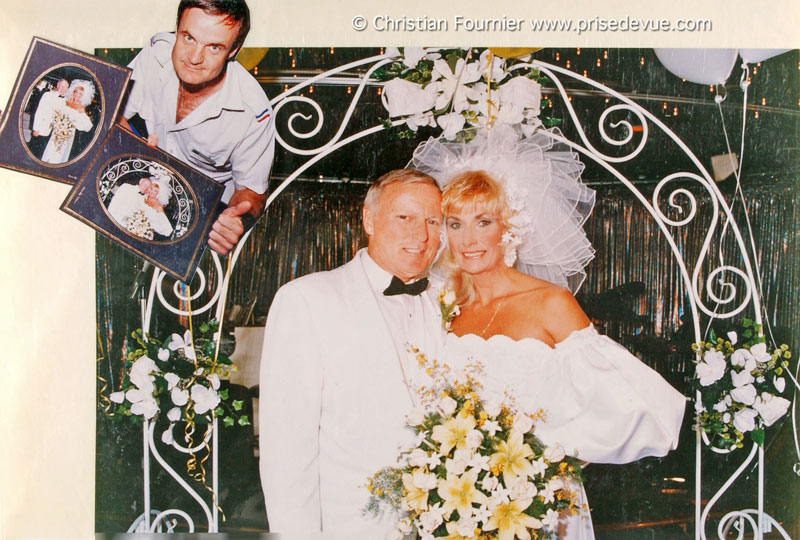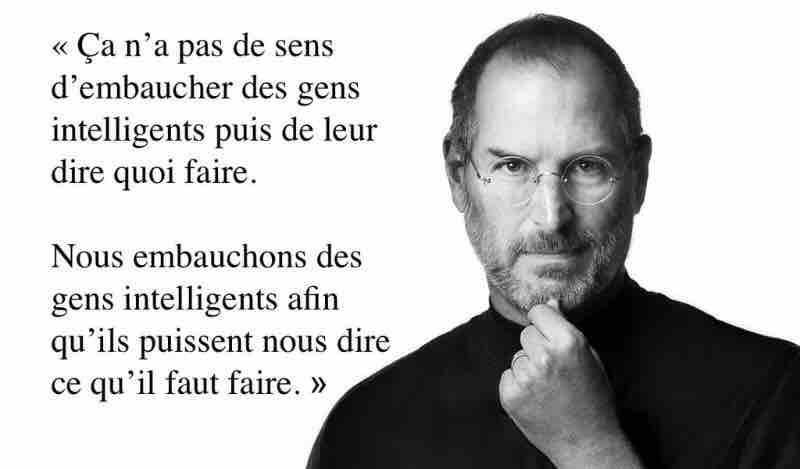 "It does not make sense to employ intelligent people and then tell them what to do. We employ intelligent people so they can tell us what to do.


Yes she is a playmate. Susan Schott, Playmate 1984.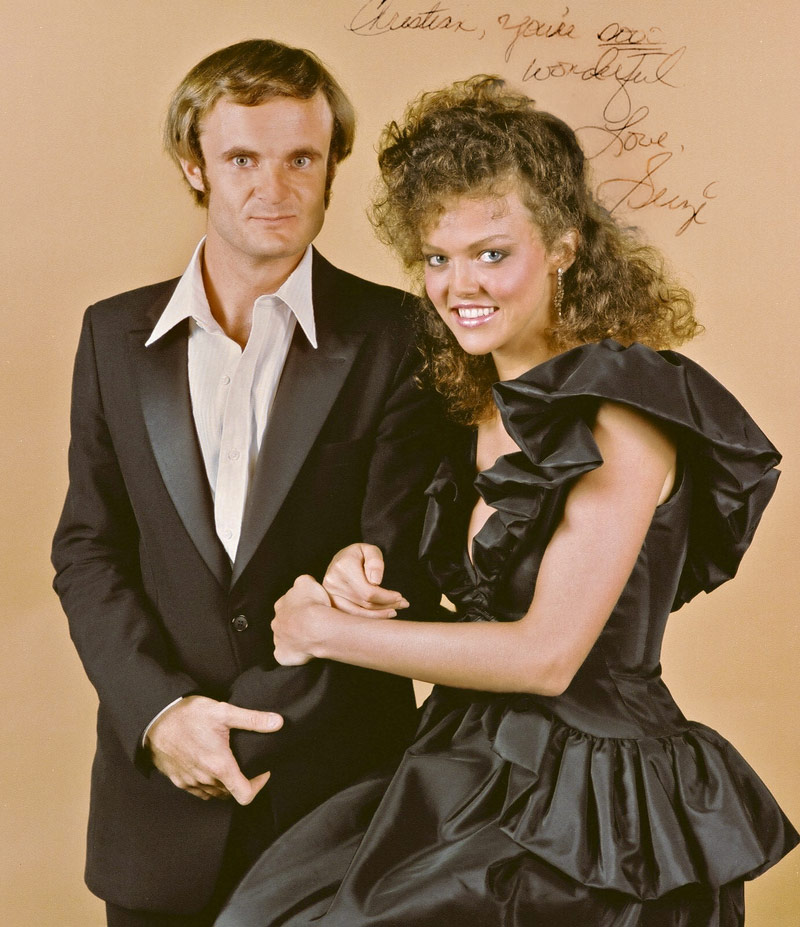 Remerciement à David Macey de m'avoir permis de participer à ce shoot Playboy. Merci à la Playmate Susan Schot.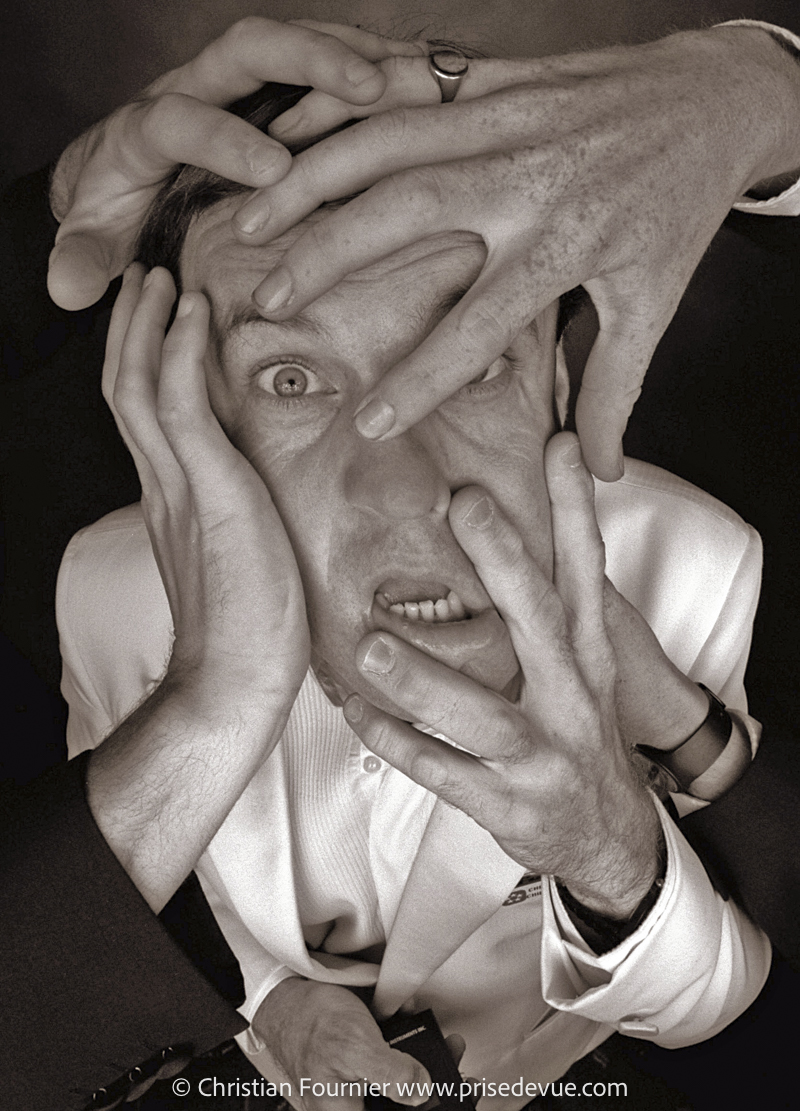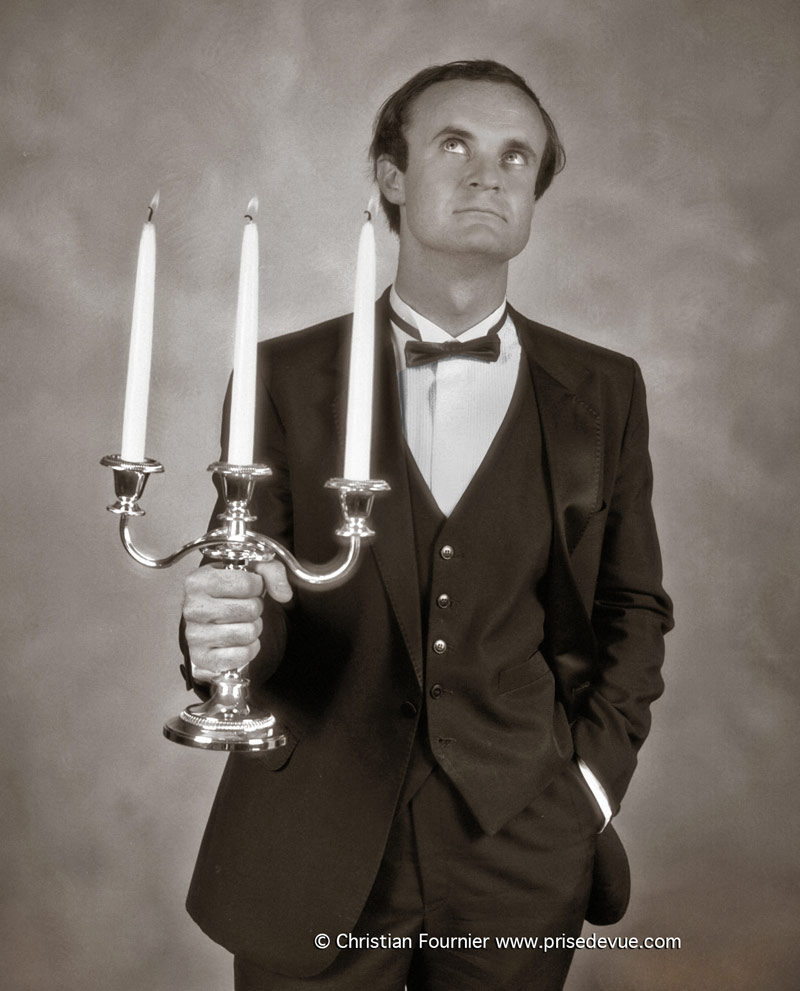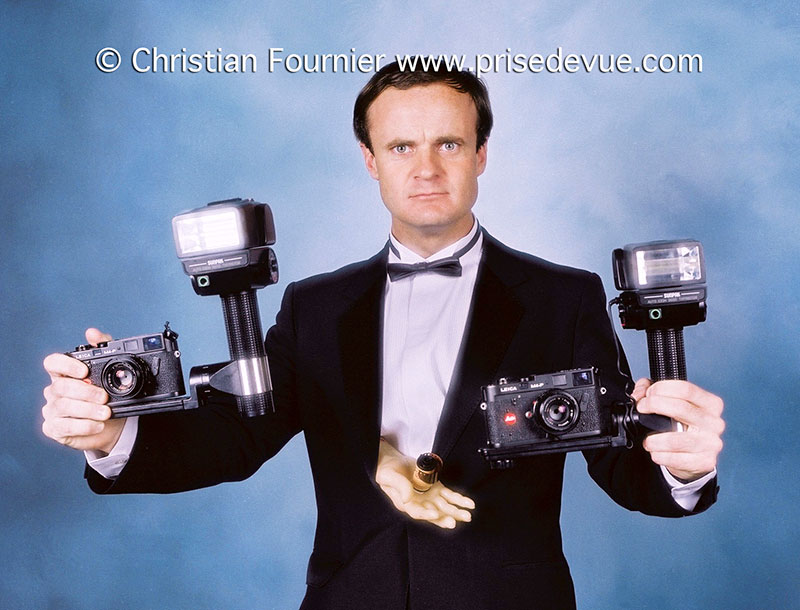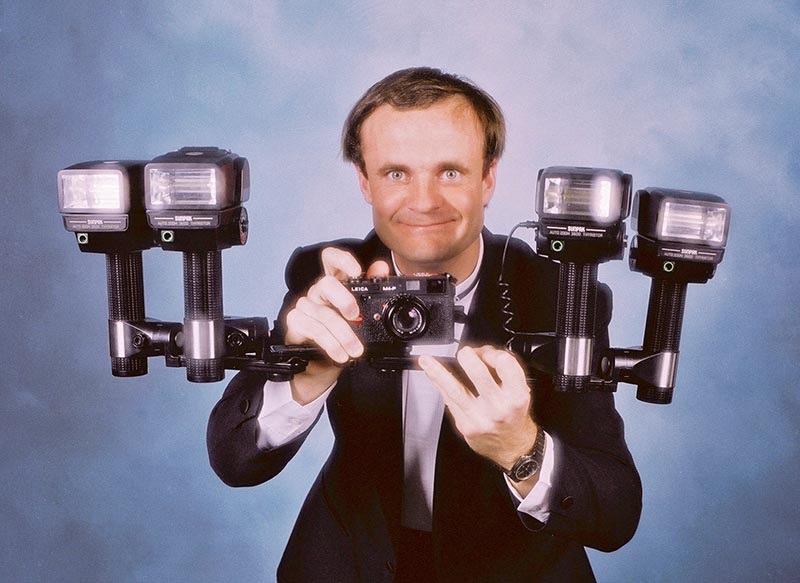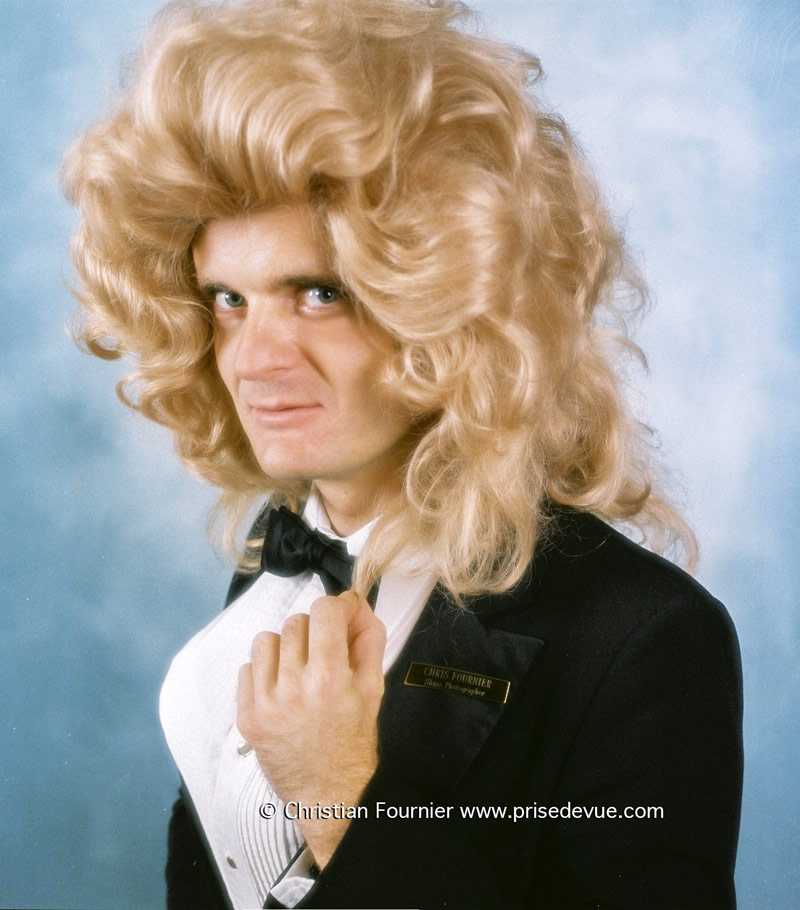 No worries, I am very secure about my manhood (see page 28).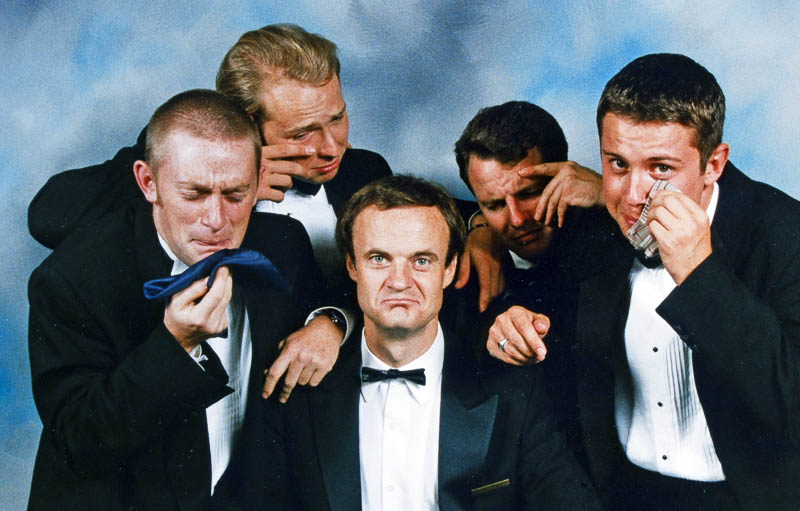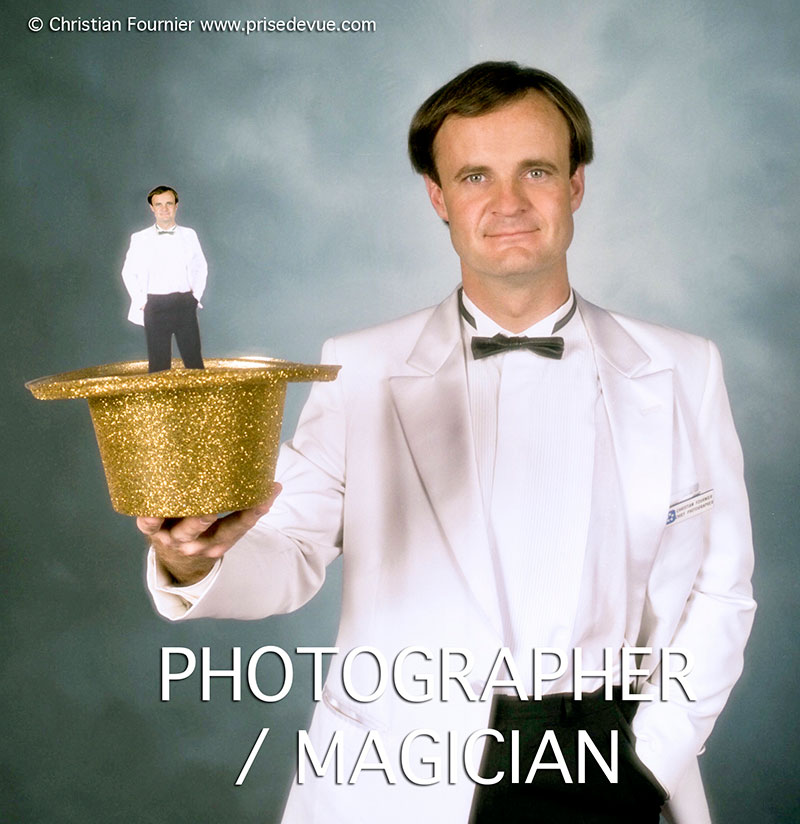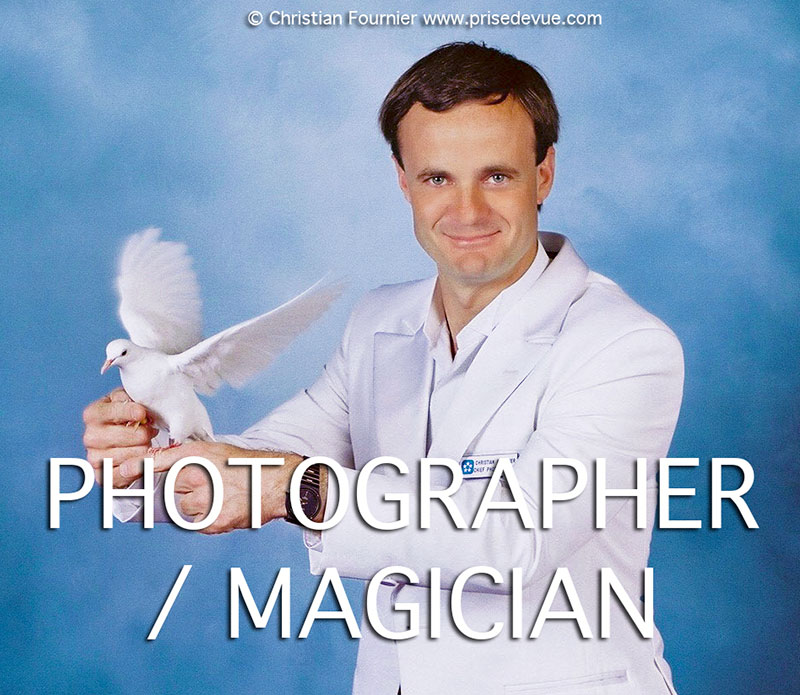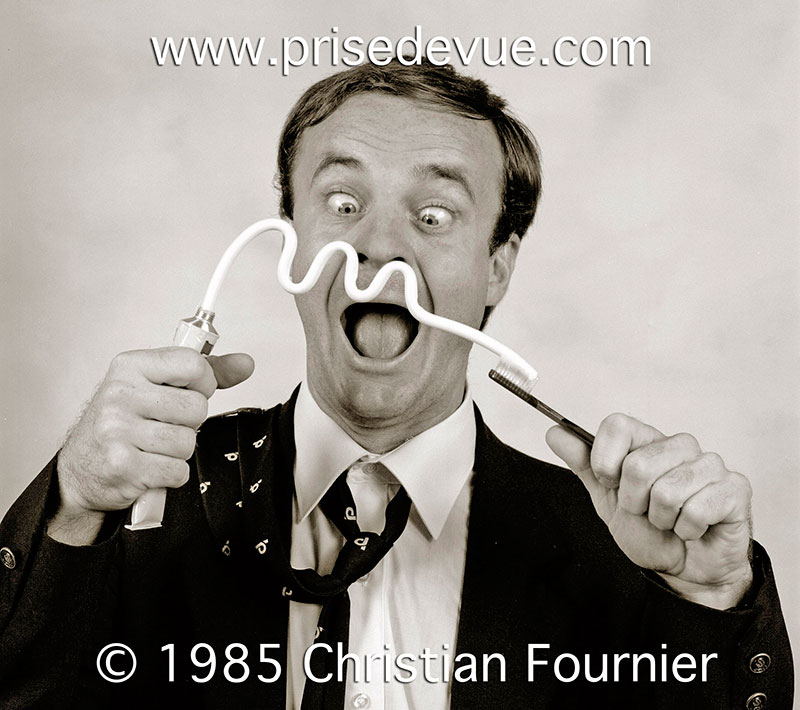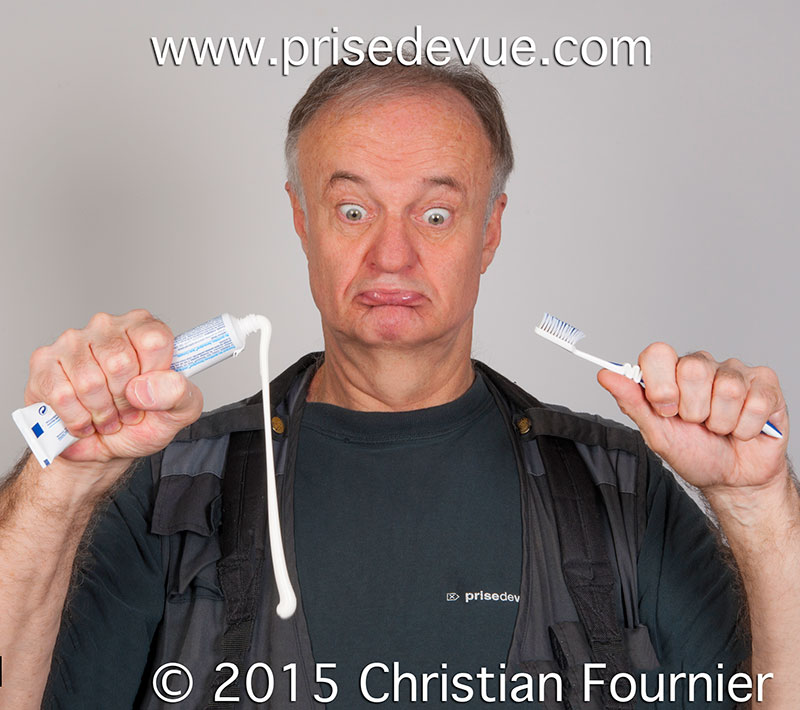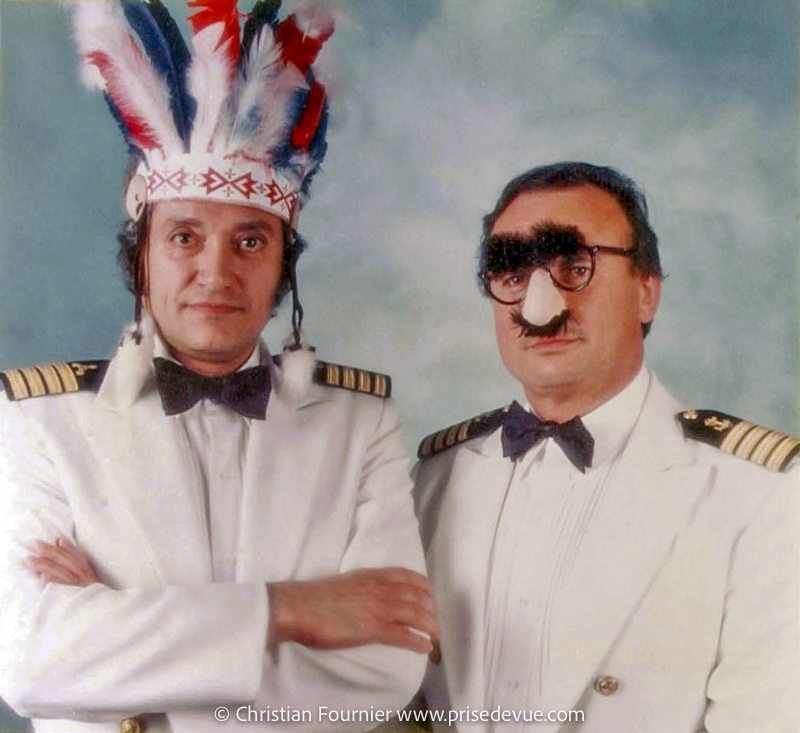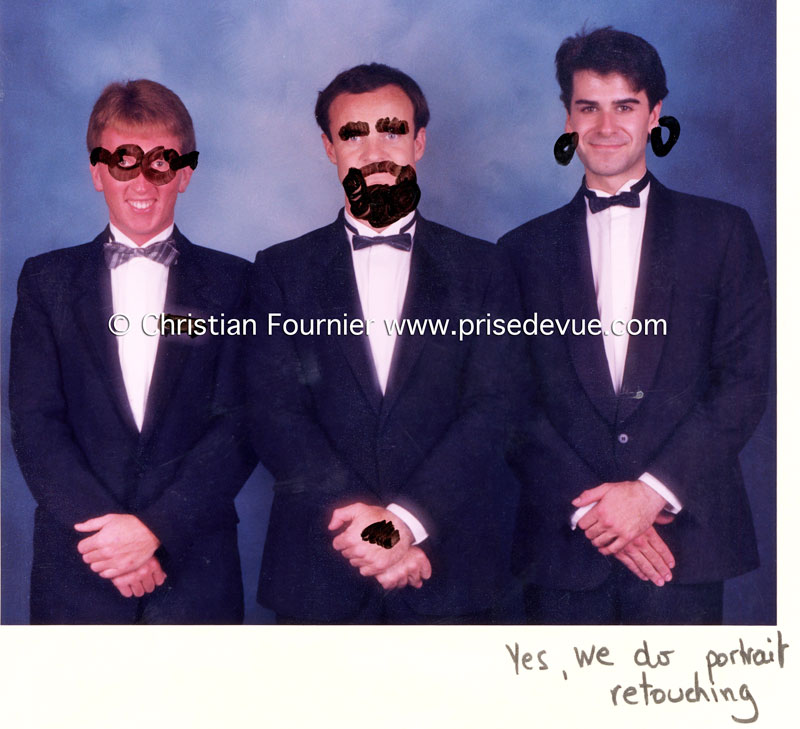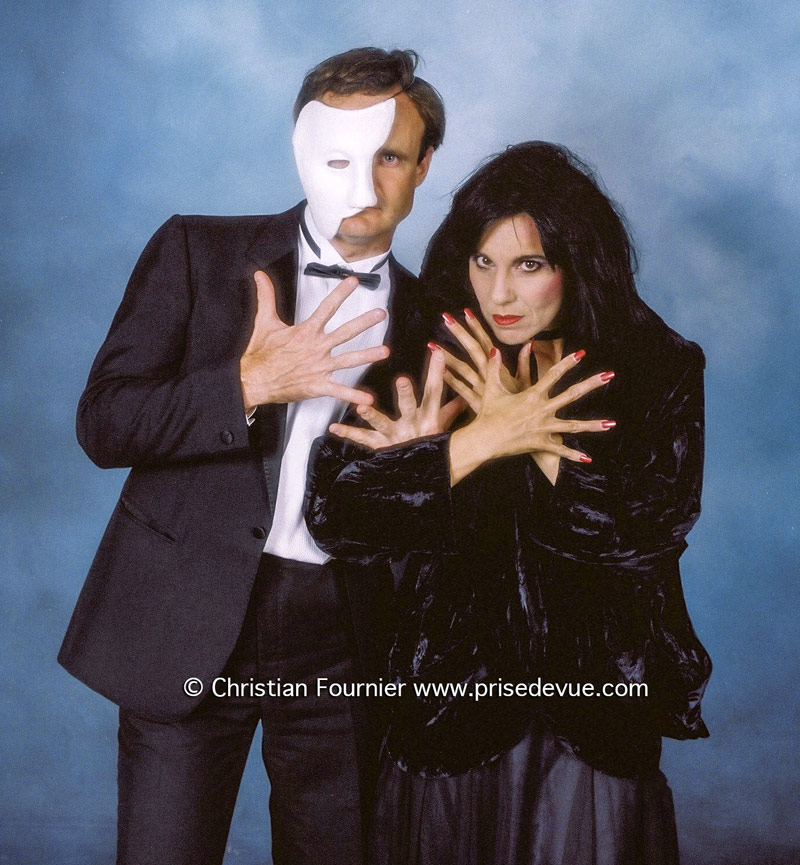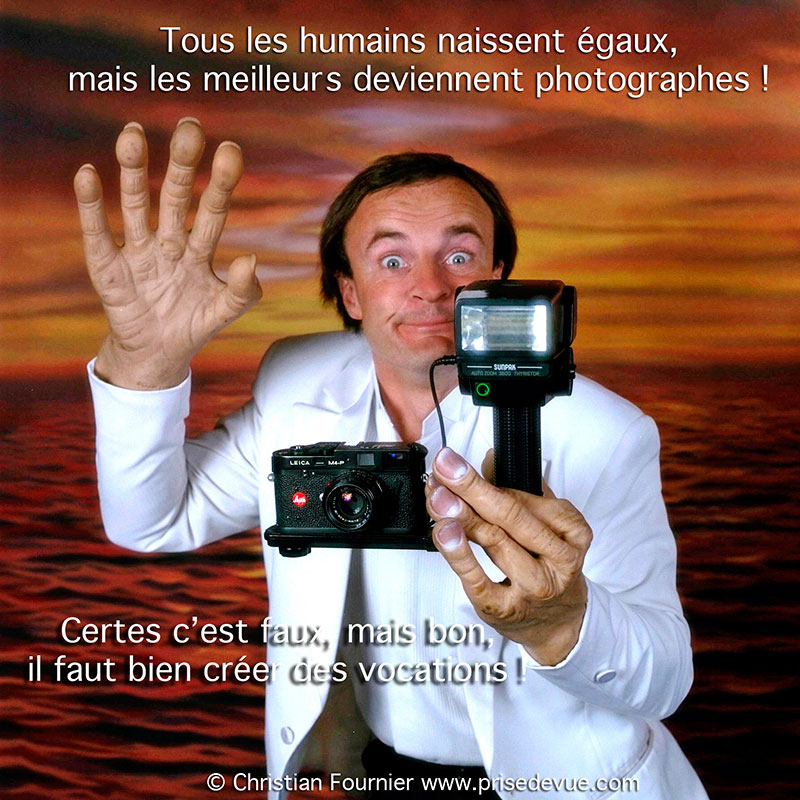 1985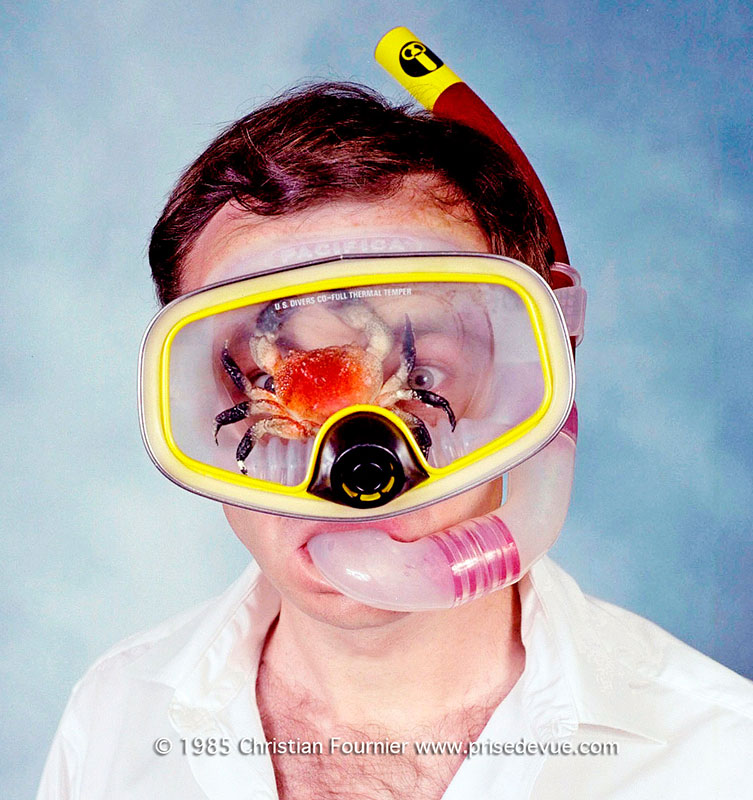 2017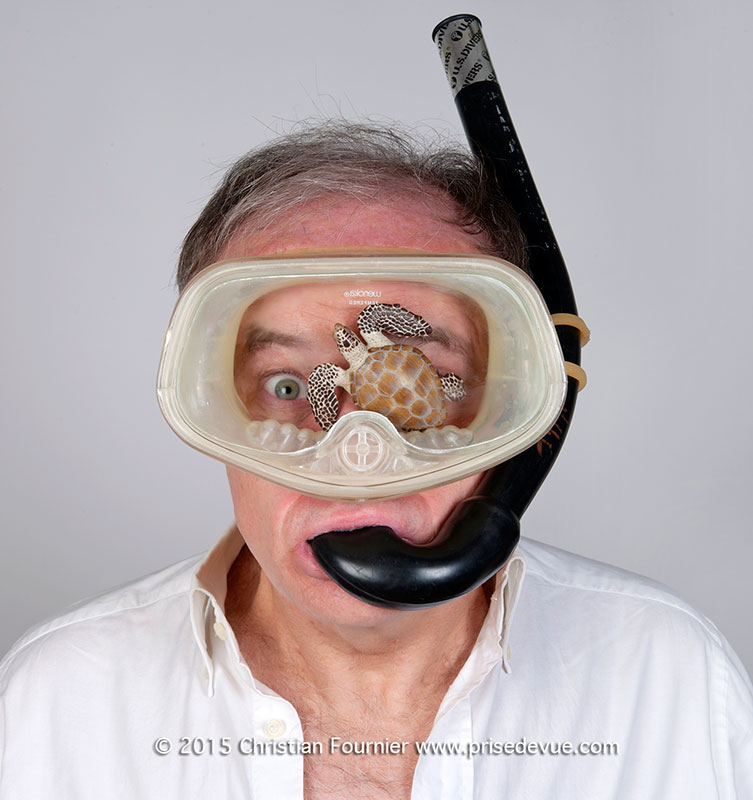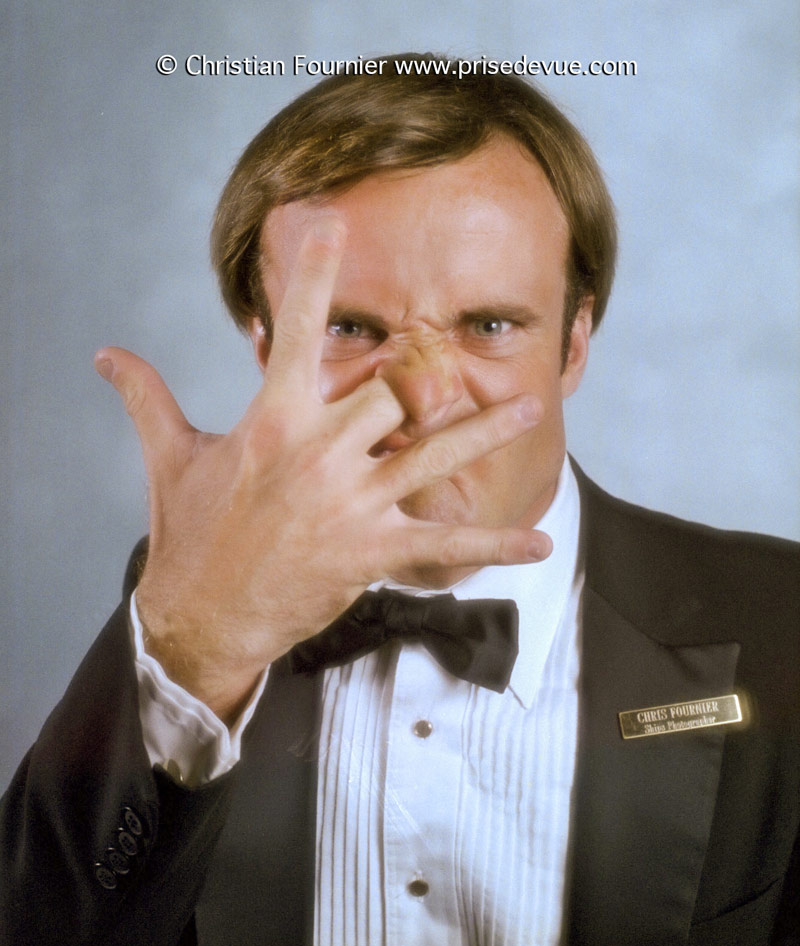 1985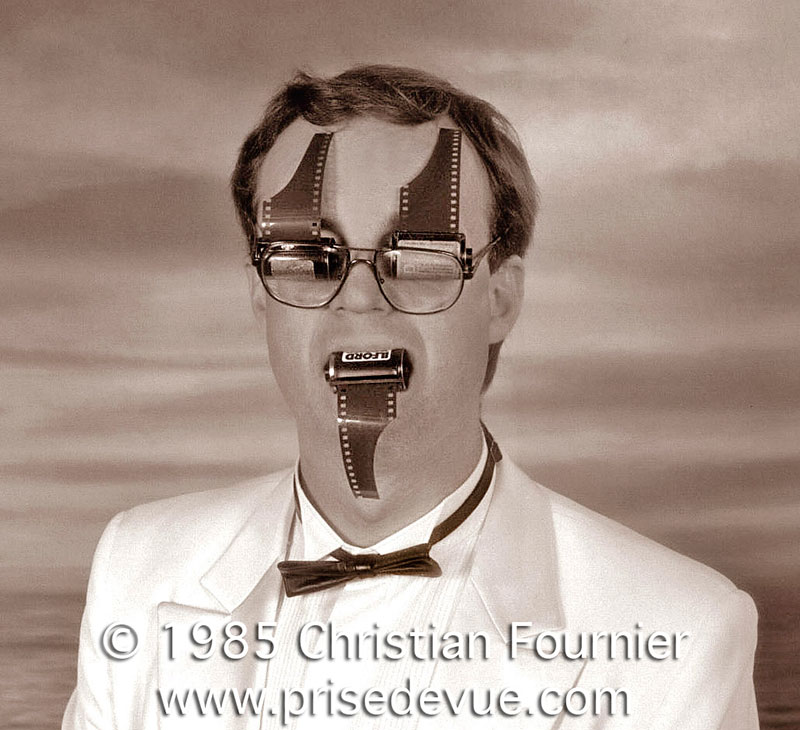 Photography was pouring out of my ears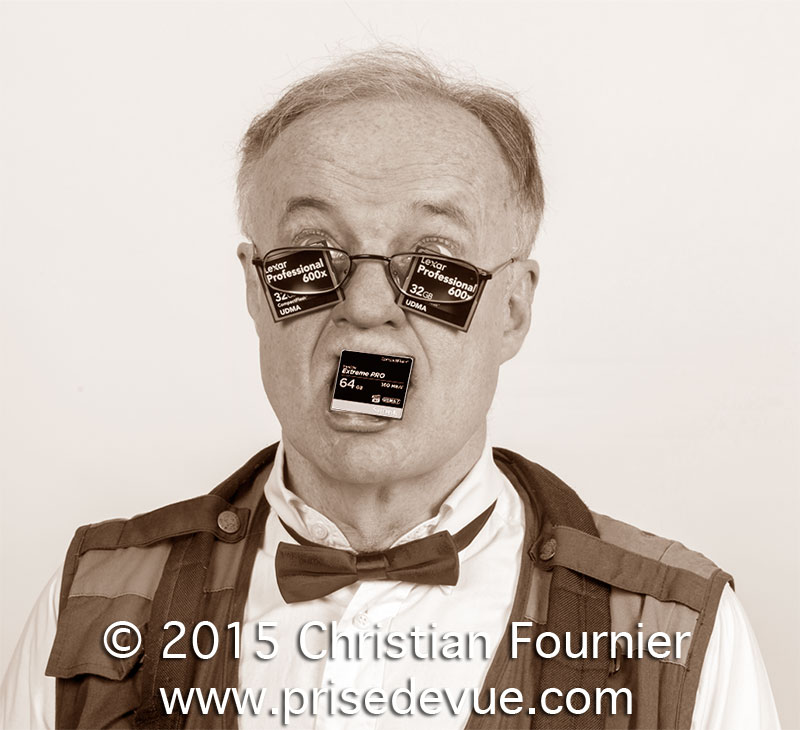 2015
Bon, c'était mieux avant, comme disait déjà ma grand-mère.




With a little help (hand) from my friends.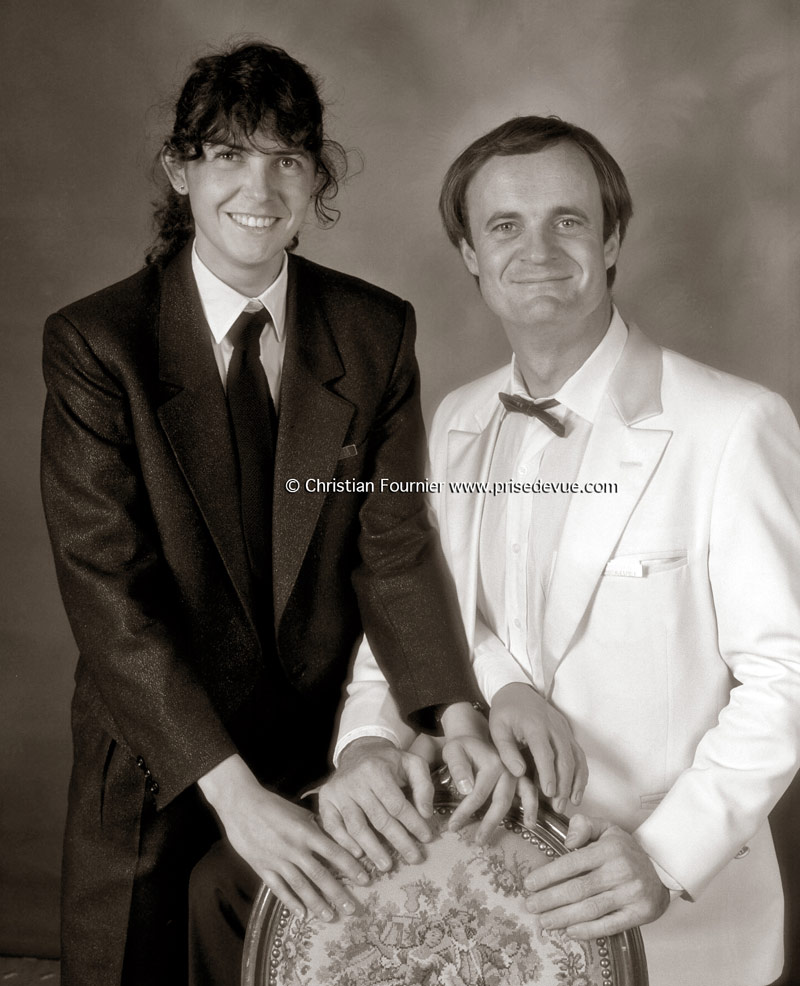 Count the hands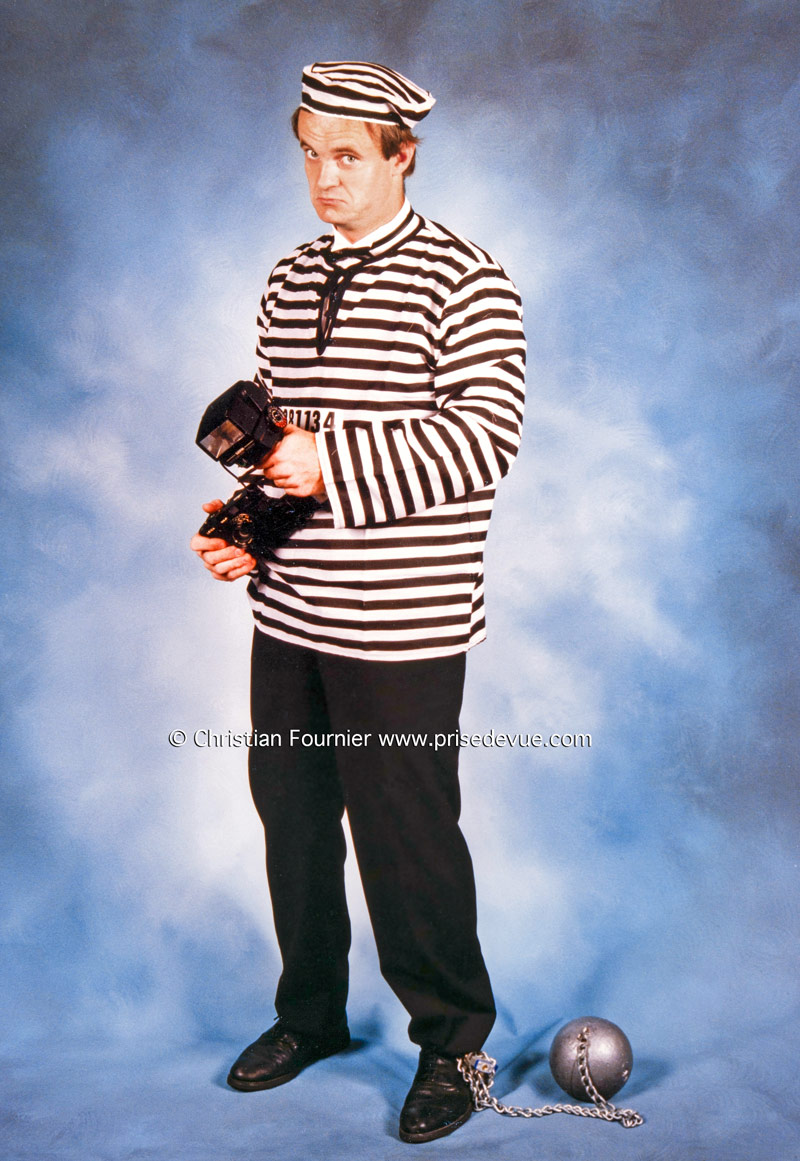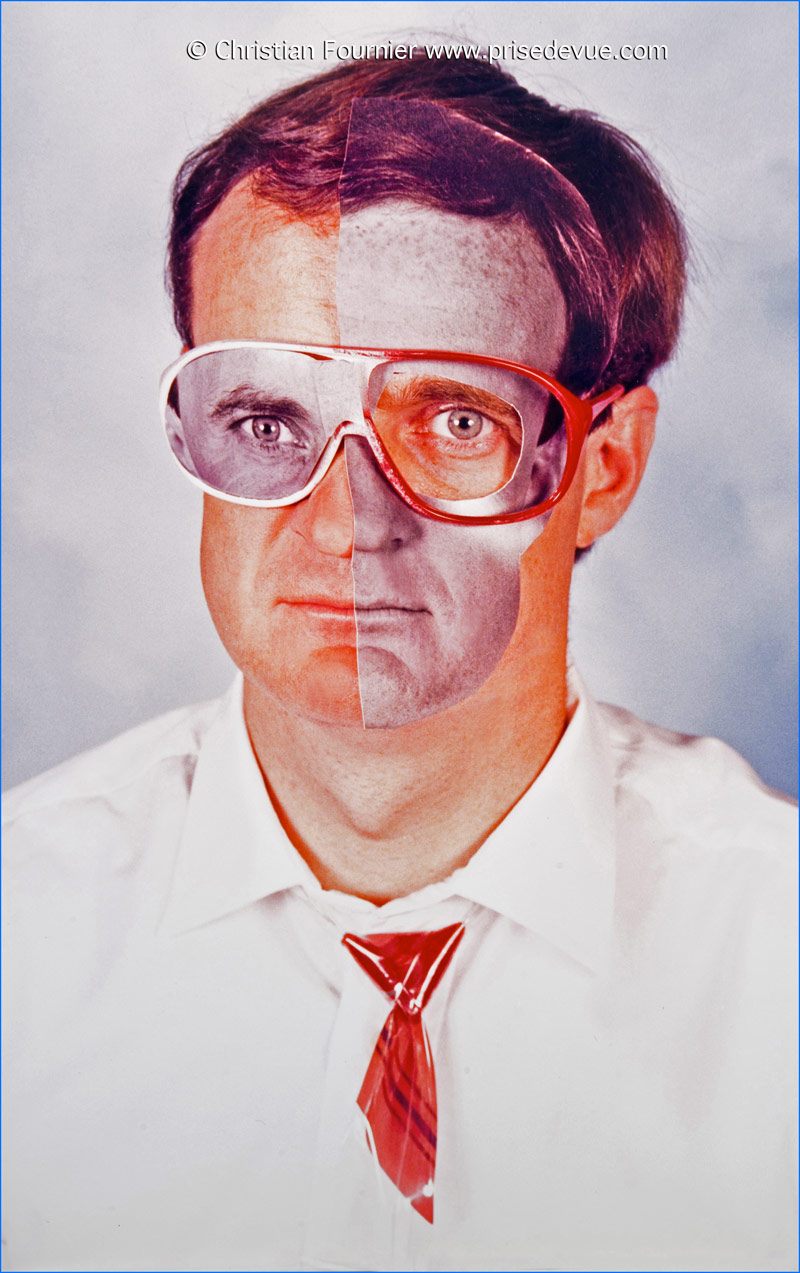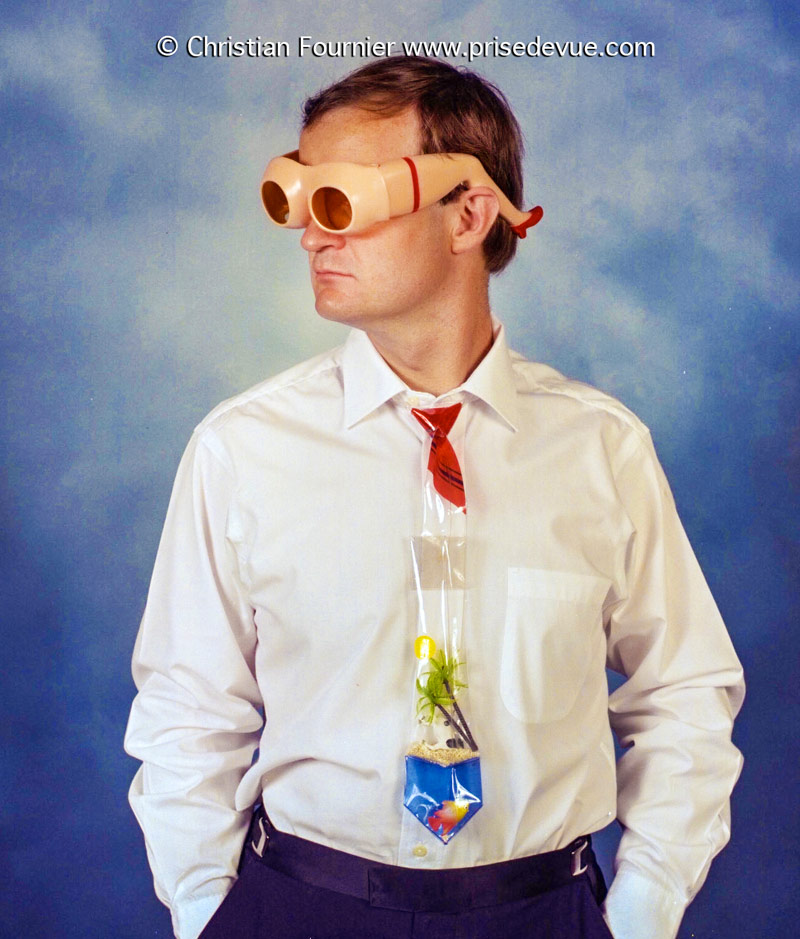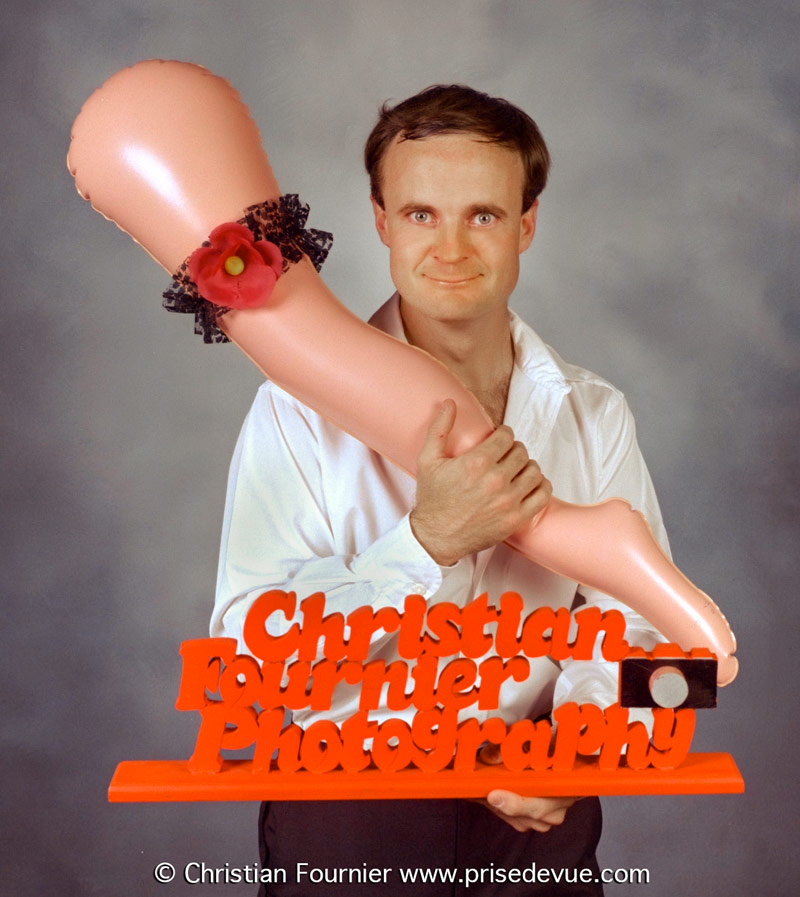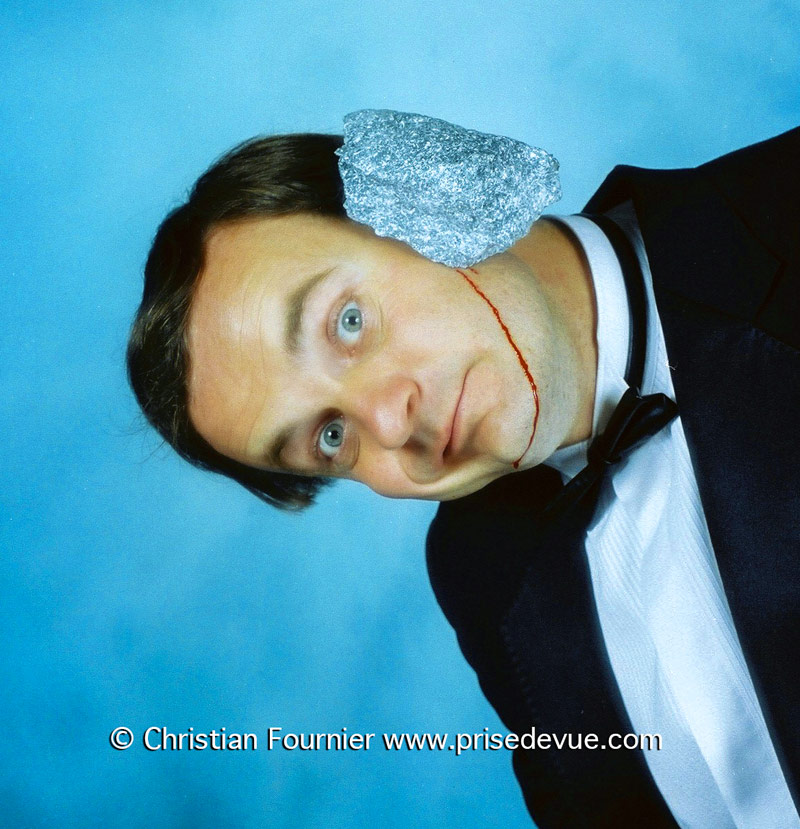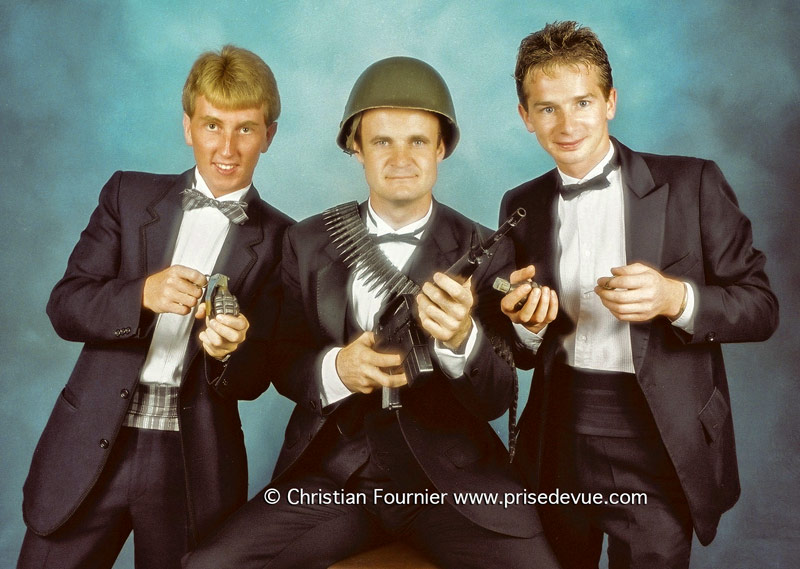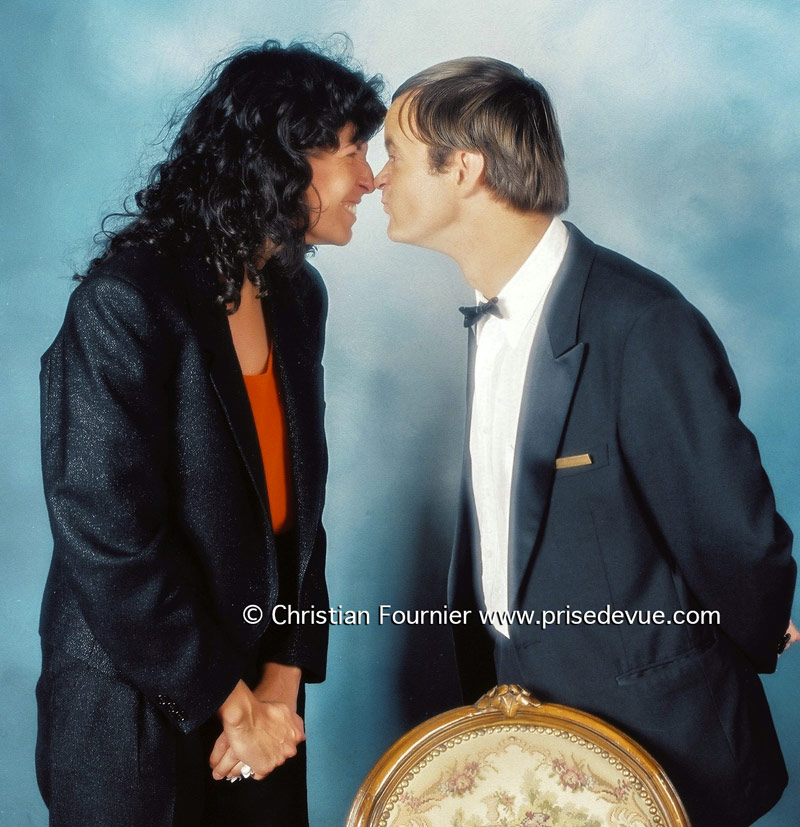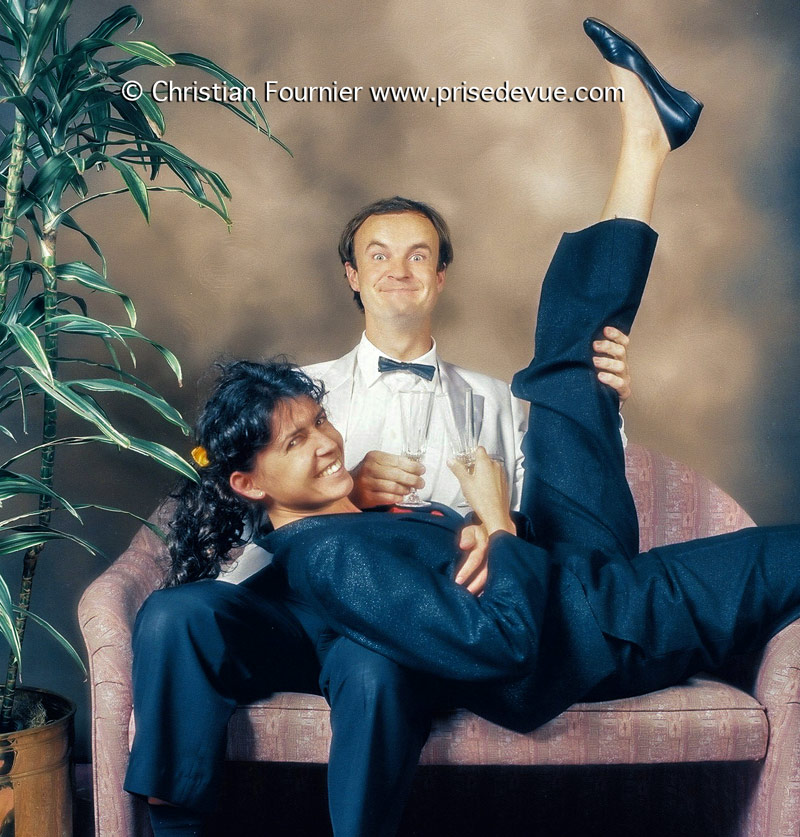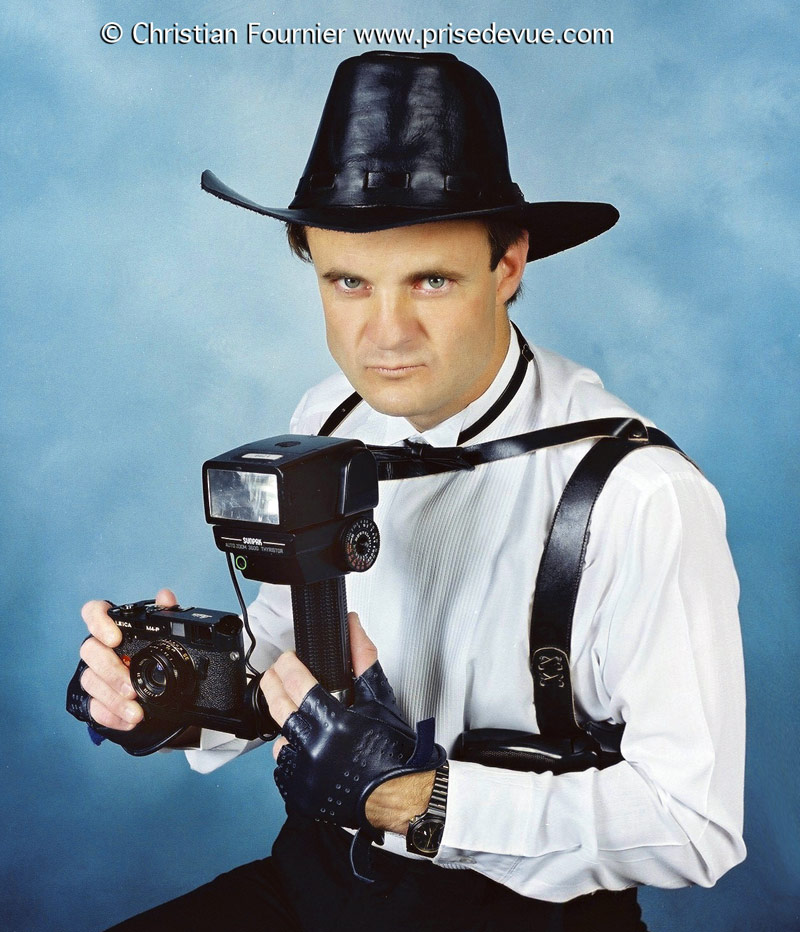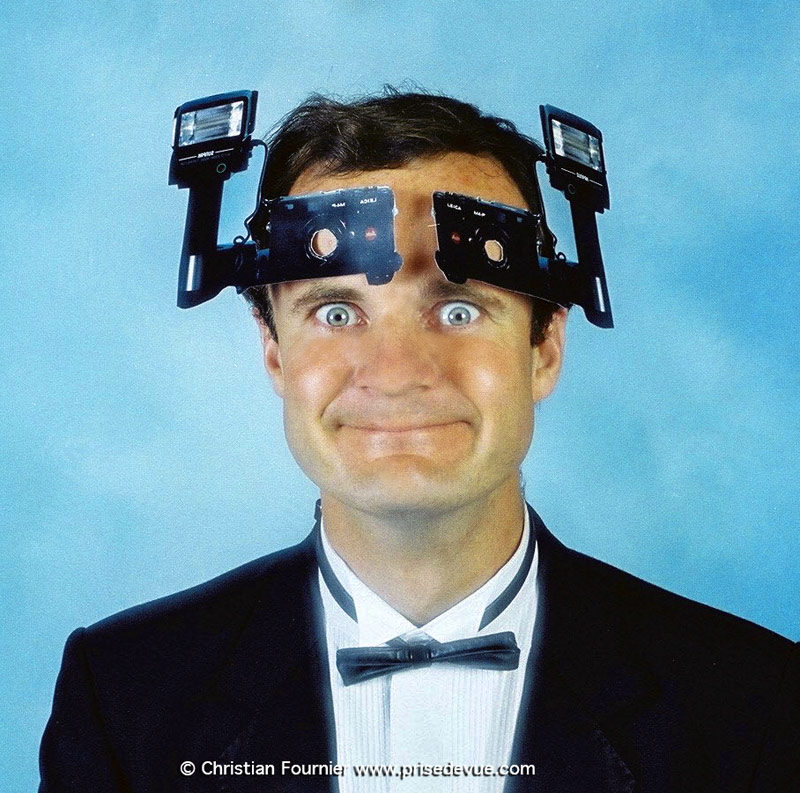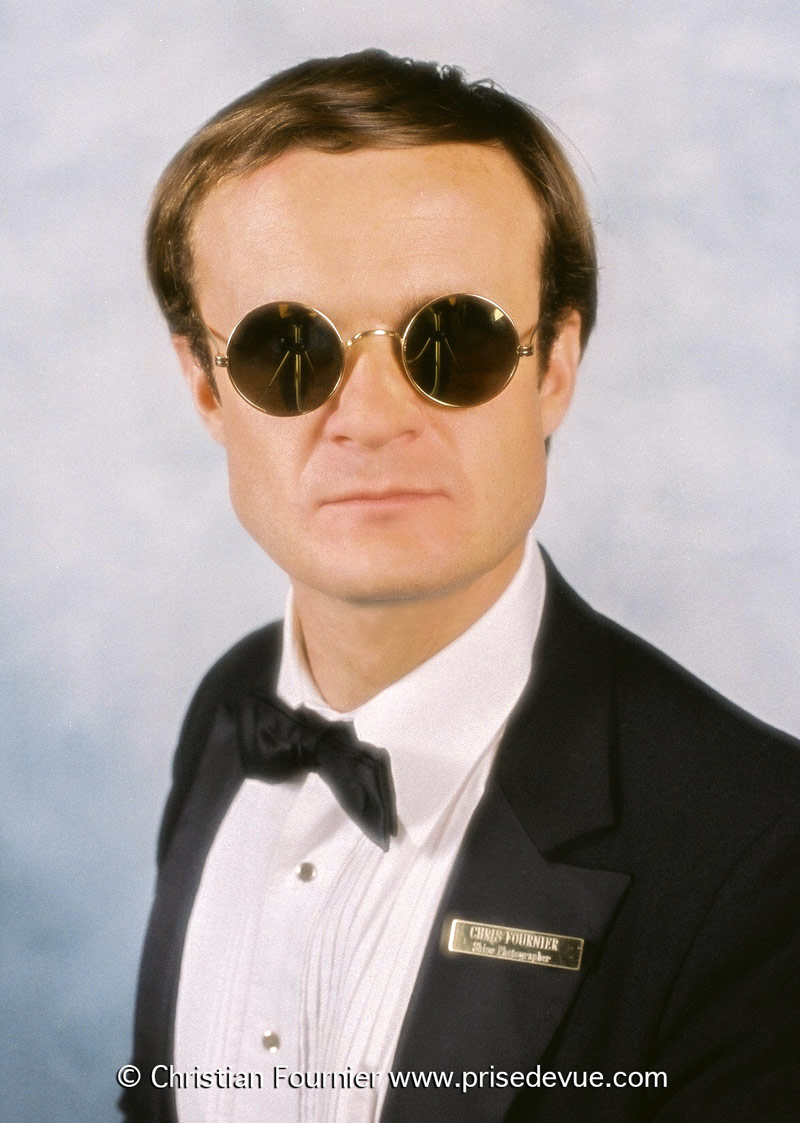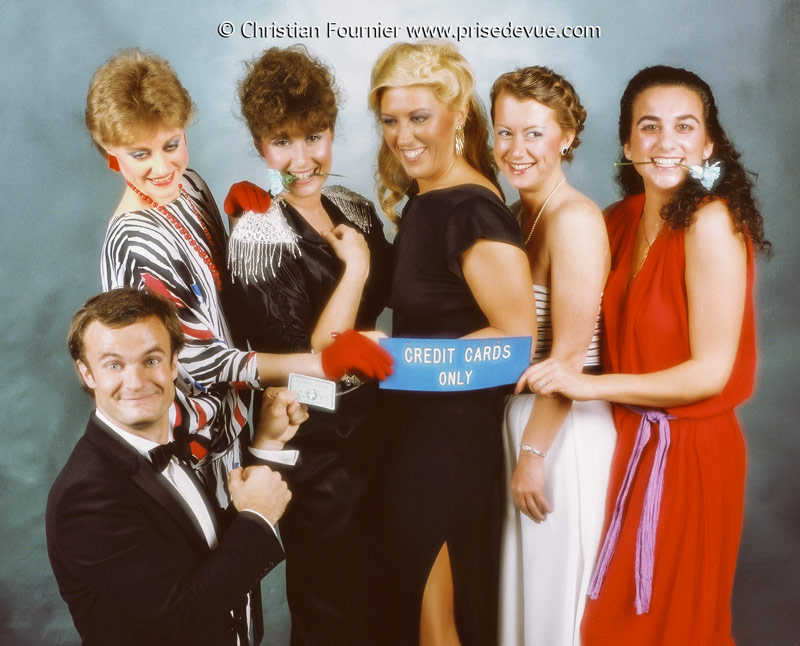 Le 12 juil. 2015 à 01:15, Andrew Bruce a écrit :



Hi Chris: Hope you had a good birthday. Yes, the cruise was very nice. How things have changed, however. We visited Juneau, Skagway, Ketchikan, and Victoria, and explored Tracy Arm Fjord. All the ports have grown since our days on The Stardancer, still beautiful though. The scenery is as impressive as ever. We took a whale watching excursion and got up close and personal with some Orcas and Humpbacks - I'll send you some pics once I have edited out the best ones. The ship we were on had 3400 pax and 15 photogs and, of course, all shooting digital. Their major emphasis was on formal portraits every night, even when dress was casual. A little overkill in my opinion.

We had one taken the first formal night in front of a beautiful spiral staircase, with some great ambient lighting. Their posing was ok, but they simply had one light-box, front and center. When we saw the finished product, it was over-flashed, and their shutter speed selection totally eliminated the ambient light - one of the things making the setting what it was!!!  I asked the photographer if we could try it again the next formal evening with them stopping down a little to avoid over-exposure, and using a slower shutter speed to capture more of the ambient light. I was informed that all the settings are set by corporate and if they deviate by even 1/2 stop, the photogs are subject to major disciplinary action!!!  How stupid is that! I tried to talk with the chief photog on several occasions, but he was never around. I guess his duties must be strictly administrative! So, I wrote a lengthy letter to him, strongly recommending he discuss modifying the settings to improve the finished product. It's so basic! I can see the need for consistency. We always aimed for consistency for ease of printing, but we used settings that were best suited for the setting. I guess the photogs nowadays may not have the training to make such decisions. It sounds like a stupid call Paul Smith would have made!!!

I thought you would like that story. Anyway, we had a great time and it was exactly 28 years ago, this month, since Angie and I first met, when you and I were on the Stardancer. We had our first date in Haines, and it will be 25 years, on Bastille Day, since we were married. Mason had a great time, also. He heads off to college in September, to California. He graduated high school the top of his class and in the top 1% of seniors in the state of Washington. He's a hard worker, and we're very proud of him. It's amazing how the time has flown by, however. I hope you are well. Send me an update as to what fun things you are up to. Take care, and I'll send you some pics. Andrew.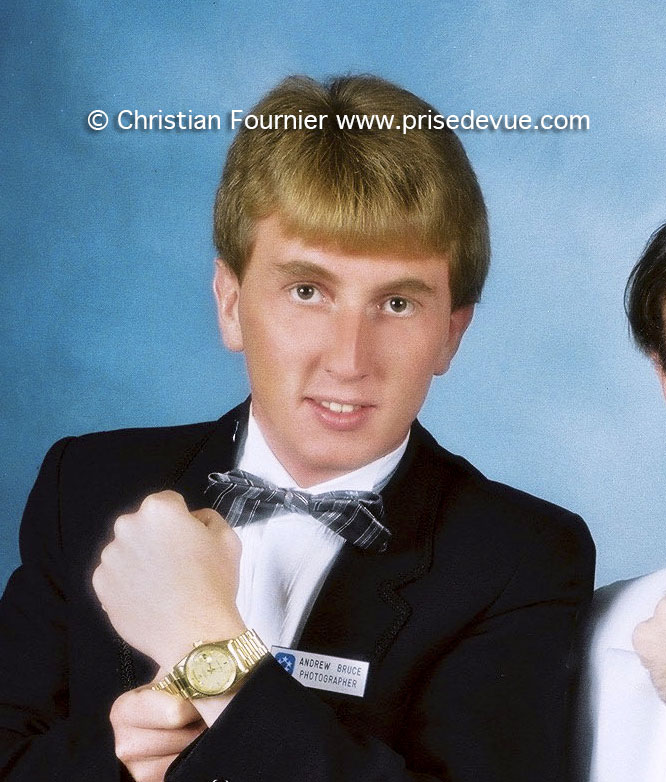 Andrew Bruce, 28 years ago.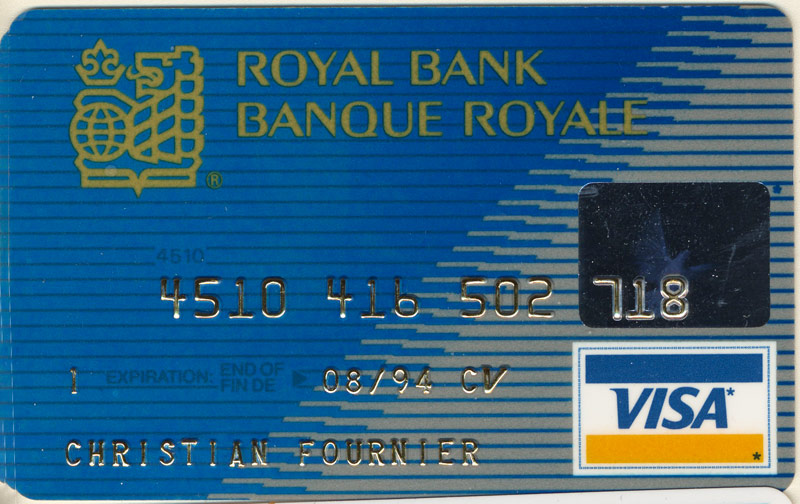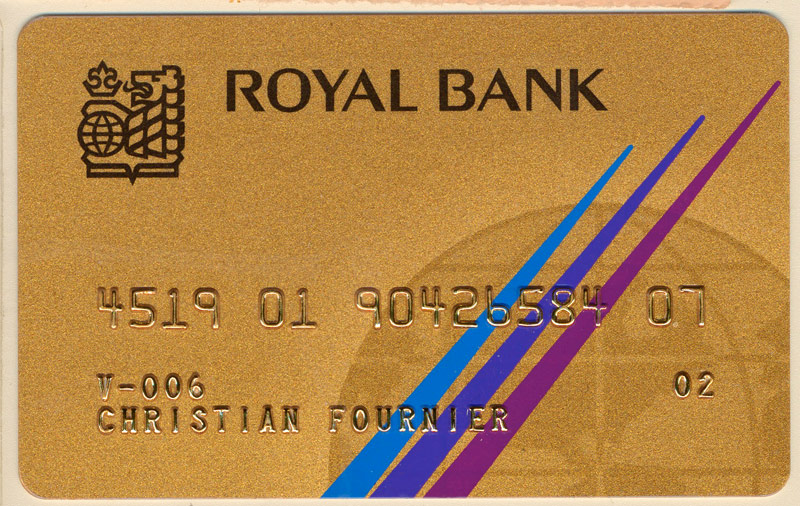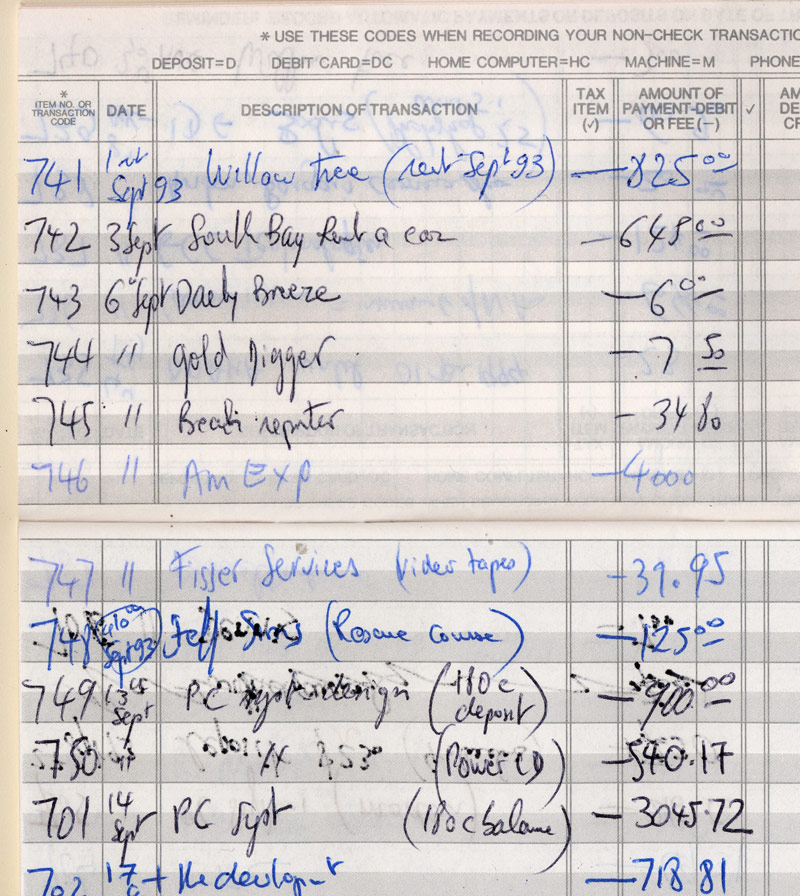 WALLET SIZE PORTRAITS


TO: CRUISESHIP PICTURE CO. LTD. FROM: CHRISTIAN FOURNIER, Chief photographer. DATE: November 21, 1987

Due to repeated requests from our pax, I am convinced that we would make a lot of money by offering a package of portraits: 10x8" and wallet size. You can buy a mirror lens that will produce, from a 120 neg, 8 wallet size photos on a single 8x10 sheet of paper. We cannot offer the choice of 8x10" or wallet, for we would loose on the 8x10", obviously. So, perhaps, we could offer purchase of wallet size, only after purchase of 8x10". Just another suggestion !

CHRISTIAN FOURNIER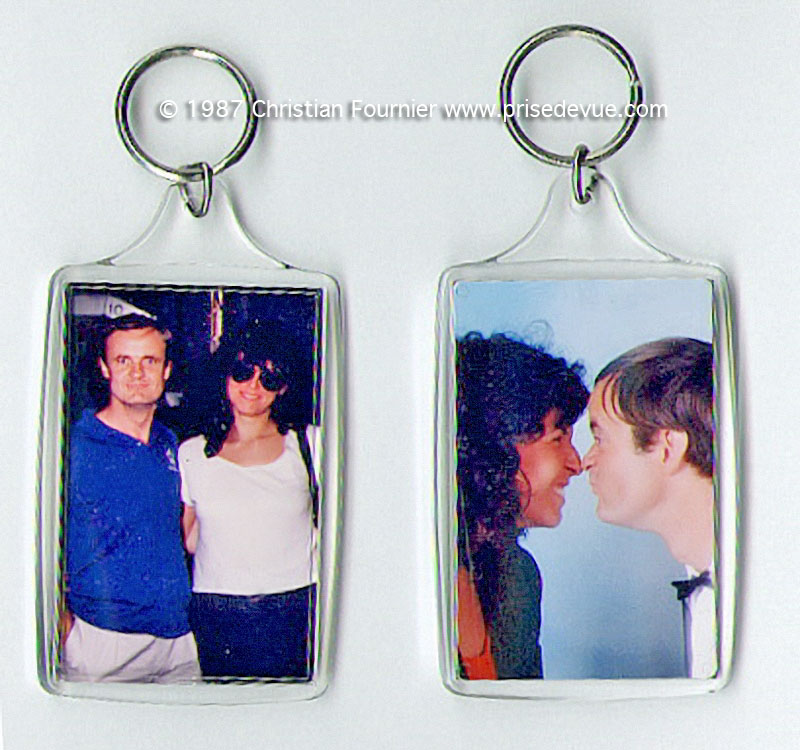 "Hey Chris, I'm fine thanks, nice to hear from you
I had a quick look through your links - all done very well, with your usual attention to detail
Some of it I found very interesting - I didn't know you visited John Davies at his Cayman home - you obviously had
a relationship with him closer than any other photogs, which is not surprising as I count you as the best actual
photographer (rather than just a 'smudger') and most prolific, I ever worked with (you can quote me on that)
Best regards"
Patrick Denton, 24th October 2018
----------------------------------
"John Davies is still alive must be mid 80s living in Grand Cayman. Trisha lost contact with everyone she was very upset how the business folded, like many of us."
Tom Long, Ops Manager for Cruiseship Picture Company, 24th October 2018.

----------------------------------
Lewis Cook, November 2018: "The CPS died due to mismanagement by the two principles. They got into legal trouble with some company that they had in California so declared bankruptcy to avoid paying the judgement. This caused the contracts with Cruiseship companies to be void. They then tried to exist with them through management agreements that didn't last long. Their last gasp of existence was thanking pictures at a golf course in Miami. You don't last long in business if you spend the income on other things than paying your suppliers."

The beginnig of cruise ships, page 19 ......
More of cruise ships, page 31 ......