Page 32:

- Survival suits in Alaska.

- 1985: Music cruise on S/S Rhapsody (with Isaac Stern, James Galway, Keith Jarett, Maurice André, Vladimir Ashenazy, etc...).



Cold plunge (tests de combinaisons de survie à Tracy Arm et Glacier Bay, en Alaska)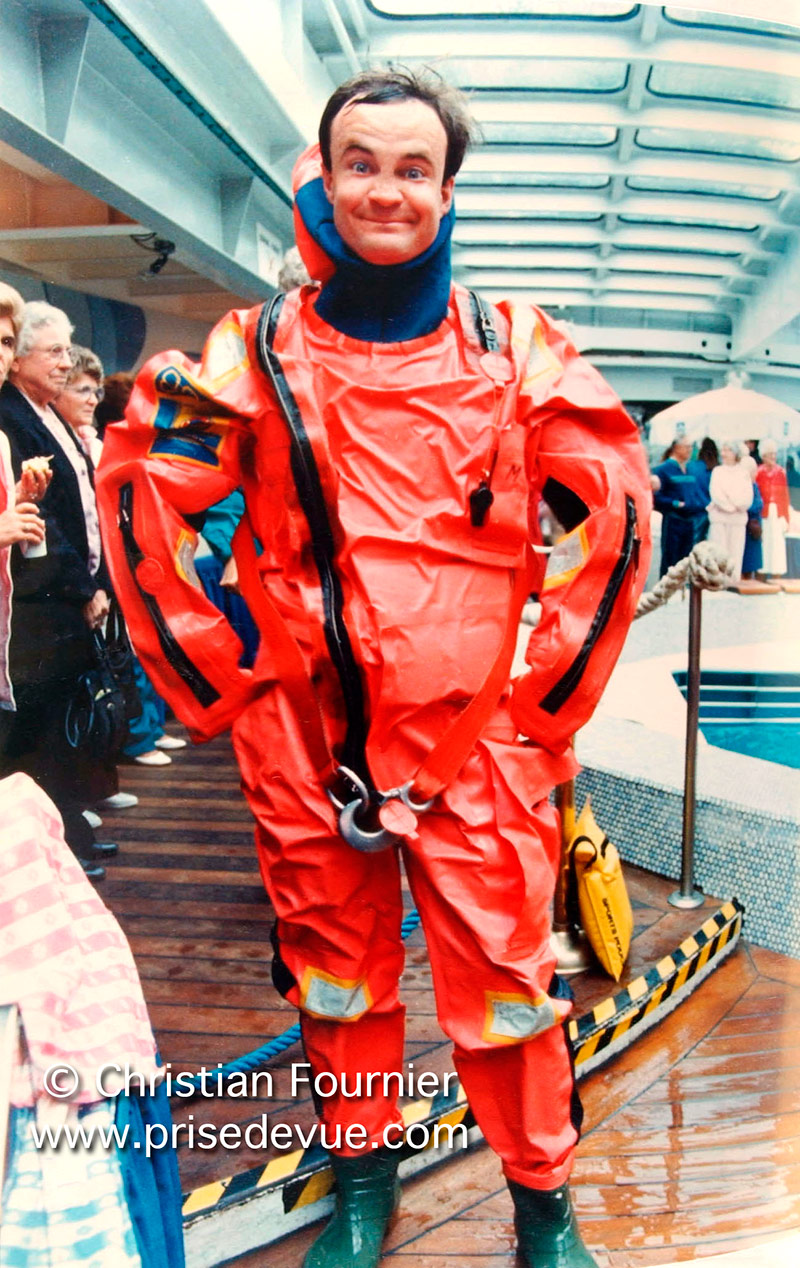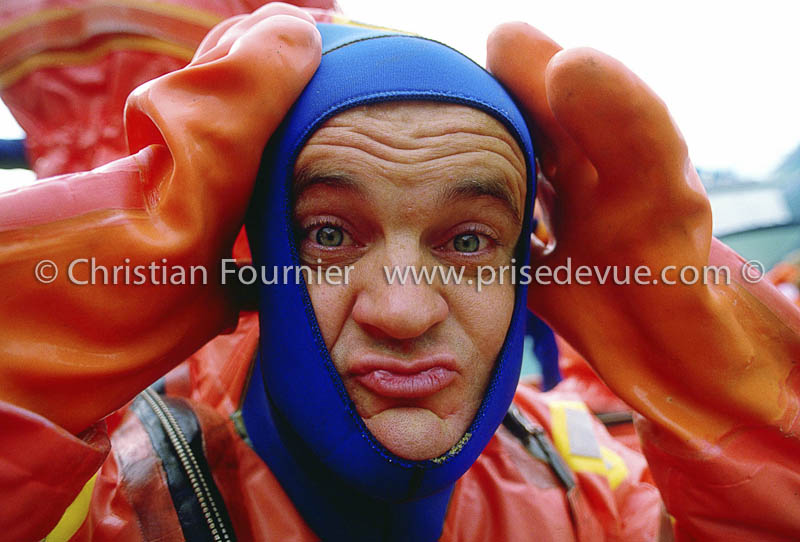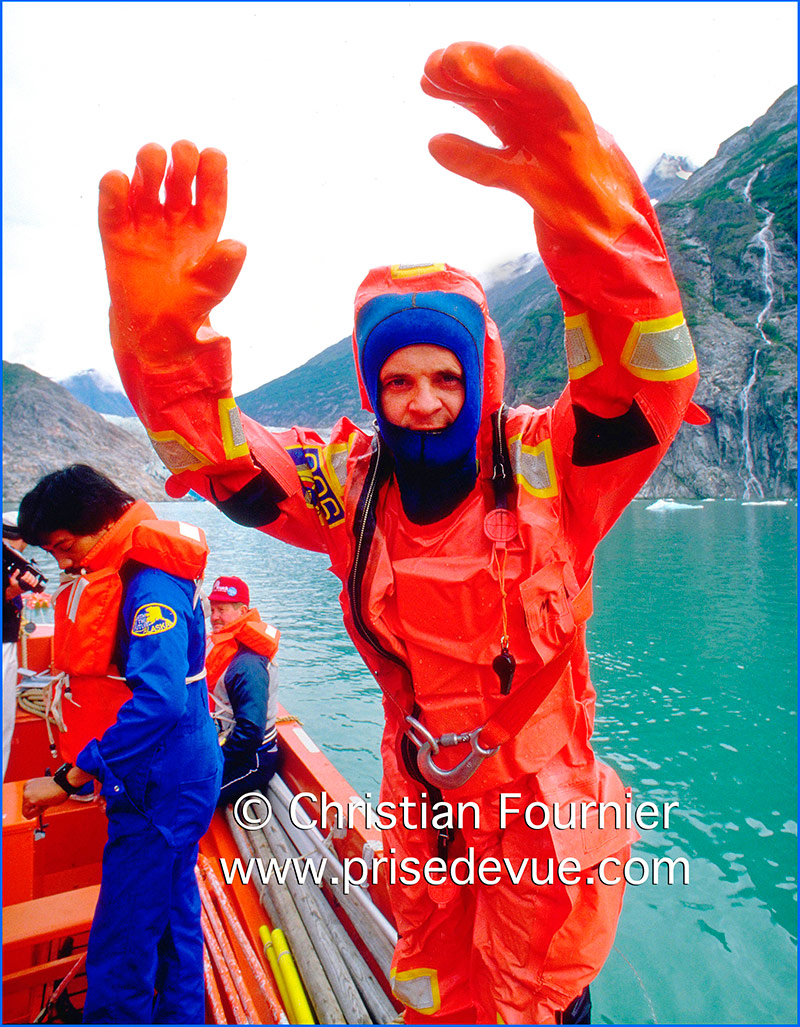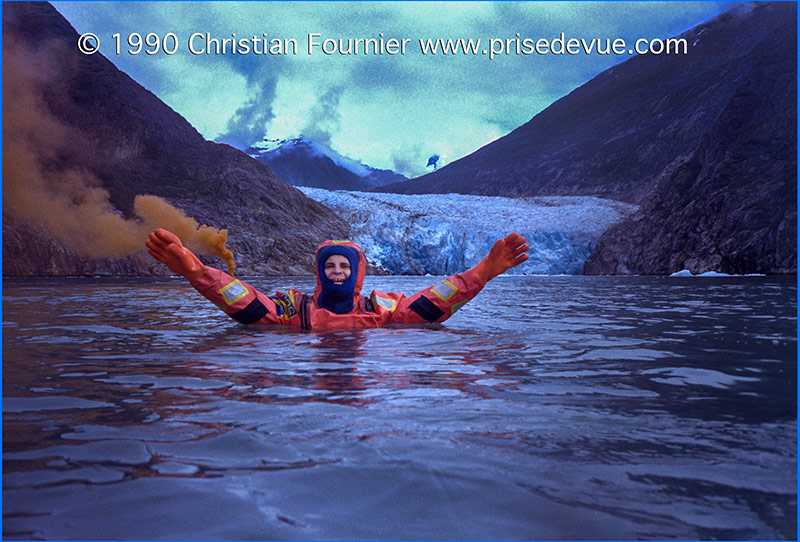 Myself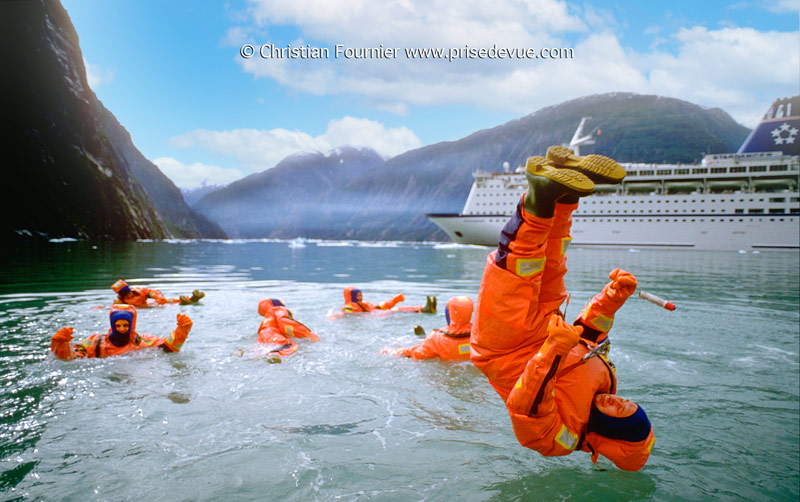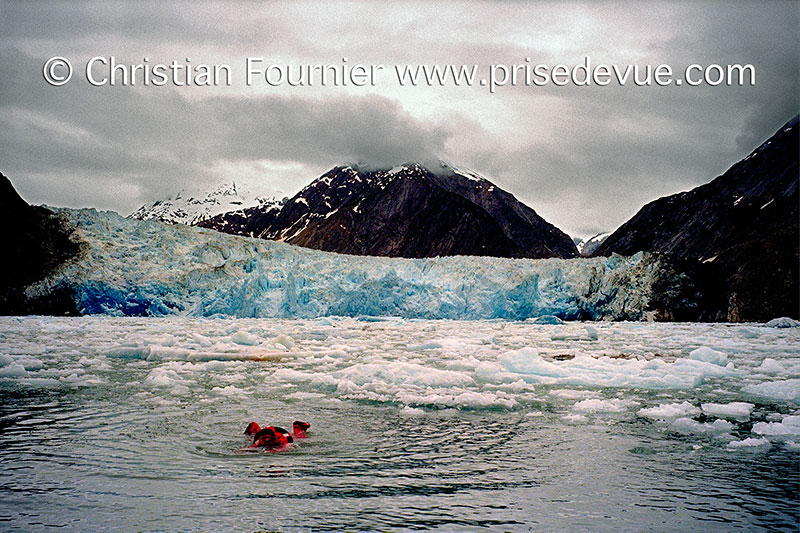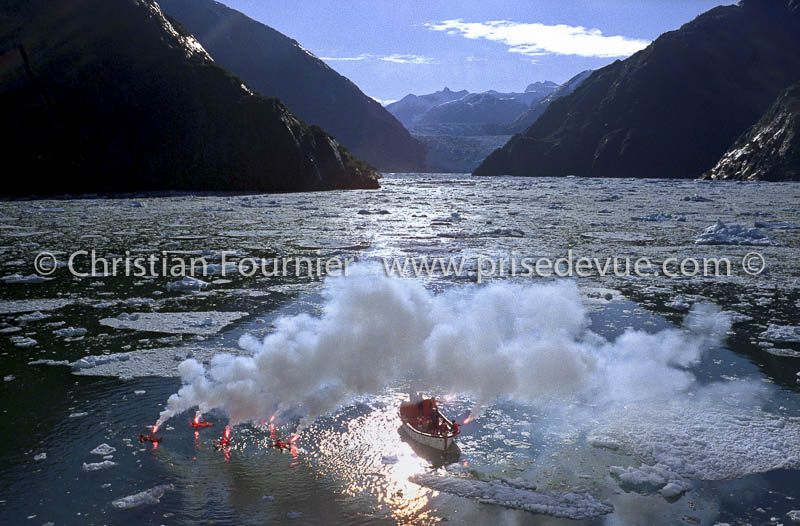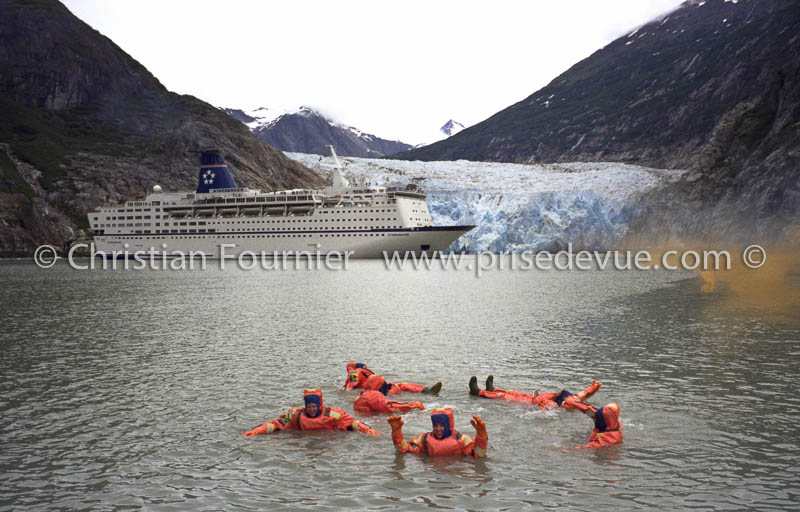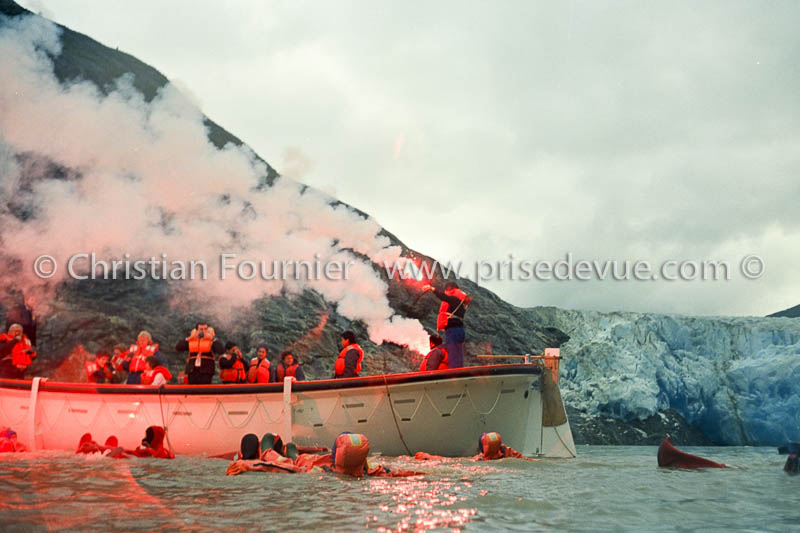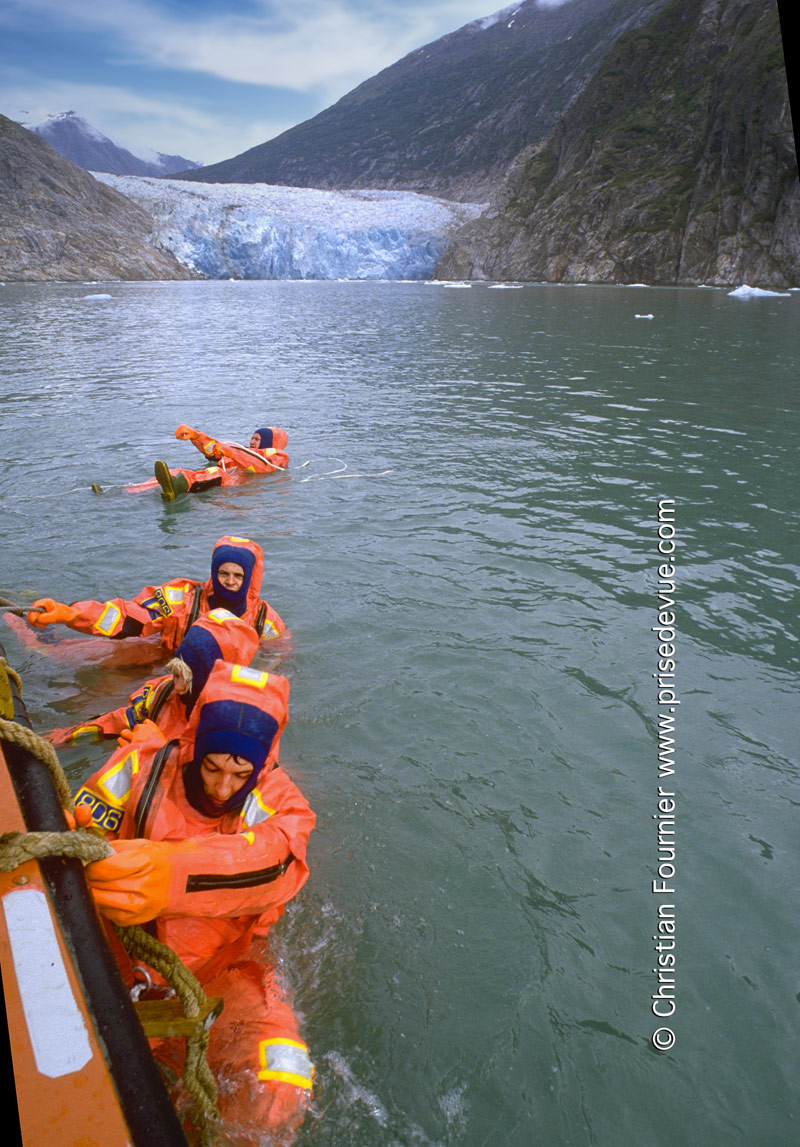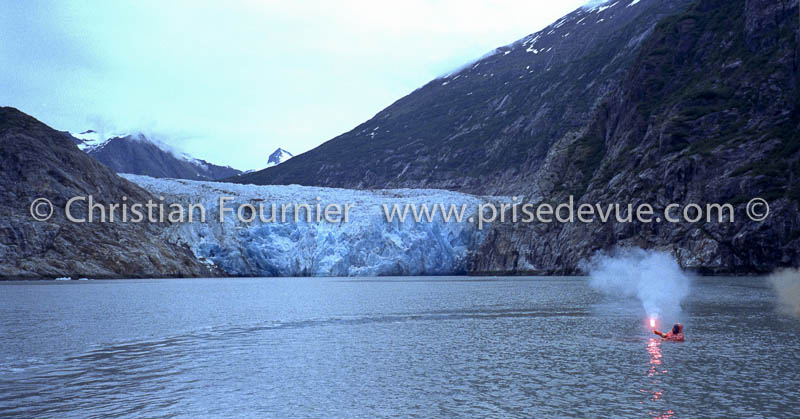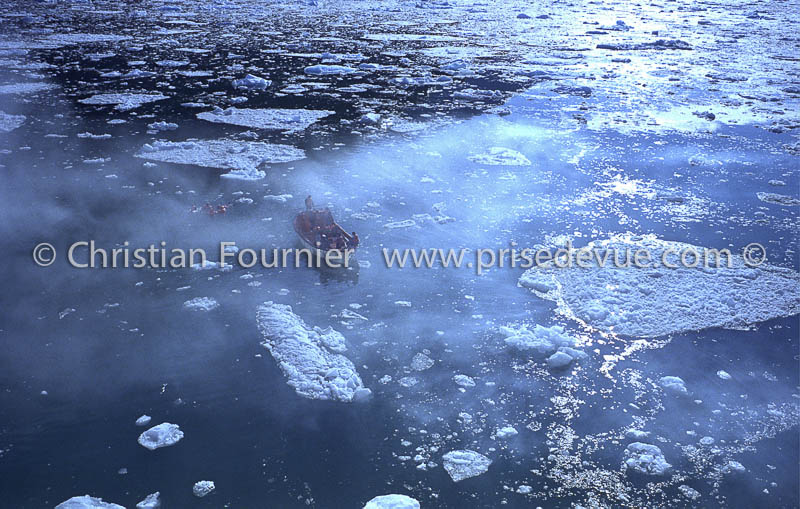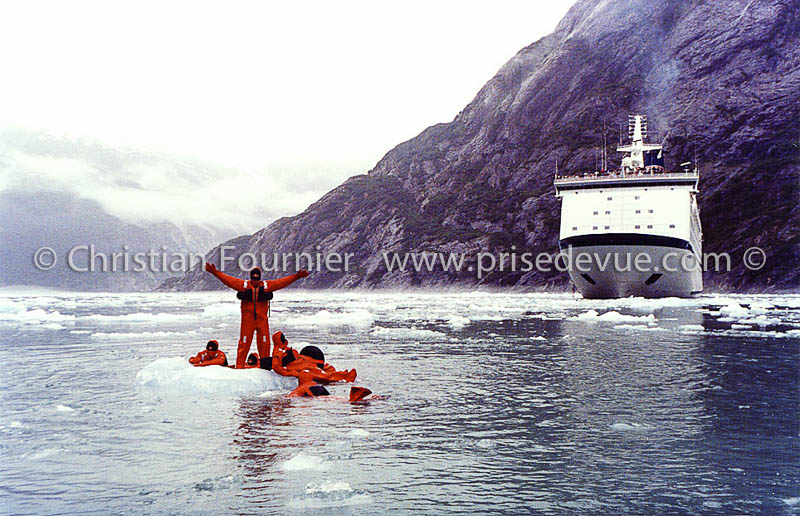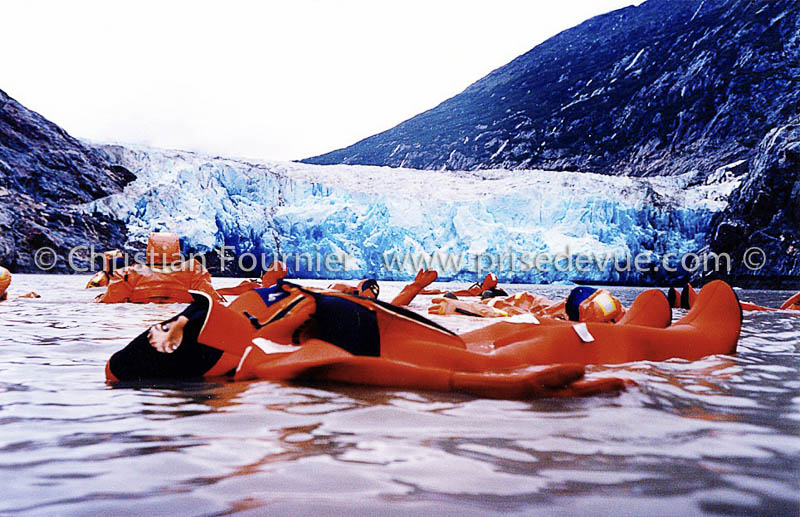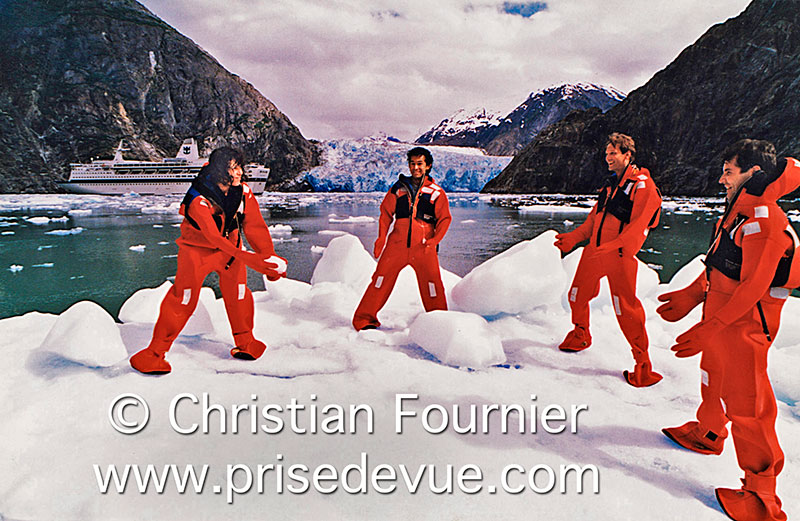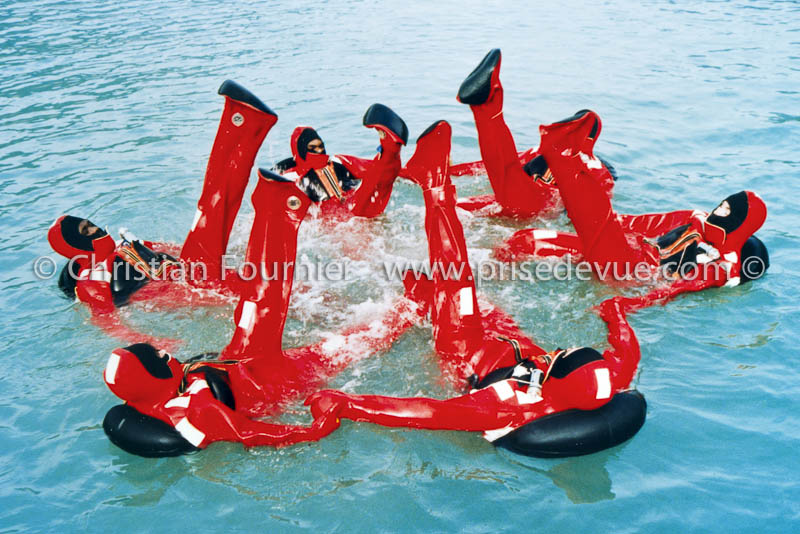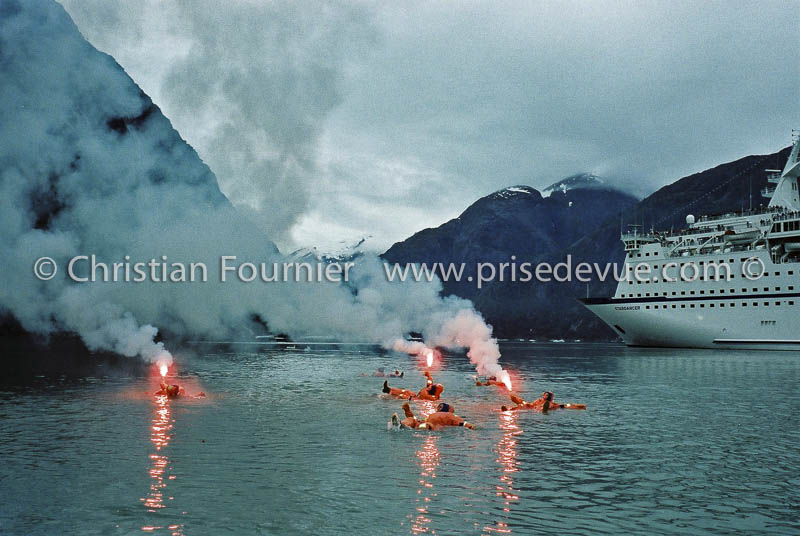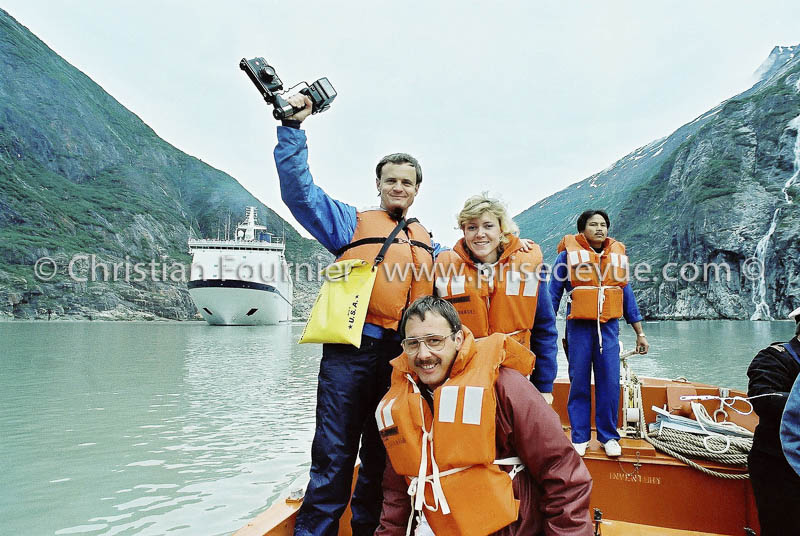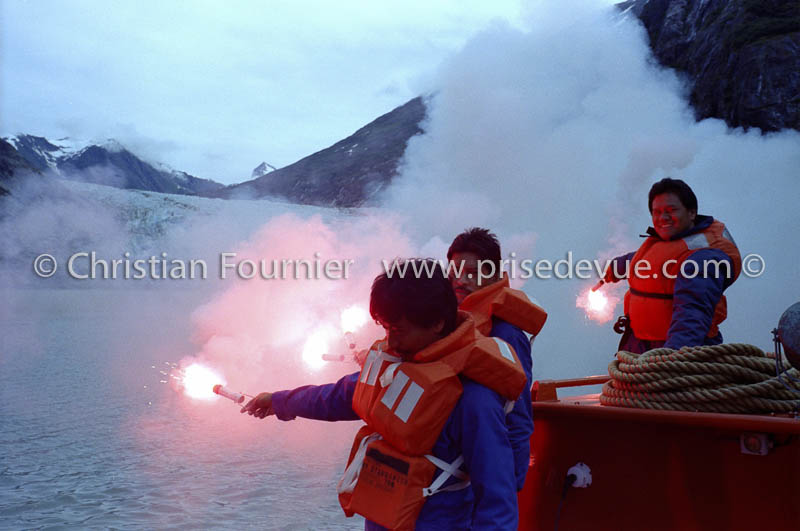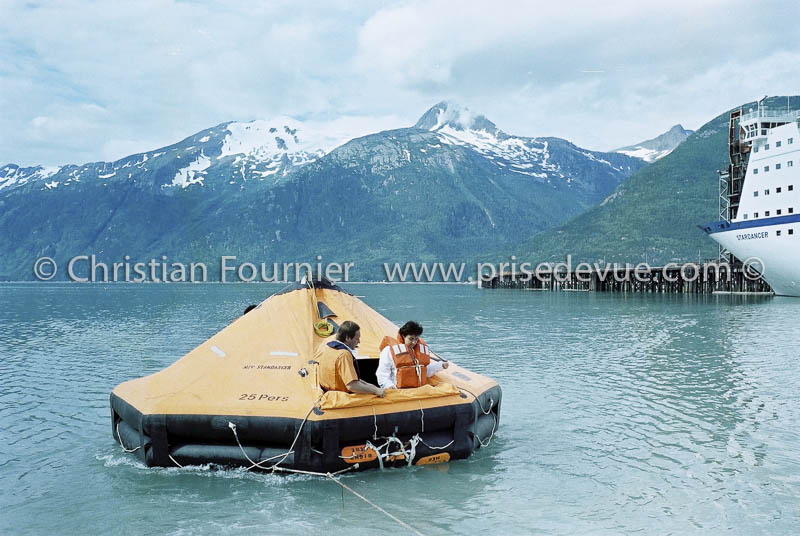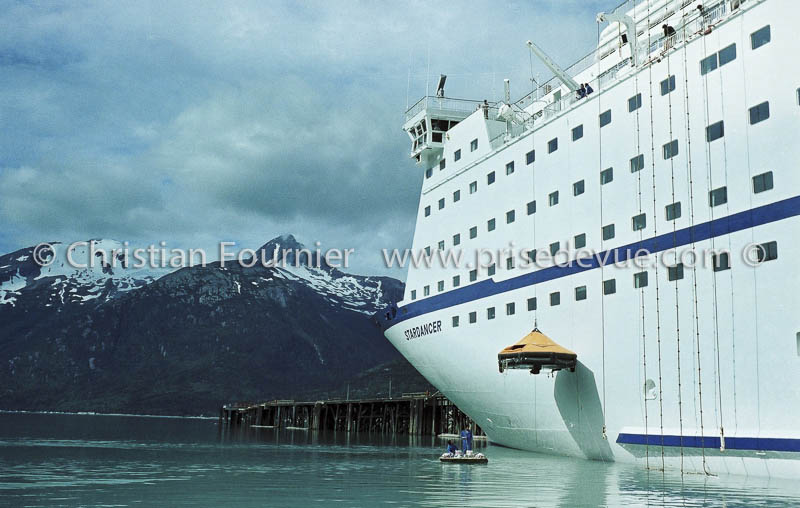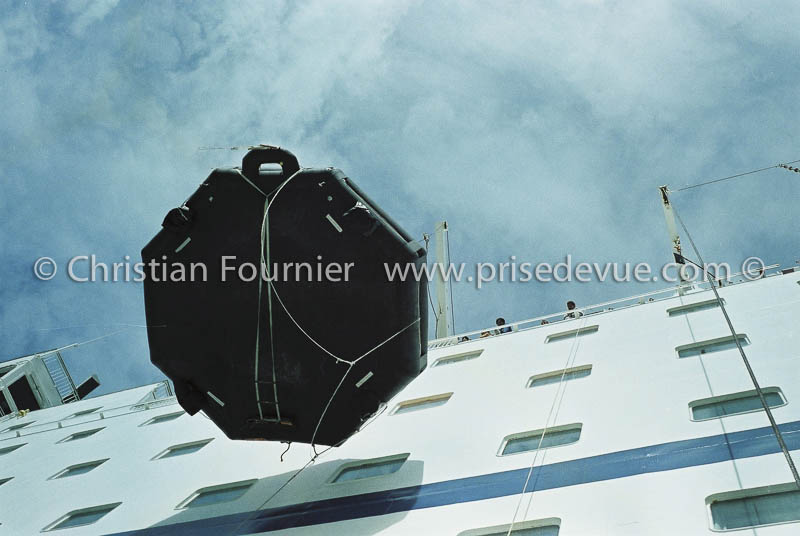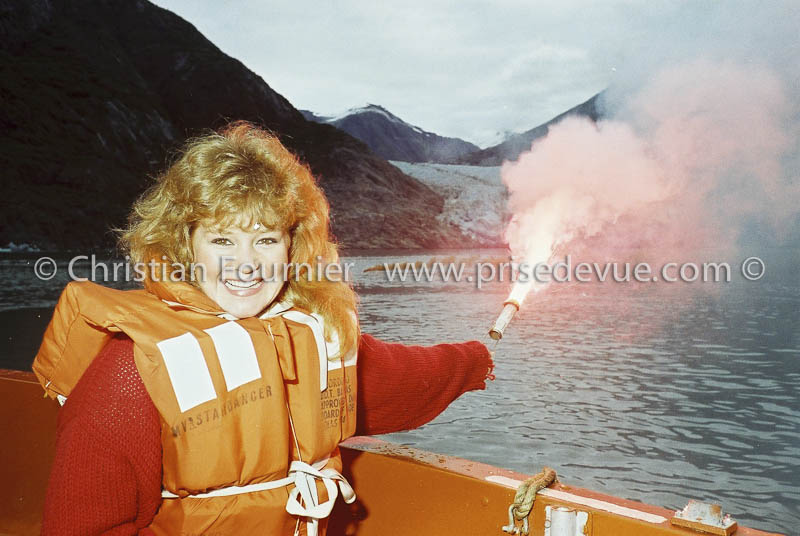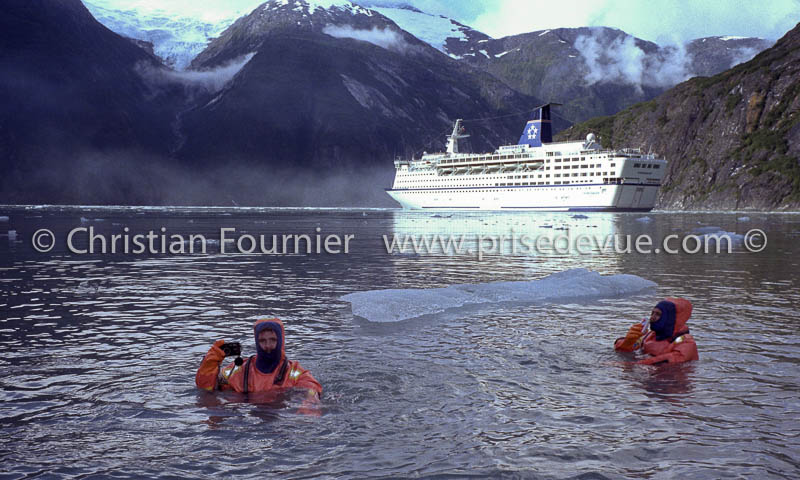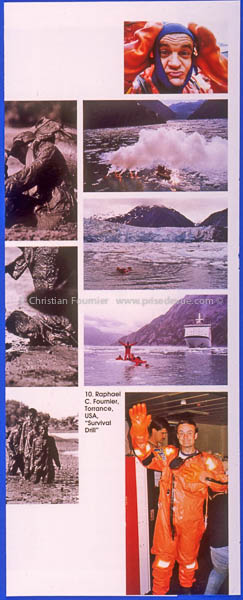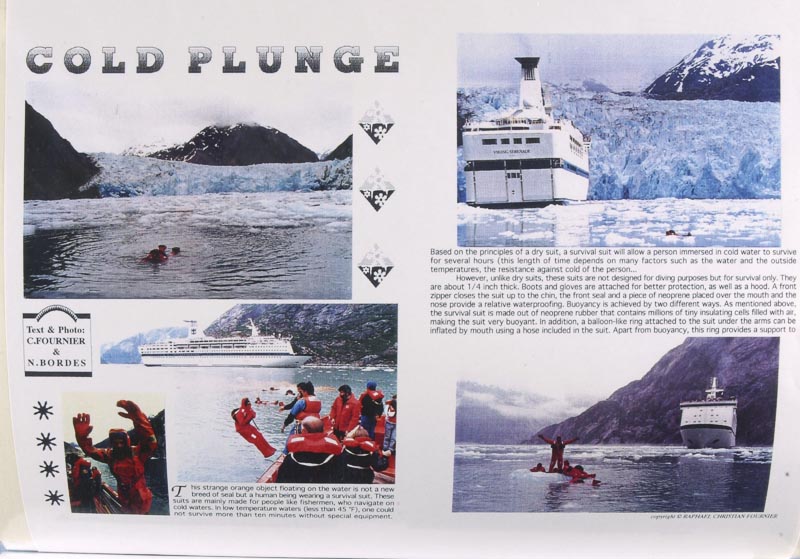 This strange orange object floating on the water is not a new breed of seal but a human being wearing a survival suit. These suits are mainly made for people like fishermen, who navigate on cold waters. In low temperature waters (less than 45 °F), one could not survive more than ten minutes without special equipment. Based on the principles of a dry suit, a survival suit will allow a person immersed in cold water to survive for several hours (this length of time depends on many factors such as the water and the outside temperatures, the resistance against cold of the person... ) However, unlike dry suits, these suits are not designed for diving purposes but for survival only. They are about 1/4 inch thick. Boots and gloves are attached for better protection, as well as a hood. A front zipper closes the suit up to the chin, the front seal and a piece of neoprene placed over the mouth and the nose provide a relative waterproofing. Buoyancy is achieved by two different ways. As mentioned above, the survival suit is made out of neoprene rubber that contains millions of tiny insulating cells filled with air, making the suit very buoyant. In addition, a balloon-like ring attached to the suit under the arms can be inflated by mouth using a hose included in the suit. Apart from buoyancy, this ring provides a support to the neck and allows the person to float without effort, head out of water. Thermal insulation is not achieved, as commonly thought, by the suit itself, but by the air trapped in the suit : this air is warmed by the body and provides an effective insulation. Unfortunately, in cold water, the heat loss is high and the human body must continually compensate for this loss. At a certain point, it becomes impossible for the body to keep up and the body temperature drops ; eventually, the person will die from hypothermia. Hopefully, rescuers will be there before this happens. The color orange of the suit has not been chosen for fashion reasons but because this is the color the most easily detectable on the sea. These pictures were taken in Tracy Arm (Alaska) during a safety drill, demonstrating the efficiency of the suits. Six volunteers jumped from a lifeboat into the ice cold water of Sawyer glacier, under the indifferent eyes of harbor seals. After some paddling around, these special bathers were given a flare used to draw attention. Wet or even immersed, these flares continue to glow with a bright orange "flame" signaling the position to the rescuers. This drill has been conducted every week, for more than three years now, on board the M/V VIKING SERENADE, formerly M/V STARDANCER, during the Alaskan season, for the delight of the passengers. Many crew members are looking forward to this "icecapade", but the waiting list is very long and only six suits are available on board !
Text by Dr Nicole Bordes and Christian Fournier


Shannon Templeton: That's a memory I will never forget. The suit I was wearing had a tiny pin hole near my ankle and a little jet of icy water numbed the lower half of my leg really quick. I still have my "official suit tester" certificate somewhere written up in beautiful calligraphy. Thank you for this memory!



1985: Music cruise on S/S Rhapsody

(with Isaac Stern, James Galway, Keith Jarett, Maurice André, Vladimir Ashenazy, etc...).


I wasn't allowed to take photos—which I find completely understandable – during the concerts. So here is a glimpse of the backstage.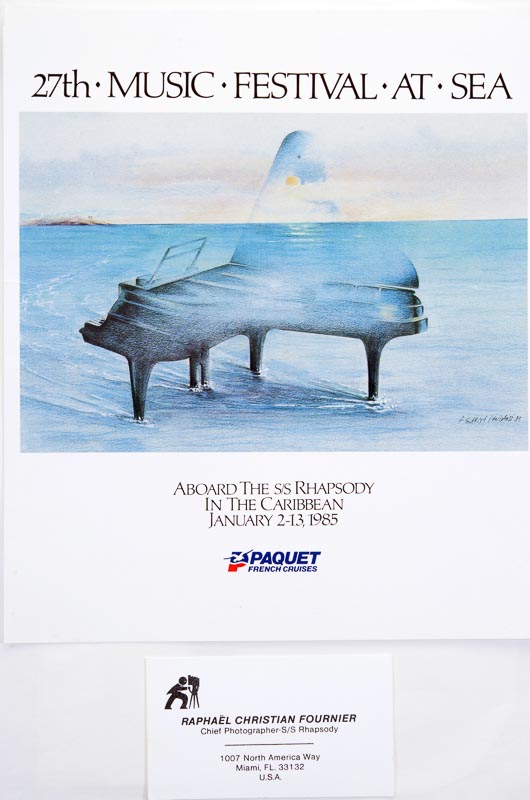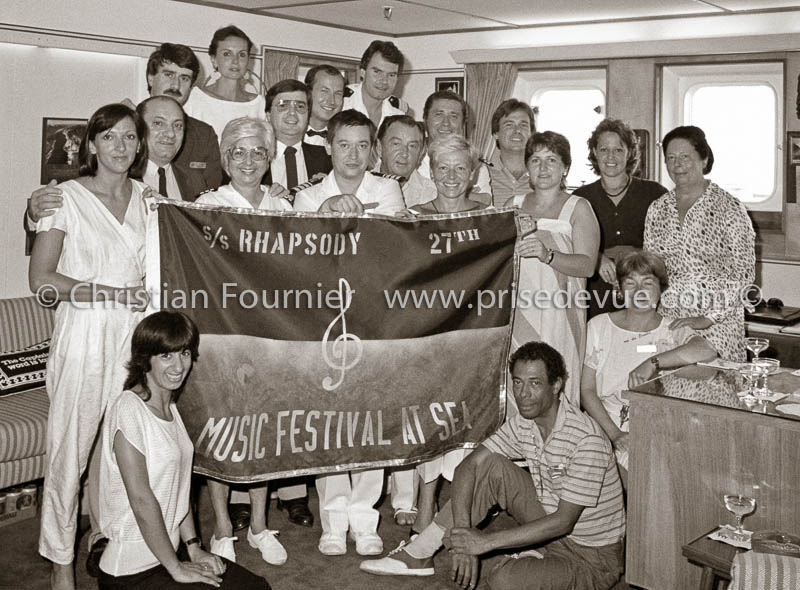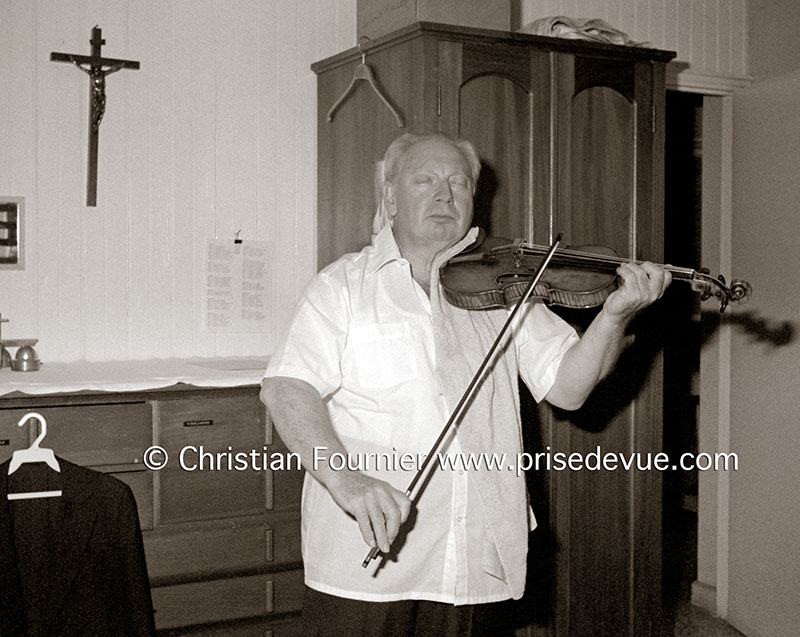 Isaac Stern
Born July 21, 1920 in Kremenets, Ukraine (then part of the Russian Empire), Isaac Stern was an American violinist, one of the most illustrious representatives of the first generation of musicians educated entirely in the United States. He died on September 22, 2001 in New York.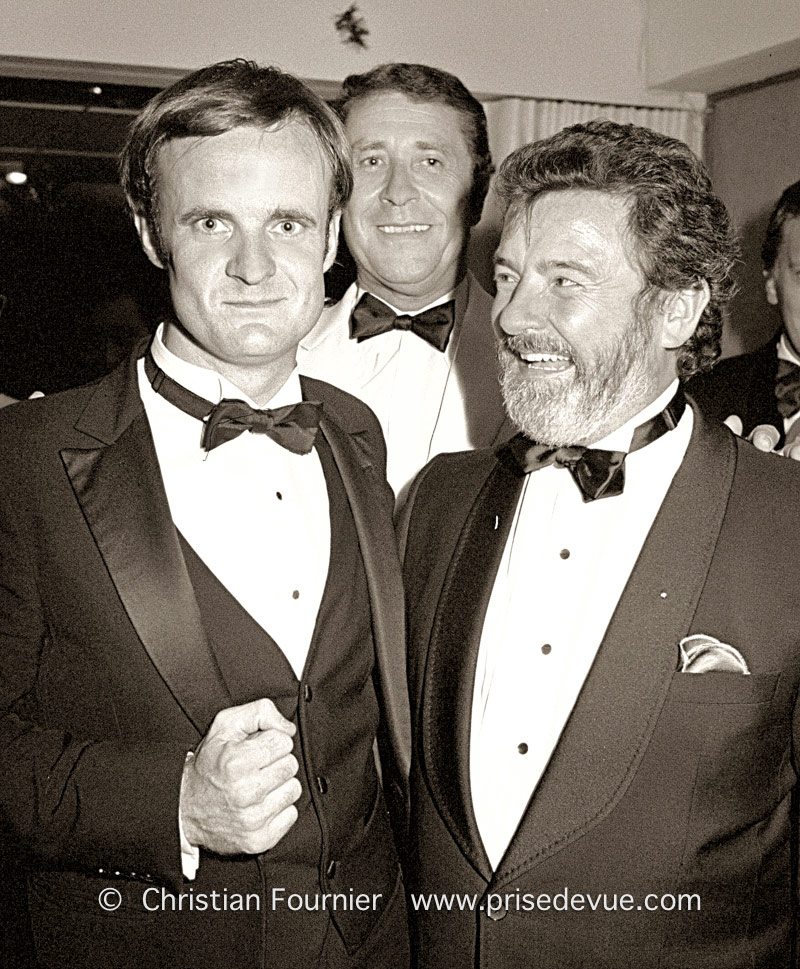 James Galway
Sir James Galway (born December 8, 1939) is a flute player from Belfast in North Ireland. He was the principal flute in the Berlin Philharmonic Orchestra from 1969 to 1975 under Herbert von Karajan. He is now pursuing a career as a soloist and lives in Switzerland with his wife Jeannie Galway, another flute player.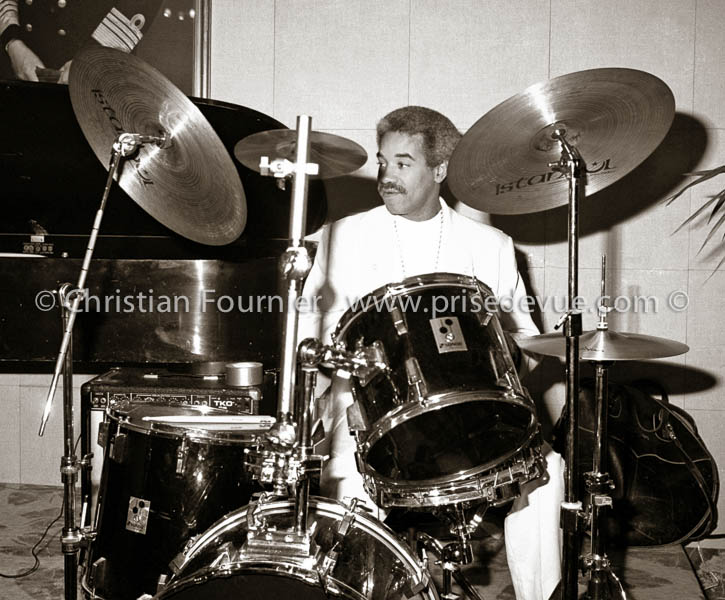 Keith Jarret
Keith Jarrett, born May 8, 1945 in Allentown, Pennsylvania, is an American pianist, saxophonist, flute player, percussionist, organist, harpsichord player, guitarist and composer.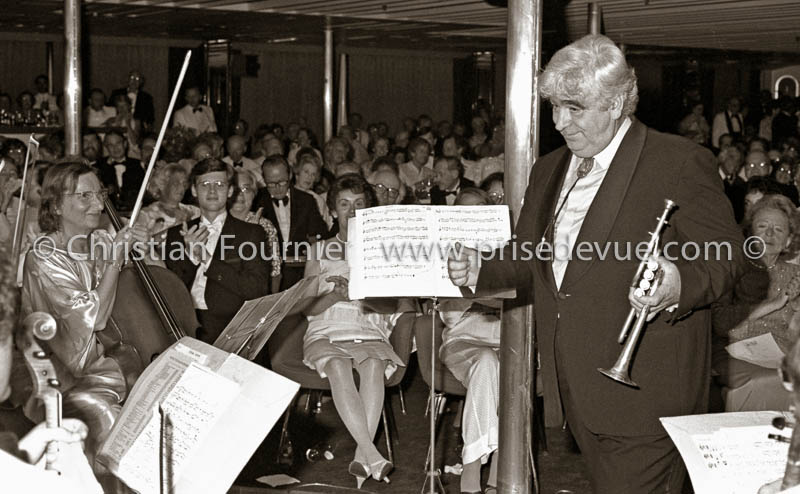 Maurice André
Maurice André (born 21 May 1933 in Alès, France, and died 25 February 2012 in Bayonne) was a French classical trumpeter. Active in the classical music field, he was professor of trumpet at the Conservatoire National Supérieur de Musique in Paris where he introduced the teaching of the piccolo trumpet including the Baroque repertoire on trumpet. Over 50 years, André inspired many innovations on his instrument and he contributed to the popularization of the trumpet thanks to his great technical mastery and artistry. Maurice André played and recorded the great concertos of the repertoire with the most famous orchestra conductors of his time. He is considered the greatest trumpeter of the century.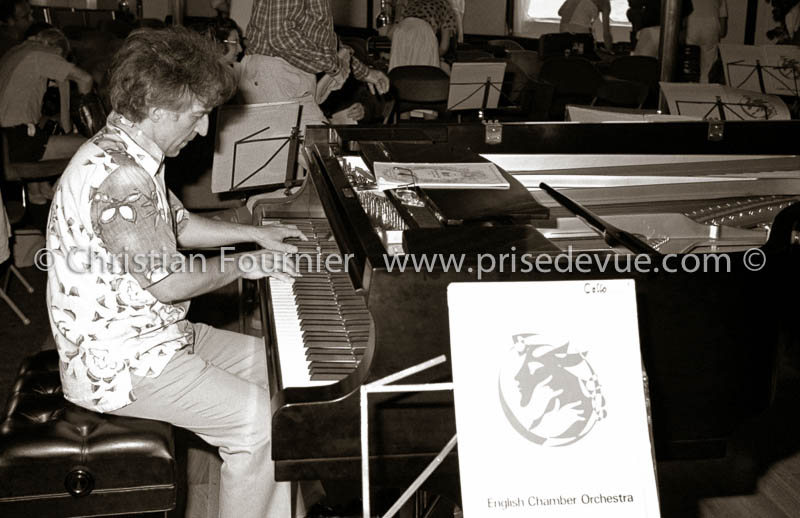 Vladimir Ashkenazy
Vladimir Davidovich Ashkenazy (Russian: Влади́мир Дави́дович Ашкена́зи, Vladimir Davidovich Ashkenazi), born on July 6, 1937, is an internationally recognized solo pianist, chamber music performer, and conductor, who got Icelandic citizenship in 1972.
His career as a pianist began when he started studying music at age 6, showing prodigious talent for hi sage. He entered into the conservatory at 8 years old, then the Moscow conservatory. In 1955 he won second prize in the International Chopin Piano Competition in Warsaw and the first prize in the Queen Elisabeth Music Competition in Brussels in 1956. He shared the first prize in the 1962 International Tchaikovsky Competition. While he is best known for having recorded the 24 Preludes and Fugues of Shostakovich, the complete collection of Chopin's works for piano, the complete works of Rachmaninov for piano as well as all his concerti, his repertoire was much larger (for example, his recordings include the 5 concerti by Prokofiev and Beethoven, the two concerti by Brahms as well as Scriabine's 10 sonatas). He did not shy away from any genre, but did avoid Liszt and contemporary music.
He also led a career as a conductor : halfway through his career, Ashkenazy decided to try conducting an orchestra while continuing his work as a pianist. His interpretations of the symphonies of Sibelius were particularly acclaimed, much like his recordings of Rachmaninov. From 1989 to 1999, he was Principal Conductor of the Deutsches Symphonie-Orchester Berlin. In 1996 he was named Principal Conductor the the Czech Philharmonic, in 2004 he was named musical director of the NHK symphonic orchestra and in 2009 the musical director of the Syndey symphonic orchestra. Today Vladimir Ashkenazy is president of the Rachmaninoff Society.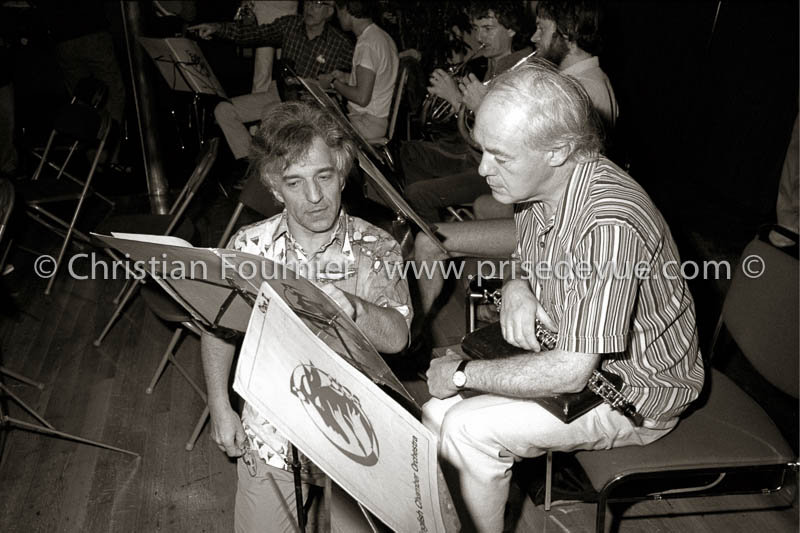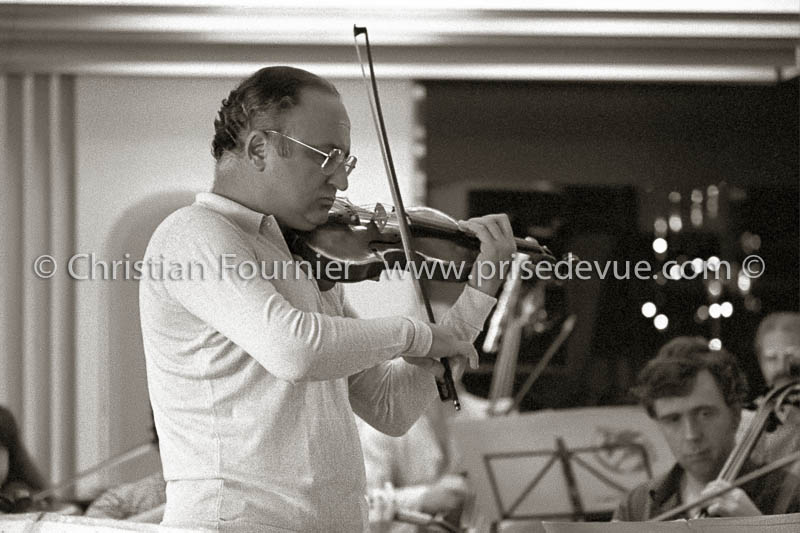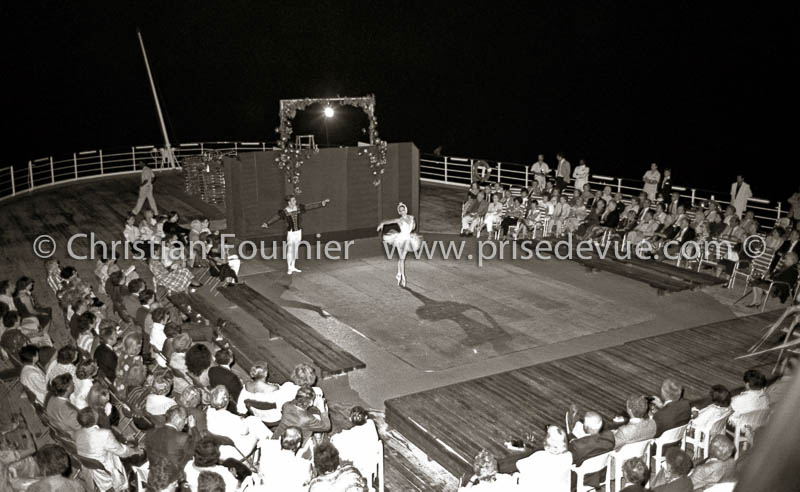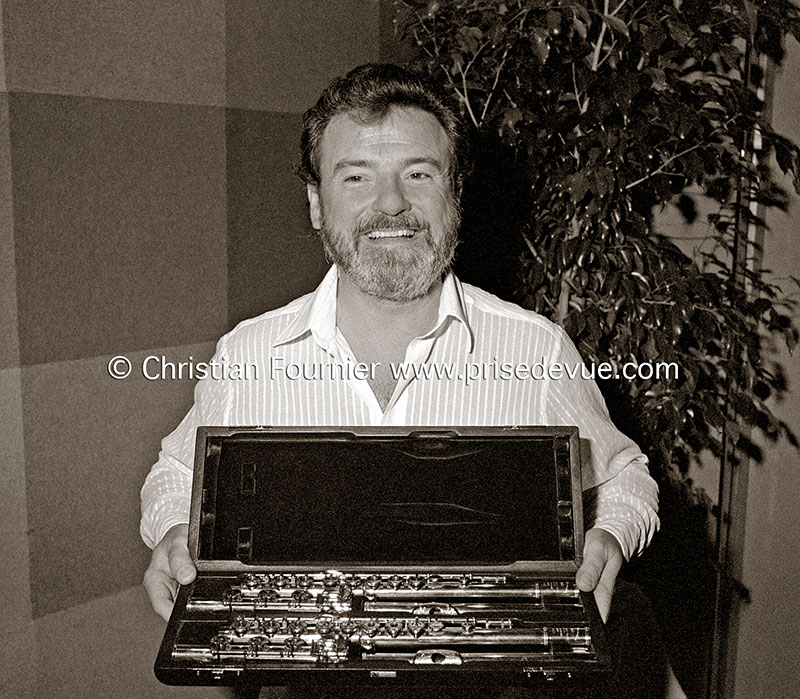 James Galway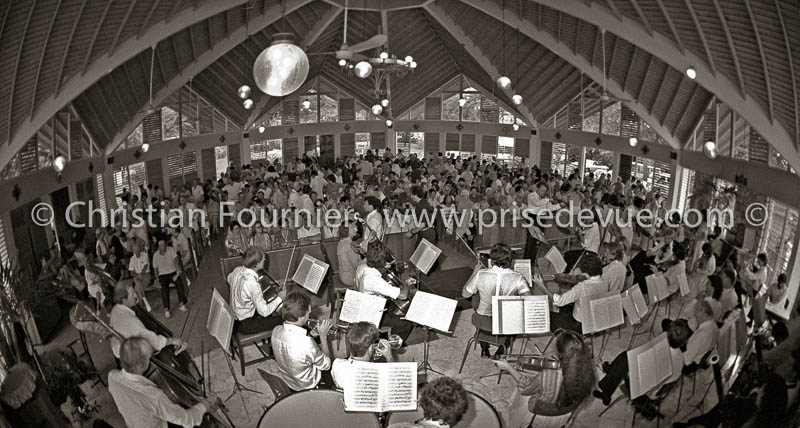 Concert in Jamaica.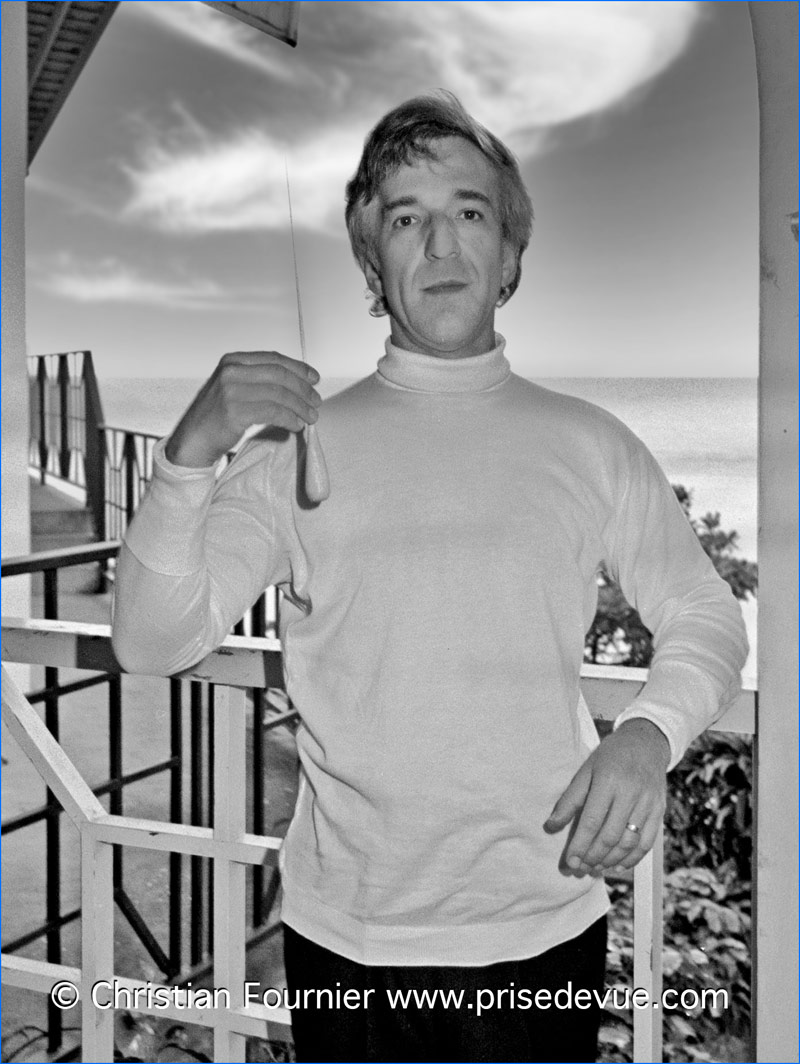 Vladimir Ashenazy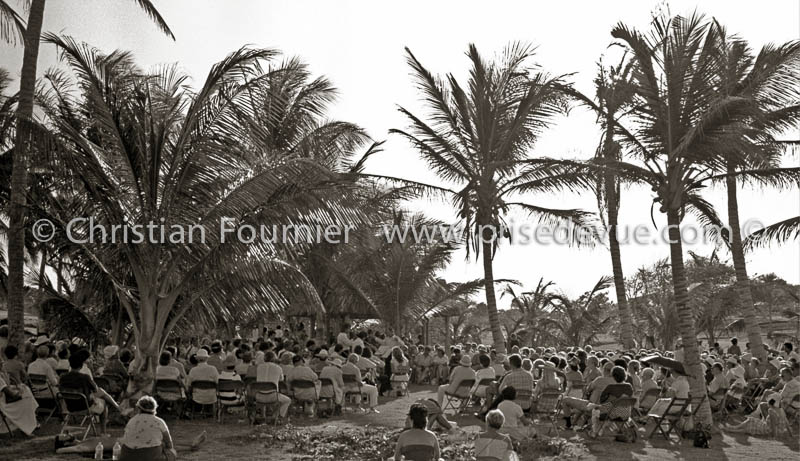 Concert in Tulum, Yukatan, Mexico.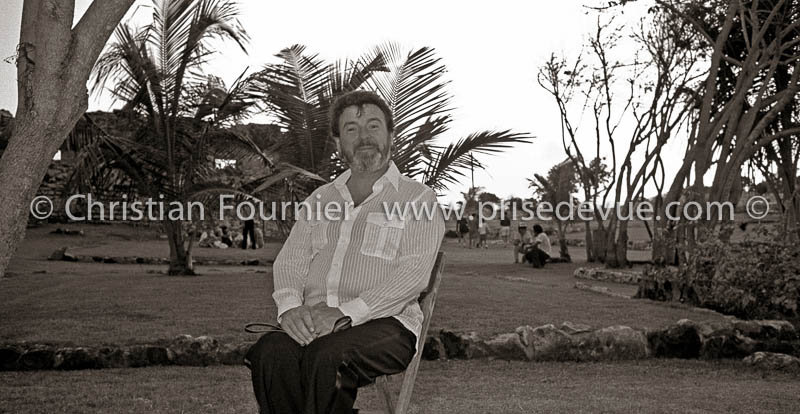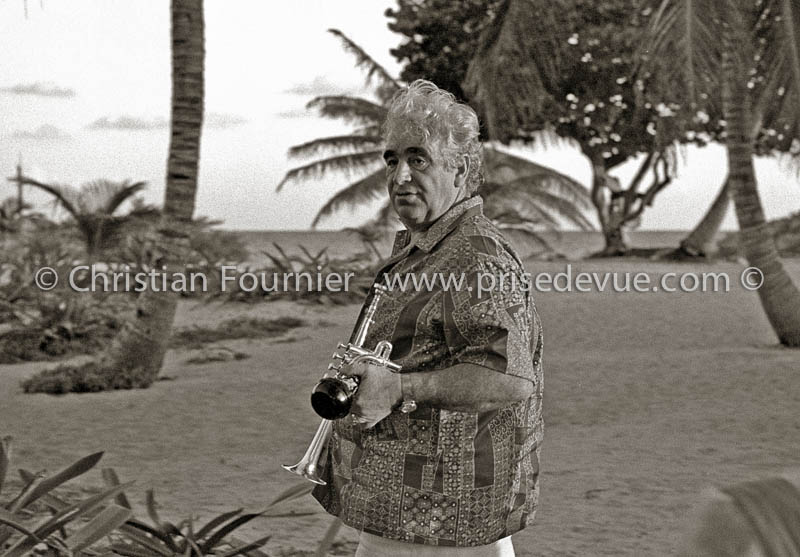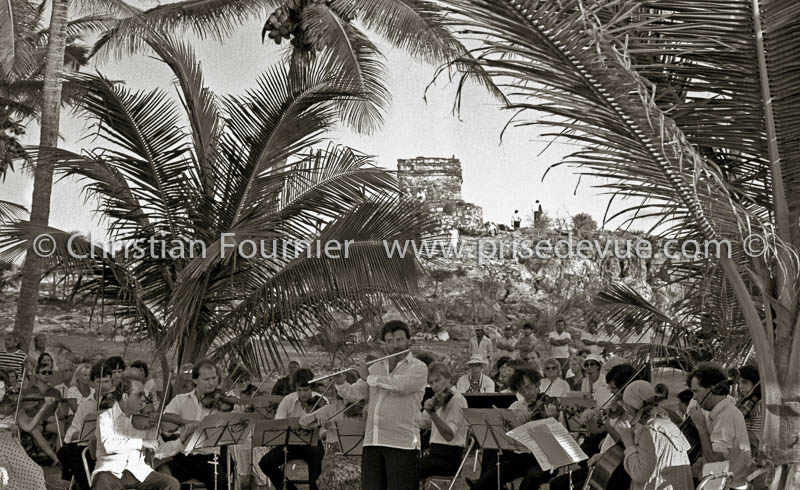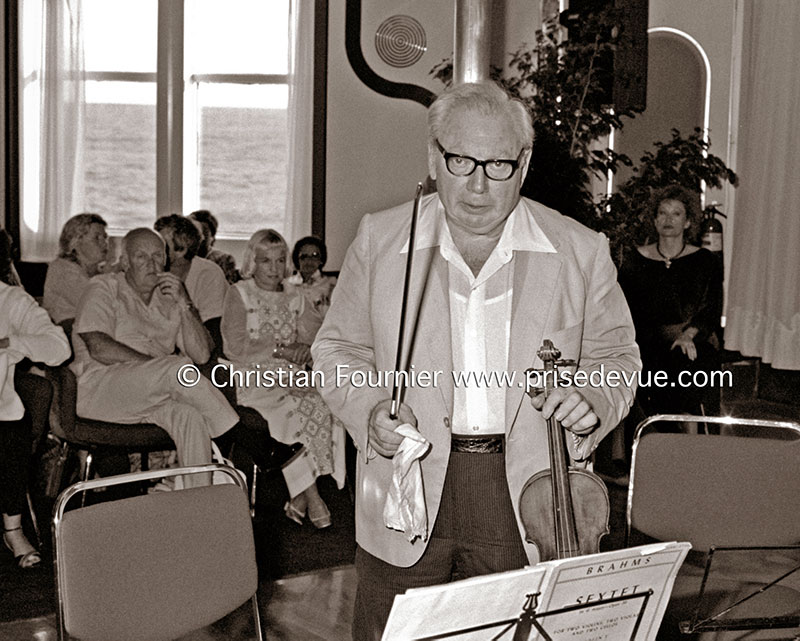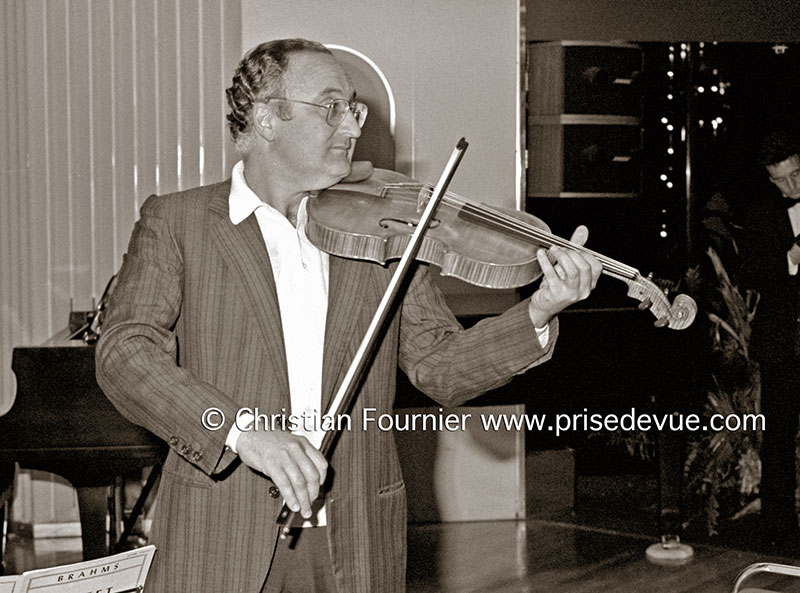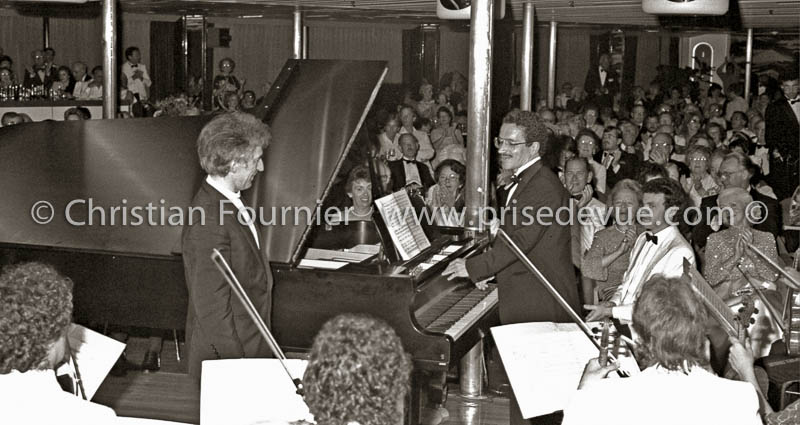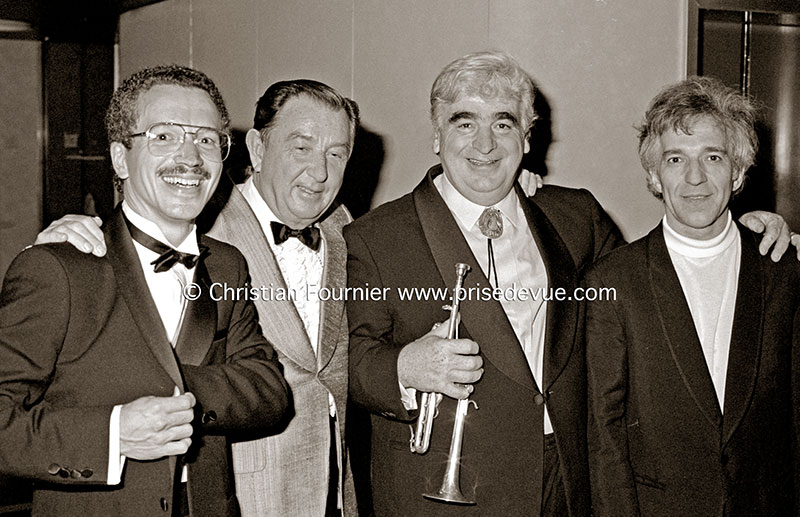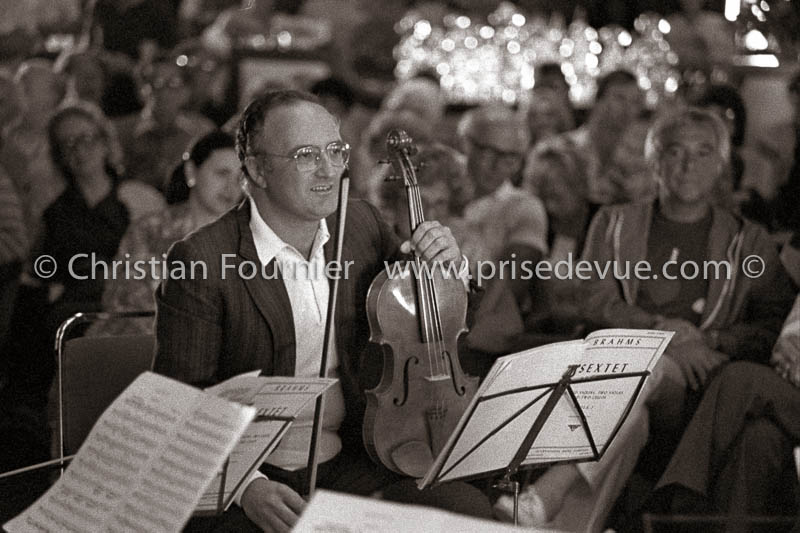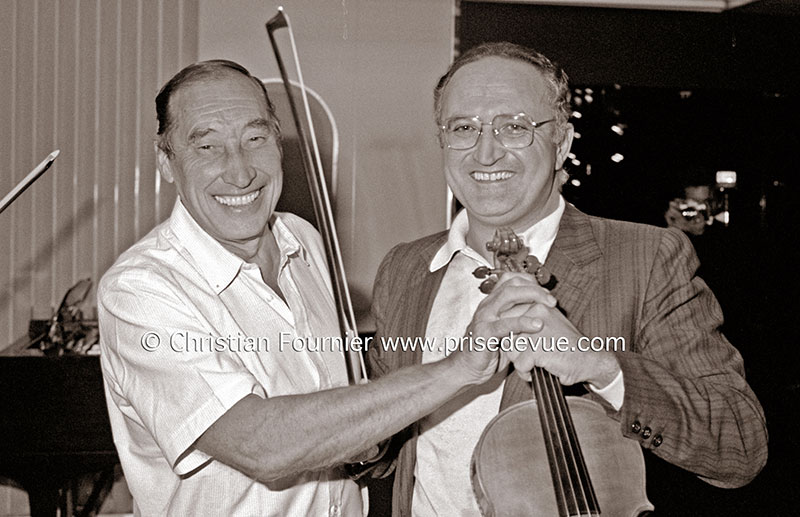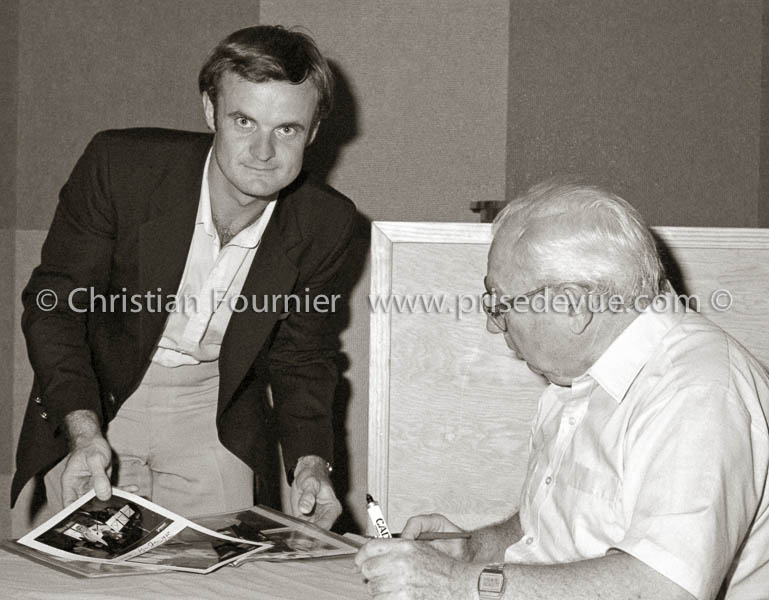 Mark Anthony Chang
wrote :"I loved the annual Music Festival at Sea. The number of passengers were limited to under 450 with cabins going from around $4,000 to upwards of $25,000 for 11 days during the 80's & '90s. There were 4 gala dinners, each themed by color - blue, gold orange and white (gowns, ties and cummerbunds being appropriate to the theme). The food budgets were upped 20% to enhance the already excellent cuisine.
No additional money was needed during these entire all-inclusive cruises. From the moment of sailing, the ship was awash in champagne. They were the most posh cruises in an annual theme program which also included a Theatre Festival (only in french), a Berlitz total immersion French-language course and many other cultural events featuring artists such as Kathleen Battle, Issac Stern, Andre Previn, James Galway, Jean-Pierre Rampal, Zubin Mehta, Basmet,Vladamer Ashkanazy, The Chamber Orchestra of the Berlin Philharmonic, The Royal Ballet of England featuring the current Étoile and Prima Ballerina Assoluta, and other world-class musicians when I got the opportunity to chat with many of the artists and performers during the cruise and at various Ports-of-Call where they performed ashore like in front of the pyramids of Tulum.
The search for wonderful shoreside concert settings produced itineraries with off-beat destinations attuned to the sophisticated traveller (including the Queen mother [RIP] who I actually met and chatted with at the Purser's Office). Each year the passengers received a different musical instrument charm, starting with bronze and moving on to Silver, gold and platinum. The ladies often wore them on bracelets or necklaces adorning their formal attire, attesting to the numbers of cruises they had taken. Bonhommie, friendliness with the crew and a cosmopolitan mix of passengers made for a bon voyage that attracted more than fifty percent repeat passengers. There was a quiet, understated elegance to the Rhapsody's decor during these cruises that immediately enveloped you en grand seigneur style."

ON FRENCH CHARTER ON S/S NORWAY
2nd TO 9th DECEMBER 1989


TO: CRUISESHIP PICTURE CO. LTD.
FROM: CHRISTIAN FOURNIER, Chief photographer. DATE: November 24th, 1989

Is it a "music at sea festival" as I already experienced on s/s Rhapsody? Is the itinerary the same as normal for the Norway? I have translated the most useful signs in French. See enclosed sheet. If it is this "music festival at sea", it is very classy and expensive. We should, as I did on S/S Rhapsody, make a lot of money. But we need to be careful and discuss matters with the charter manager beforehand. They do not like embarkation, gangway and handshakes photos, which makes the crowd "feel like sheep", so I was told. But they love decks and scenery photos. The magnificent out island, the inside of previous S/S France, fantastic food displays and of course all the concerts and famous musicians are the best sellers. I will do all the PR work on this. I also think that myself and the other French speaking photog should do as much of the shooting and gallery as possible and no darkroom work. Extreme politeness and impeccable service is a must. I have prepared a mini photo phase book (enclosed) English-French for the other photogs. The video tape will not work in France (N.T.S.C. Vs Pal-Secam), so I would not bother with it. I am very happy to be part of this exciting cruise, since I am the right person to make it a great success, due to my experience of it, my being French, educated, classical music lover and of course my usual amazing photo craftsmanship and salesmanship. (modest, hey?). I have worked with Gary Brown 4 years ago. He is competent and dedicated . I will not interfere with his normal production of the photographs and we shall all have a great week.
Raphael Christian Fournier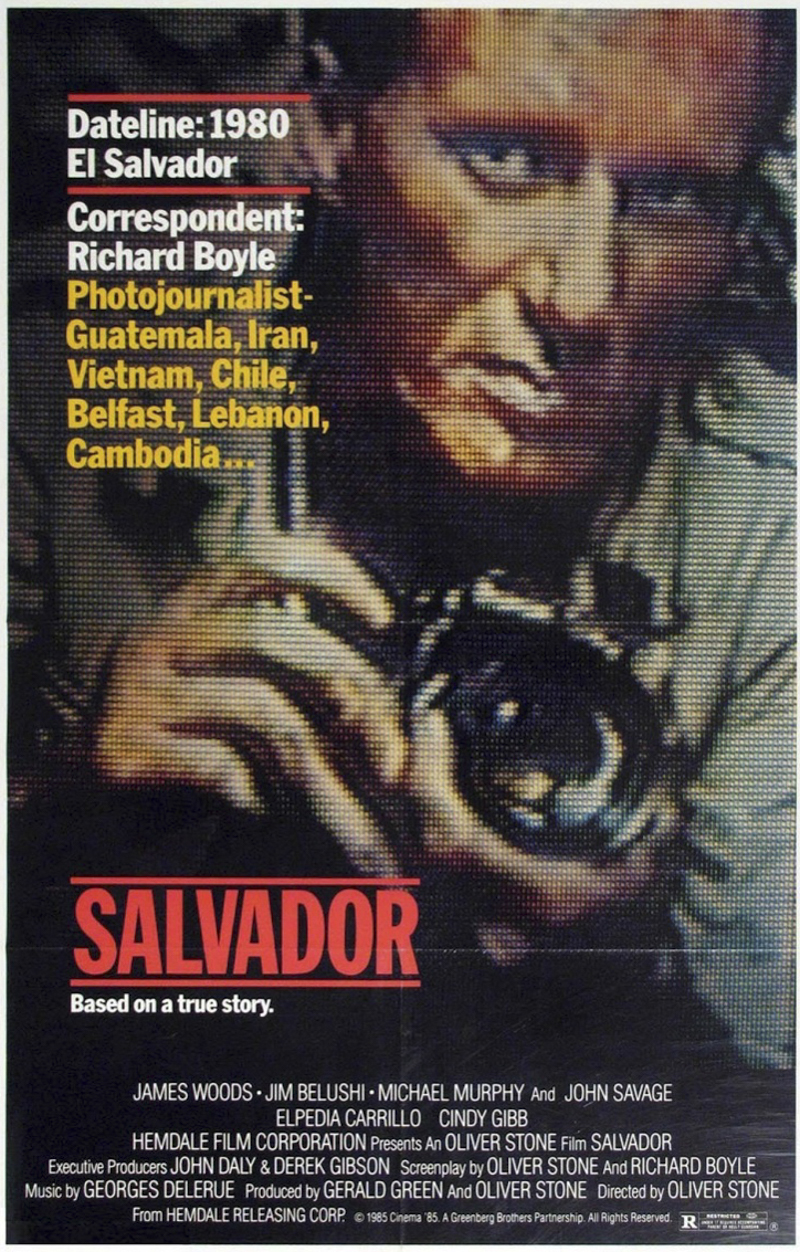 Here are about 620 examples of my photographic event coverage since 1984, that is to say, 30 years. This is without counting those which my clients have requested that I do not show and photos that have been lost.

I know it's enormous.
No, I am not a photographic robot: my mother had me tested


This list begins with the compilations: Fashion & Models, Lingerie, Beauty, Makeup & Hair, Portraits, Events, Objects, Archi & Deco, Industry, Press, Celebrities, etc.


The sensors and web capabilities from 1995 to 2005 were horrible compared to now (2021). 40 KB max by images. My uploads at this time were therefore bad. I replace them little by little. It's long. Thank you for your indulgence.


Conclusion 1: I must not be bad, so that all these people trust me.
I have loyal customers, a sign that they are satisfied with my services. Examples: Tollens, MEDEF, Dior, GMF, Unesco, L'oréal, Anaé, Agefiph, Essilor, Genzyme, Embassy Ireland, The Advertisers Club, Garmin, VW, etc. ...

Conclusion 2: Thanks to all these varied clients (industry, wedding, corporate and personal portraits, press, events, objects, medical, culinary, diving, sports, pageants, etc. ..), I see extraordinary slices of life, confidential or public, trades and fabulous countries. I do feel very privileged. Real life, live. Thank you customers.

In rough estimation, I take 5,000 photos a week. 5,000 x 52 = 260,000 a year. For 35 years = 9,100,000 photos. Well, I would like to reach 10 million anyway!

Conclusion 3:

Photography is my language




There is also a search command, not always up to date, but pretty comprehensive on all my reportages.




Due to manipulations between prisedevue.photos, prisedevue.photos and famousphotographer.com, some links may be broken. Sorry. I'm working on it !


*************************

MY BLOGS

Not many photographers have the courage to show their photos on a daily basis. I do it to show that in a wide range of photography, I always take good photos for my clients. Technical perfection and an obvious sensitivity. If you imagine the logistic necessary for these missions (estimates, preparations, equipment, transports in traffic jams, safety, etc.), you can see that I am a photographer who achieves results in all circumstances.





*************************

CONTACT

WWW.FAMOUSPHOTOGRAPHER.COM The archives



*************************





Intellectual Copyright Property 2020 Christian Fournier.




All rights are reserved. All texts, photos, graphs, sound files and videos in this website are protected. Their reproduction, modification and uses on other web sites than those by Christian Fournier are strictly forbidden.



Most of the photos on my web site are for sale, except, of course, the ones for which I do not have the models or decor releases.

I am at your disposal for any query you may have.